The Truth About Lily Collins And Eddie Redmayne's Relationship
Dia Dipasupil, Dia Dipasupil/Getty Images
Celebrities may have lines of people clamoring to be their BFF, but few relationships truly withstand the test of time in Hollywood. Often, it's a fellow star who best understands the pressure and scrutiny of the spotlight, as is the case with A-list actors Lily Collins and Eddie Redmayne. Lily, the daughter of Genesis drummer and singer Phil Collins, has been friends with the Fantastic Beasts and Where To Find Them star for more than a decade, as she revealed on the Nov. 10, 2016 episode of The Tonight Show Starring Jimmy Fallon. 
After quizzing the pair about how they met, host Jimmy Fallon pitted them against each other in a game of "Know It All," where the objective was to see who could name more items in a given category. The competition kicked off with a "Harry Potter" category and culminated in a "pop singer" category, where Fallon challenged both players to sing their responses in the style of their answer. In the end, Lily narrowly pulled off the victory, but the duo's long-lasting friendship makes them both winners in our book. Here is the truth about Lily Collins and Eddie Redmayne's relationship.
Lily Collins met Eddie Redmayne at a photoshoot in her backyard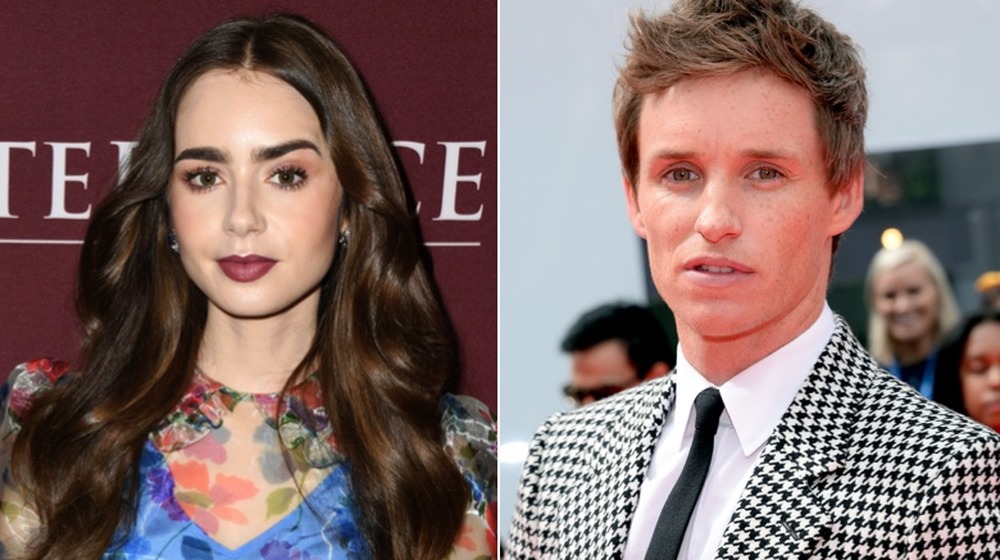 Jon Kopaloff, Gp Images/Getty Images
Appearing alongside Eddie Redmayne on an episode of The Tonight Show Starring Jimmy Fallon, Lily Collins explained how they met more than ten years prior at an impromptu Vogue photoshoot. "My mom used to host photoshoots in our backyard for certain magazines," Collins told Jimmy Fallon. "I came home from school one day and Eddie was just by the grass, modeling in a fake airplane." Redmayne confirmed her story, joking that the shoot in question was later killed as he looked "absurd." But their budding friendship blossomed over time, as they traveled in the same social circles and frequently ran into each other at award shows.
Since those early days, Collins and Redmayne have supported each other's careers. In 2015, she was quick to offer congratulations when Redmayne nabbed the Oscar for Best Actor for his role as famed scientist Stephen Hawking in The Theory of Everything. Posting a photo of herself clutching his award, Collins wrote, "I called it. It happened. And it's heavy. #sobeyondproud."
As of this writing, Collins is having a breakout year, starring as Fantine in the BBC miniseries adaptation of Victor Hugo's Les Misérables, appearing in the buzzy new Netflix series Emily In Paris, and even getting engaged to writer/director Charlie McDowell! For his part, Redmayne has resumed filming on the set of Fantastic Beasts 3, which hits theaters in 2021. We're looking forward to the day when these two might appear on-screen together!