The Bachelorette: Fans Think Clare And Dale Have Big Relationship News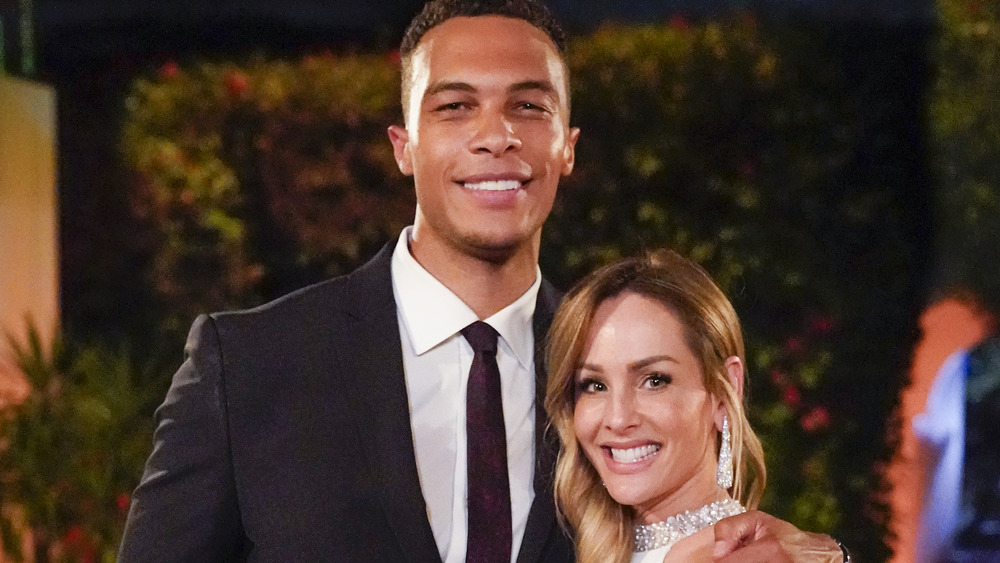 Craig Sjodin/ABC
They have some explaining to do! Bachelorette fans are in a tizzy after Clare Crawley's fiancé, Dale Moss, posted a photo with a ring on that finger — leaving many to speculate if the couple secretly tied the knot. As the model posed with his left hand of full display, clearly showing off a thick silver band, an Instagram user took to the comments for some answers. "Always so handsome!! Dale, you're wearing a wedding ring?????" one follower wrote on Nov. 15, 2020, while another added, "Did you secretly get married? Wearing a ring already I see."
Although this isn't the first time Dale posted a photo while donning what appears to be a wedding band, he continued to tease fans just a little more. Just one day later, Dale posted a video of his hand showing off some friendship bracelets without that special ring. One bracelet read "D heart C" and the other "Zaddy." He captioned the clip, "Wrist game @Clarecrawley." So maybe this was his attempt to squash the marriage rumors, or perhaps it was in response to him being seen with a few women at a fashion event, per The Daily Mail. 
Despite rumors that the couple might have already said "I do," they previously revealed that they aren't in a rush to walk down the aisle. Keep scrolling for more details about what's to come for Clare and Dale.
Clare and Dale will tie the knot when the timing is right
Clare Crawley and Dale Moss' romance has been a whirlwind, as they ditched The Bachelorette and got engaged after two weeks of filming. Although "it may be fast for some people," as Clare told People, "it's working" for them. "Dale could have not proposed and I would still be with him and love him as much as I do now," she told the outlet. "We could go to the courthouse tomorrow and get married or it could be next week or next year. There's no rush. But we definitely talk about it all the time."
Echoing a similar sentiment on the Bachelor Happy Hour podcast, Clare said, "We don't have anything crazy planned right now." Ultimately, she envisions the couple will go "island [hopping] to different countries" before holding a "beautiful ceremony" for family and friends. "Genuinely, he knows what I want to do. I just want to go to Target together," she added. 
Although they might not have any wedding plans set in stone, it seems like Clare will be calling the shots. "You know how it kind of is with guys," Clare said of her fiancé. "He's not scared of anything. But I'm like, 'Here's my wedding dress idea, and here's the wedding date I wanna get married.' And he's like, 'OK!'" Bottom line? It sounds like these two are going strong!