The Biggest Problem JoJo And JoJo Siwa Have With Each Other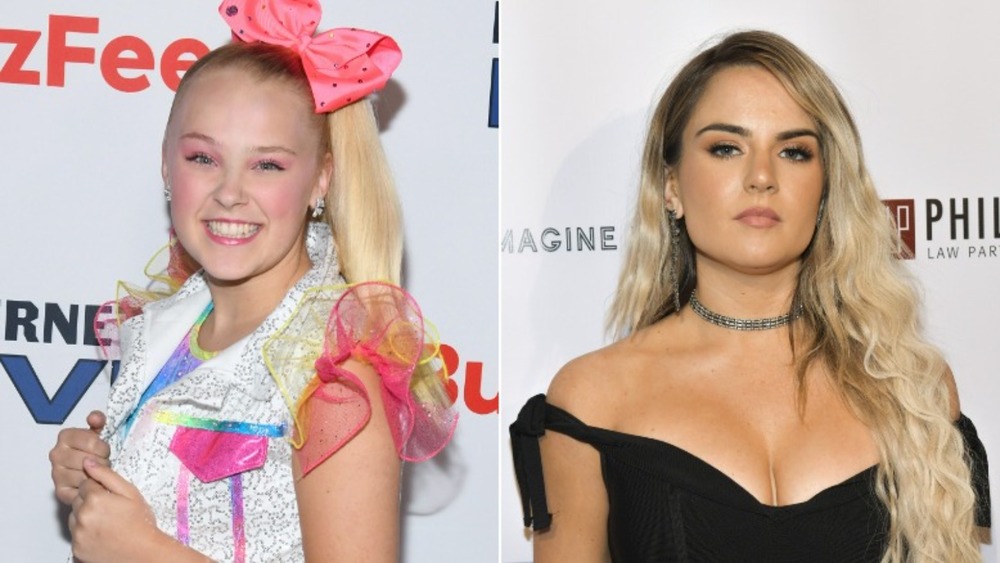 Noam Galai, Rodin Eckenroth/Getty Images
The year 2004 gave pop music lovers a series of time-defining hits like Britney Spears' "Oops!... I Did it Again," Gwen Stefani's "Hollaback Girl," and "Yeah!" by Usher. The year 2004 also introduced the world to a new singer on the scene with her debut hit "Leave (Get Out)," which peaked at No. 12 on the Billboard Hot 100 when she was just 13 years old (per Refinery29). JoJo (born Joanna Noëlle Levesque), the talented musician behind this hit, went on to release another, and arguably more iconic, song on her sophomore album titled "Too Little, Too Late."
Almost a decade later, a new JoJo — Joelle "JoJo" Joanie Siwa — hit the scene when she joined the star-forming reality show Dance Moms in 2015. Since then, she has built an impressive empire around her young fans, securing a talent deal with Nickelodeon, a singing contract, merch and accessory lines, a super popular YouTube channel, and so much more.
The two successful JoJos have finally met in an interview "fans have always dreamed of" (per Today), and they opened up about fame at a young age, their fears, and even the biggest issue JoJo and JoJo Siwa have with each other.
JoJo and JoJo Siwa have caused some confusion among fans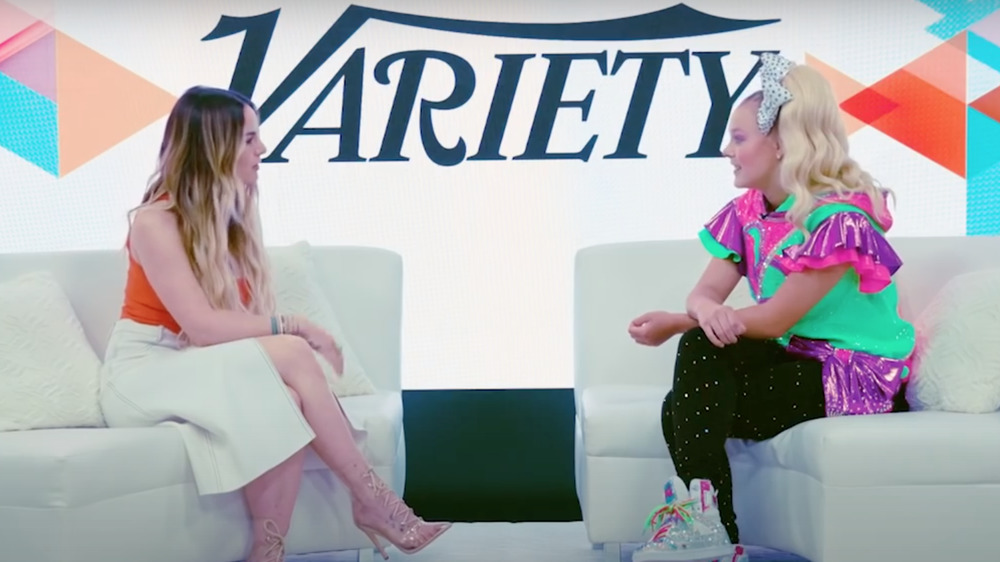 JoJo Levesque and JoJo Siwa don't necessarily have a serious problem with each other, but they did admit the hilarious incidents that have become common among their fans. It turns out some folks have gotten the two singers confused and bought tickets to the wrong JoJo concert. 
"I remember somebody tweeted something, like, 'I bought my wife tickets for a JoJo concert, only to find out it's a JoJo Siwa concert. And we have to go and there's going to be 9-year-old screaming little girls,'" Siwa said in the Variety Special in August 2020. Talking to the "Too Little, Too Late" singer, Siwa said, "You liked that tweet and it was the first time we interacted."
In response, Levesque admitted she's experienced the confusion firsthand. "I became super aware when people would show up to my concerts wearing a bow, and be in for a very wild surprise when they realized that they got me and not the colorful, sweet JoJo Siwa," she noted. "I'm nice, but a little wild." At least the fans still get to see a good show by someone named JoJo!
But both JoJos aren't letting the confusion get them down and are focusing on their individual careers. Down the road, Siwa wants to open up a dance agency and Levesque wants to help young artists navigate the industry. "And I still want to be on the road touring as well. I love it," Levesque gushed.