Who Is The Whatchamacallit On The Masked Singer?
Fans of The Masked Singer are hot on the trail of the contestant, Whatchamacallit, and they seem pretty confident in their pick for who the person behind the mask really is! 
As reported by Entertainment Weekly's Rachel Yang, Whatchamacallit has provided viewers with many clues. For starters, The Masked Singer stans got tipped off when Whatchamacallit made several references to owner Magic Johnson and the LA Lakers basketball team. During a sneak peek episode, Whatcha said, "My career had a magical start," and also referred to himself as "magical" in his first package clue. The intro also included a picture of a lake. Hmm... Then there were the many hints about basketball, including, "This world is wide open" and "swing from the keys." For those who aren't in the know about basketball, "swing" could refer to a "swing pass," and "key" is another name for the free-throw line, as EW noted. Finally, Whatcha also referred to himself as "Jazzy," which could be a nod to New Orleans' "famous jazz scene," per the outlet.
So who does Entertainment Weekly believe Whatcha is? Maybe a former Lakers basketball player who now plays for the New Orleans Pelicans? Keep reading after the jump to find out!
Viewers believe Whatchmacallit is Lonzo Ball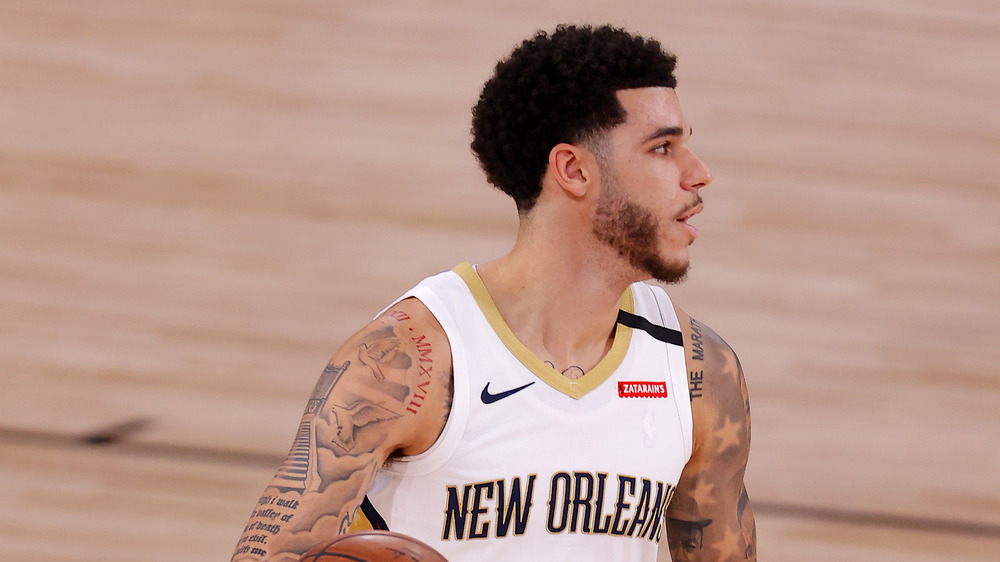 Mike Ehrmann/Getty Images
If you guessed professional basketball player Lonzo Ball, you'd be correct! Entertainment Weekly is placing their bets on the young NBA player as the real face behind The Masked Singer's Whatchamacallit. The guess has to do with the fact that Lonzo got his start playing for Magic Johnson's basketball team, the LA Lakers, before ultimately being moved to the New Orleans' Pelicans. 
Some other clues that point to Ball's direction include a clip that referenced three bees. Per Entertainment Weekly, this is a nod to Lonzo's father, LaVar Ball's (not to be confused with LeVar Burton) Big Baller Brand, a company that "makes signature sneakers" for Lonzo and his brothers, who also happen to be professional basketball players. Another possible tip-off came in the form of marshmallow clouds, likely a representation for Lonzo's brother's nicknames — Gelo for LiAngelo and Melo for LaMelo. And although Ball is a basketball player first, he also dabbles in the music scene — another aspect that Whatchmacallit seemingly touched on with the "turn the tables" and "surf candy bars" quotes. "The watchhamacallit is obviously Lonzo ball how do people not know this," one person commented on Twitter.
Are you convinced yet? Tune in to Fox on Wednesdays to learn whether Lonzo Ball is indeed a star on The Masked Singer.