Azealia Banks Speaks Out On Russell Crowe Incident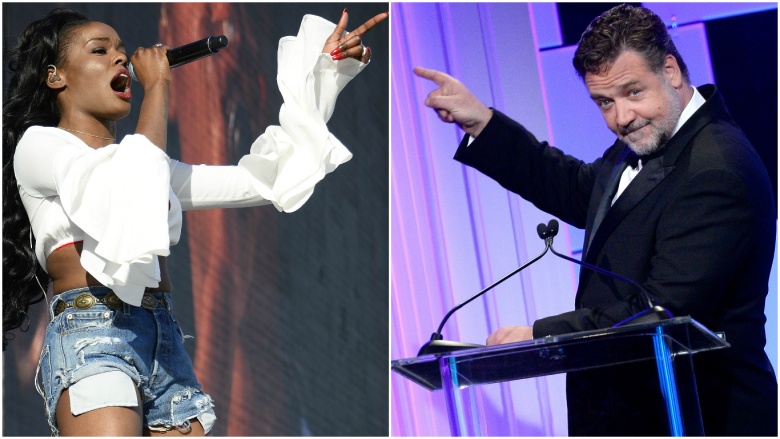 Getty Images
Rapper Azealia Banks is speaking out about the bizarre and allegedly violent altercation she had with actor Russell Crowe.
As Nicki Swift previously reported, Banks was a plus-one for filmmaker RZA at a party in Crowe's hotel room over the weekend when she allegedly complained about Crowe's music selection, then threatened to break her glass and use it to stab other guests. Crowe allegedly intervened when she cocked her glass back, giving the "212" rapper a bear hug and removing her from the premises. Banks filed a police report against the Aussie Oscar winner when he allegedly refused to apologize to her after the incident. "I think he's a racist, misogynist pig," she fumed to The Sun. "This is a stain on me. My ­femininity feels stained. I feel stained as a woman, I feel mishandled, I feel mistreated, I feel dirty. I feel very f***ing low."
Banks also accused Crowe of drinking and doing drugs the night the fight went down. "Russell had moonshine on the table, and then Russell calls for whiskey, so then they just start mixing them up," she told The Sun. "You know, moonshine, whiskey, vodka, and smoking cigarettes and smoking weed."
Here's where it gets weird: Banks alleges Crowe was actually flirting with her, and that their altercation was the result of a potential hookup gone awry. "Russell and I get next to each other," she told The Sun, recounting her version of the night's events. "He's talking to me, I'm talking to him, and we start flirting. We're having a really good time. He's got his knee on my knee, he's touching my leg, I'm playing him my music, he tweets my song 'The Big Big Beat.' He's like, 'I love this, you're ­beautiful, this is great,'" she said. "So the party goes on. But there was one girl who I guess was his girlfriend," she continued. "She gets next to me and I guess this is just her chance to try and size me up and see what I'm about. And she's in my ear and she's like, 'Yeah, Russell thinks you're so hot.' And I was like, 'Oh, really? Well that's on you girl.' You know, I'm not here for that."
According to Banks, Crowe went from Jekyll to Hyde when she started mocking guests. "Russell just kind of switched. He was like, 'Well you know what? You're young and you've never done anything in your career so you don't know what you're ­talking about.'" She told The Sun she was "a little offended" but was "keeping it light" by telling Crowe, "'Your best days are behind you.'"
Banks claimed another woman stepped in to defend Crowe, at which point, Banks admitted she lashed out. "I said, 'Girl, this is not the right time or place for us to be fighting, like, what would happen if I got up and I slapped the s**t out of you, or I took a glass and f***ing threw it at you and you were bleeding all over the place? I would be wrong and we'd all be wrong, and the party would be done.'" Banks continued, telling The Sun, "Then Russell turns to me and he goes, 'Well, you wouldn't even get close enough to get the chance, n***er.' And he says the word 'n***er' so, like, quietly, under his breath. He calls me a n***er, and then grabs me, picks me up, he chokes me by the throat, picks me up, throws me out of the room and then spits on me."
Multiple witnesses, including RZA, claim Banks' account is completely false. A source close to Crowe told The Sun, "Azealia's behavior that night was abrasive, shocking, rude, offensive, abusive, and erratic. She used the N-word repeatedly and hurled that insult at others repeatedly. Russell never used that word." The insider continued, "Azealia's shocking and erratic behavior culminated in her lunging toward ­Russell and one of his guests and threatening to slice their throats. It was at that time that Russell put her in a bear hug and removed her from the suite, in protection of himself and his guests. Hotel security was called and she was escorted from the ­premises. She subsequently demanded an apology from Mr. Crowe and threatened to file a police report if she didn't get it."
Australian comedian Jim Jefferies, who was at the party, substantiated Crowe's account of the evening on Twitter. "I was there, she was out of control," Jefferies tweeted. "Russell did absolutely nothing wrong. Azealia Banks is a complete liar. I was in the room. Russell Crowe is completely innocent. I would take a lie detector [test]."
Banks hasn't taken lightly to RZA not going to bat for her: TMZ reports that she was in talks to sign with his label, but put the kibosh on any contracts after he wouldn't back her up.