The Truth About Priyanka Chopra And Meghan Markle's Friendship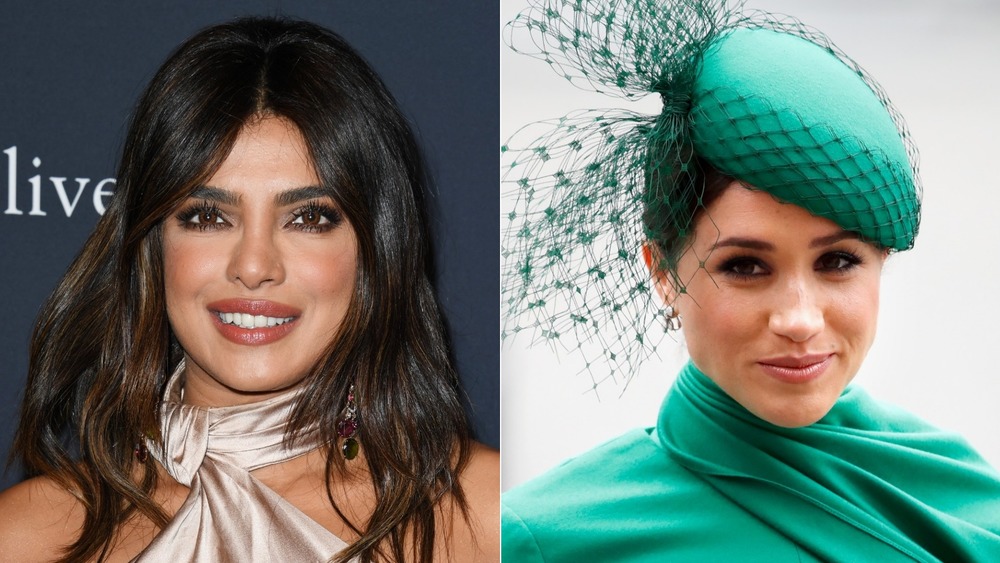 Jon Kopaloff, Max Mumby/indigo/Getty Images
Prior to joining the royal family, Meghan Markle worked as a Hollywood actress, most famous for her role in Suits. It was during this time she struck up a friendship with Indian actress Priyanka Chopra. Both stars are known for their advocacy and passion for women's rights, so it should be no surprise that they originally met at a female empowerment event in 2016, according to Bustle. 
While speaking with the Press Trust of India in July 2016, Markle shared how easily her friendship developed with the Quantico star. "Priyanka is unbelievable," Markle said. "She has become a really good friend. Elle magazine in the U.S. hosted a dinner celebrating women in TV, and we met that night — turns out that she really likes Suits." According to the Duchess of Sussex, she and Chopra instantly hit it off the night they met. "You know when you meet someone and you just 'click'... It was just an easy, natural progression." 
Markle also noted how they maintain their friendship: "We've managed to keep in touch via email and text, and try to see each other whenever we're both in the same town." Chopra gave her own take on the friendship to People in September 2017, sharing, "We bonded as actors. We just became friends, like two girls would." 
But like all celebrity BFFs, Meghan Markle and Priyanka Chopra have endured their fair share of rumors. Let's take a closer look.
The rumors about Meghan Markle and Priyanka Chopra are 'untrue'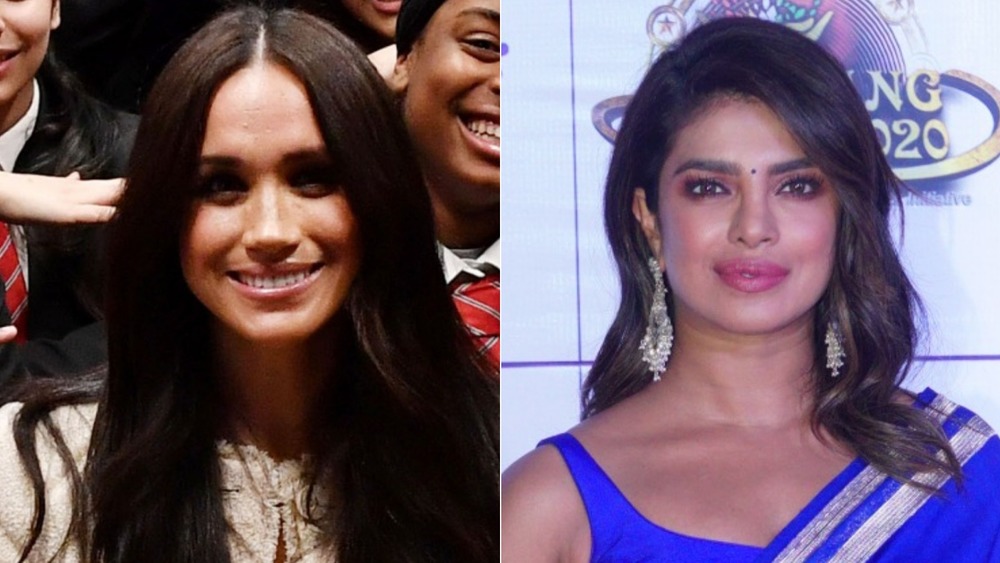 Wpa Pool, Prodip Guha/Getty Images
In May 2018, Meghan Markle married Prince Harry and became the Duchess of Sussex. Naturally, her good friend Priyanka Chopra was in attendance at the royal wedding. Prior to the nuptials, Chopra even dished on the wedding during an appearance on The Tonight Show with Jimmy Fallon in April 2018. However, by February 2019, rumors started swirling that Markle and Chopra had a fallout due to the Duchess' absence from Chopra's December 2018 wedding to Nick Jonas, Page Six reported. The outlet claimed Chopra skipped out on attending Markle's baby shower due to her friend missing her wedding. "Their friendship is over unless Meghan apologizes," one source told the outlet. But the rumors weren't all that convincing, as Elle reported at the time.
In May 2019, Chopra put an end to all the gossip and hearsay surrounding her friendship with the Duchess. She took to Twitter to call out an article that further fueled the allegations of a feud. "This story is untrue, and I was actually in town for work," Chopra tweeted. "I hope whoever this "source" is starts checking their facts more often." The article in question was a story by The Sun showing Chopra going to visit baby Archie to "end 'feud' rumors." 
Judging by how much these two clearly adore one another — with Chopra even calling Markle an "icon" — it's safe to say Meghan Markle and Priyanka Chopra are remaining friends to the end. Nice try, tabloids.