Bobby Brown Jr.'s Close Friend Addresses The Rumors About His Death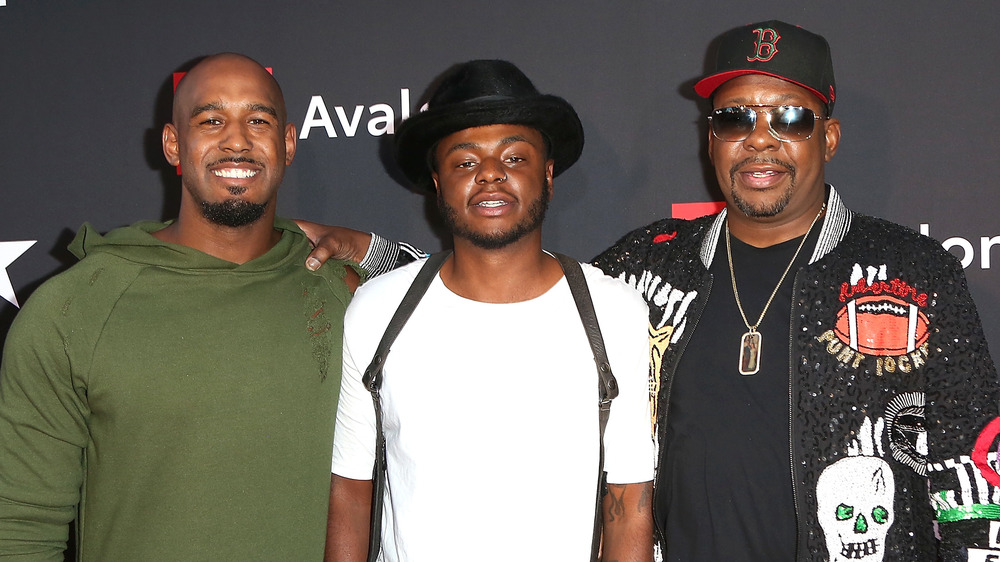 Maury Phillips/Getty Images
Singer Bobby Brown faced another devastating blow as his 28-year-old son, Bobby Brown Jr. (pictured center), was found dead in his home on Nov. 18, 2020, The Los Angeles Times reported. Brown Jr. was the son of Bobby Brown and Kim Ward. According to the outlet, officers responded to a medical emergency when they found Brown Jr.'s body around 1:50 p.m. PST at his home in Encino, Calif. Brown Jr. was pronounced dead at the scene, and police believe foul play was not a factor.
Brown Jr.'s death is the latest in a string of personal tragedies for Brown. In 2012, his ex-wife, Whitney Houston, was found dead after drowning in a Beverly Hills hotel room bathtub. Houston's death was ruled accidental, and heart disease and cocaine were contributing factors, according to CNN. Less than three years later, their daughter, Bobbi Kristina Brown, was found face-down in a bathtub at her suburban Atlanta home on Jan. 31, 2015. She was in a coma for six months before dying in hospice care at age 22.
A lawyer for Bobby Brown released a statement to Page Six, stating, "Bobby Brown Jr. was not feeling well a couple days before his death, with flu-like symptoms. This is a tragic loss and we will be letting the authorities conduct their investigation of his death." A close friend of Brown Jr. also chimed in on Bobby Brown Jr.'s possible cause of death and addressed rumors about what might have happened. Here's what he had to say.
Bobby Brown Jr.'s friend Mikey Polo speaks out
As of this writing, a cause of death has not been released regarding the passing of Bobby Brown Jr. However, one of his friends, rapper Mikey Polo, shared some insight into what may have led to his death. In an interview with The Sun, Polo shared, "Bobby was one of my close friends. It's a huge shock to me – I was only just with him." Polo claims that Brown Jr. didn't use drugs. He had a lot to live for and if he had a drug problem, trust me, we would have stopped it." He continued, "I know people are going to say, 'Oh he's Bobby Brown's son he must have taken too much coke or too much whatever' – I don't want anybody looking at him like a druggie who overdosed." Polo theorizes that "it was probably too much partying or something like that," although it's important to note that this is pure speculation.
Polo is also debunking any rumors that Brown Jr. might have been depressed, telling The Sun, "Bobby was very happy – any depressive thoughts came from the pressure of the industry – you know his father was Bobby Brown. But he was not a depressive person." 
Speculation aside, it's clear Brown Jr.'s loved ones are hurting. Bobby Brown released a statement to the press, saying, according to Page Six, "Please keep my family in your prayers at this time. Losing my son at this point in our lives has devastated my family. There are no words to explain the pain."