This Is Where Else You May Have Seen Flo From Progressive
Comedian and actress Stephanie Courtney might be one of the most recognizable faces in television today, but it's not because she's the star of your favorite sitcom or drama. Instead, Courtney has starred in dozens of Progressive insurance commercials as the fictional Flo character, who made her Progressive debut back in 2008. Fans instantly recognize Courtney's peppy Flo thanks to her blue headband, white uniform and apron. In fact, the outfit has become so iconic that it has inspired people to dress up like her for Halloween. (You can even purchase the costume on Progressive's website.
Courtney revealed that the Flo character is a combination of a highly exaggerated version of herself, with a little bit of her mother thrown in for good measure. "Progressive definitely wanted her to be a character. And I just sort of figured I'd go in a very positive way. She just loves everything. And I think that's also what they wanted, too," she explained during a 2019 interview with Cleveland.com. "I just eventually morphed into a very, very positive version of my mom. But, of course, amped up to 1,000. For me it was about how can I complement every molecule of this person."
While Flo has been pivotal to Stephanie Courtney's success, , there is much more to the actress than her portrayal of Flo in all those Progressive commercials. Keep scrolling to find out how she got her start in the business.
Flo from Progressive got her start in improv comedy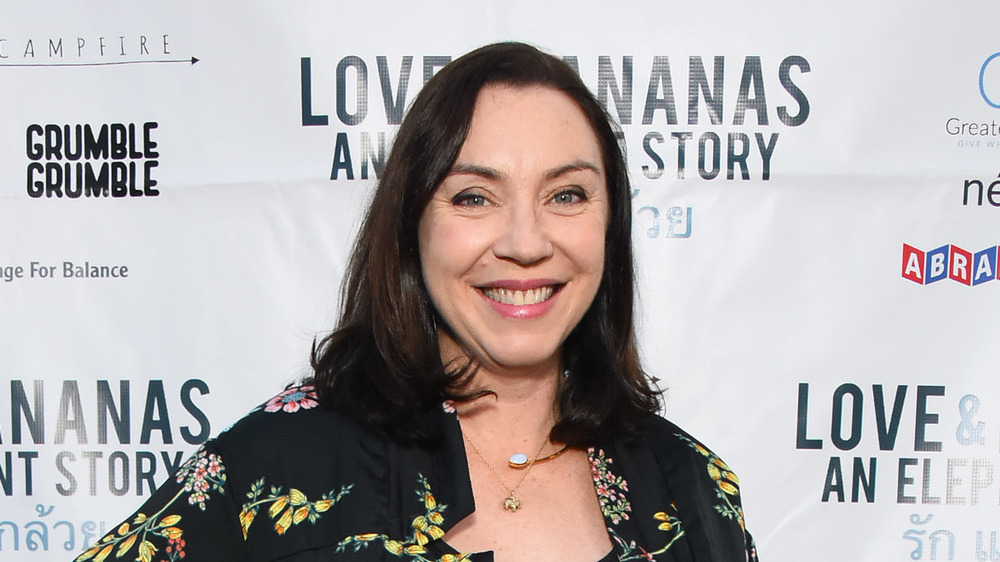 Araya Doheny/Getty Images
Born Feb. 8, 1970, in Stony Point, N.Y., Stephanie Courtney graduated from Binghamton University in 1992 and, long before she became Flo, she realized her passion for acting. In an interview with Binghamton University Alma Mater's magazine, via Business Insider, Courtney stated, "I was never tortured over whether I wanted to become an actor, There was never another option in my mind." In 2010, Courtney told The Washington Post that, before her Progressive gig, she landed, on average, about one commercial per year. "What I netted wasn't exactly matching the hours I was putting in. I figured I'm not a face that makes people want to buy Lysol. Then I auditioned for Progressive." And that all changed. 
Courtney moved to Los Angeles in 1997, and she and her sister attended a show at the Groundlings, which features an influential comedy and improv troupe. She was immediately hooked, telling Cosmopolitan, "It felt a lot more like acting to me than stand-up because there was someone with an acting partner up there. I signed up for classes the next day and started going through that program." She's an alumni of the Groundlings troupe and can currently be seen in The Crazy Uncle Joe Show. Despite being best known for playing Flo, Stephanie Courtney has a long line of acting credits to her name. Keep reading for more on where she has popped up on screen throughout the years.
Flo from Progressive and the Geico caveman go way back
Stephanie Courtney landed her first commercial, an advertisement for Bud Light, which aired during the Super Bowl in 1999. Near the end of the ad, she can be spotted in the background at the checkout line in the famous "Paper or Plastic" ad. Once her first commercial aired, Courtney did more commercials for big names like Skittles, Glade, General Mills, and Weinerschnitzel, per Business Insider.
In addition to becoming the face of Progressive, Courtney has appeared in nearly 30 TV shows since 1998. Her IMDb page features over 55 acting credits. She appeared in the first season of Mad Men for five episodes as switchboard operator Marge. Other television roles have included guest appearances on 2 Broke Girls, Angel, The Comeback, and Mr. Show with Bob and David. In a strange precursor to her gig as Progressive's Flo, Courtney also appeared in three episodes of the sitcom Cavemen, which starred Geico's Caveman spokesman. 
Courtney is a semi-regular on the ABC sitcom The Goldbergs, in which he plays Beverly Goldberg's friend Essie Carp. Along with her TV gigs, Courtney has also appeared in several movies, including The Heartbreak Kid, For Your Consideration, Blades of Glory, and The Brothers Soloman. As for playing Flo, Stephanie Courtney sees herself playing the character for many more years, telling lohud, "I don't know, how much plastic surgery would it take? I could be propped up on a gurney or something. Who knows?"