The Weeknd's Chilling Look Turns Heads At This Year's AMAs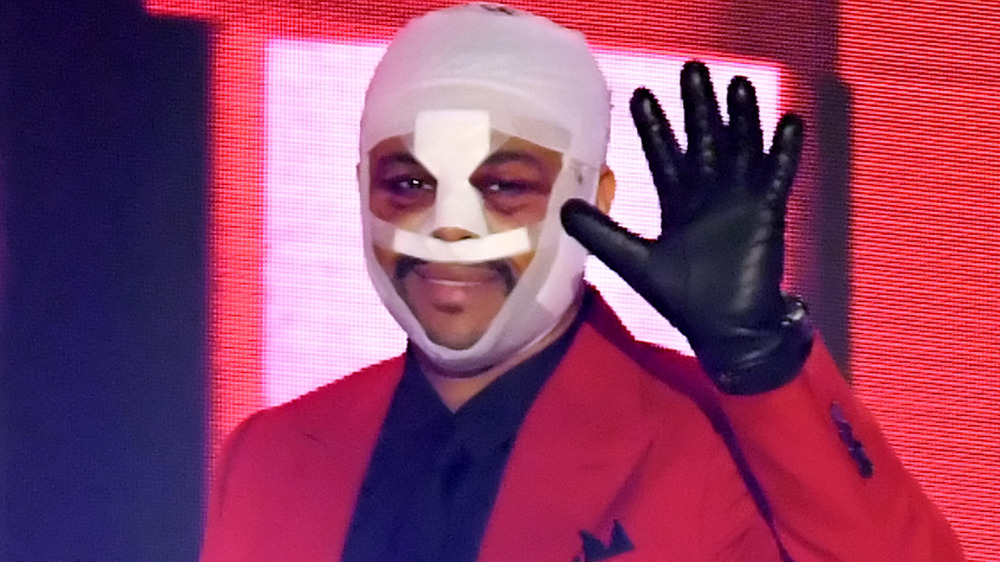 Kevin Winter/Getty Images
The Weeknd gave viewers a lot to talk about when he walked onto the stage at the 2020 American Music Awards. Sometimes, a red suit makes a person stand out at an award show, but no one was talking about the singer's clothing choices. Sure, the leather gloves were a bold accessory. However, no one was chatting about that move either. Instead, fans wanted to know what was going on with The Weeknd's face. He was covered with bandages, and, no, it had nothing to do with being Covid-19 compliant, since, ironically, everything was covered except for his mouth and nose. 
So, what is going on? Is he hurt or recovering from an injury? Are the bandages actually a part of his art? It appears to be the latter since there is no confirmation that the singer got hurt. Additionally, his face appeared bloody and bruised at the MTV Video Music Awards in August 2020, which Distractify attributed to his short film After Hours and the music video for his song "Blinding Lights." The Weeknd is just someone who really commits to dressing in theme, which isn't surprising considering that he went all out to be the Nutty Professor for Halloween in October 2020. Since there was no formal explanation given about The Weeknd's extreme look, Twitter had a field day sharing reactions to his appearance.
The Weeknd confused fans with his bandages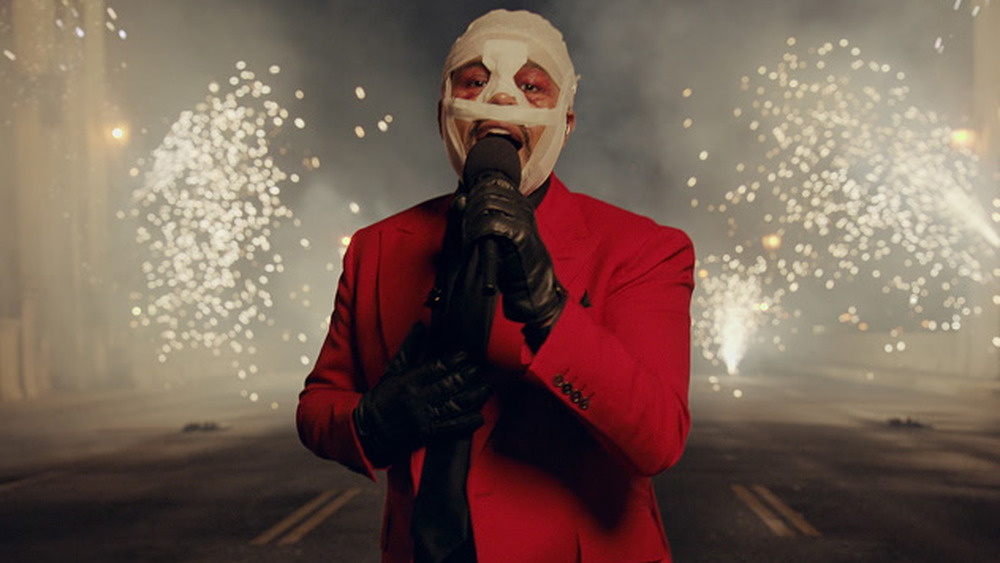 Ama2020/Getty Images
The Weeknd had flawless vocals and over-the-top theatrics for his 2020 AMAs performance. He also included a sweet mention of Prince in his acceptance speech for Best Soul/R&B Album. He gave fans a lot to talk about, but Twitter seemed to focus on all of the bandages. One viewer asked, "What happened to the Weeknd?" Someone else wondered, "... can we talk about wtf The Weeknd has going on?" Oh, yes. A lot of people were talking about it with one person joking, "Why is it taking so long for The Weeknd's facelift to heal?" Another person kept the plastic surgery jokes going, tweeting, "the weeknd is currently recovering from a complete facial transplant and still attended the #AMAs."
One fan referenced his song "Can't Feel My Face", writing, "d**n, when the weeknd said 'i can't feel my face when i'm with you' he wasn't joking." Someone else predicted that he would show up to the 2021 Super Bowl Half Time Show with his entire body covered with bandages. Another viewer compared his appearance to Heath Ledger's portrayal of The Joker in The Dark Knight, asking fellow Twitter users to "spot the difference" between the two looks.
Questions aside, one fan summed it up perfectly, declaring, "Only the weeknd is allowed to do this." Well, he's the only one who can do it and actually pull it off.