Brad Pitt Meets Maddox For The First Time Since Split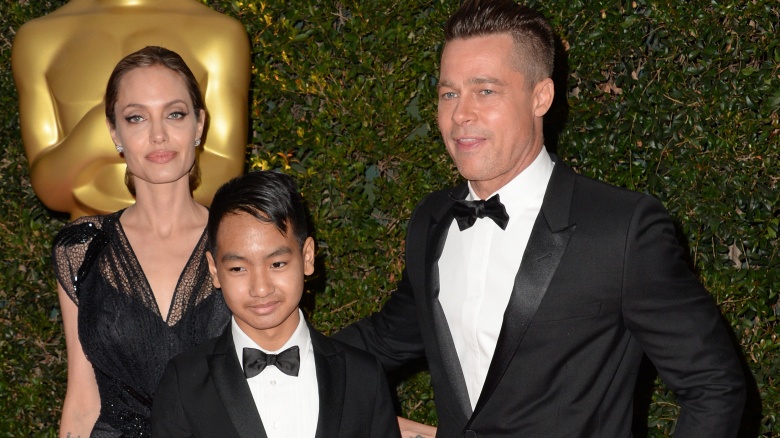 Getty Images
Brad Pitt finally met with son Maddox Jolie-Pitt for the first time since his split from Angelina Jolie in September 2016.
As Nicki Swift previously reported, Pitt, Jolie, and Maddox were involved in an in-flight altercation that may have prompted Jolie to file for divorce. It's unclear exactly what went down, but there was apparently some sort of argument, and Pitt may or may not have deliberately or accidentally struck 15-year-old Maddox during the fight. Jolie filed for divorce on Sept. 19, 2016, listing the couple's date of separation as Sept. 15, 2016—the day after the altercation on the plane. Jolie requested sole physical custody of the couple's six children.
According to Us Weekly, Pitt hadn't seen Maddox during previous visits with his other five children. A source said Maddox, who was adopted from Cambodia, "never wants to see Brad again." Another insider claimed the boy "is very close with Angie" and "doesn't see himself as Brad's son." However, TMZ reported that it may not have been Maddox's choice to not see Pitt. Sources told the tab there had been plans for the pair to reunite previously, but a therapist for the family didn't think the timing was right.
According to E! News, a therapist was present for the reunion on Oct. 20, 2016, though a source said Maddox was "mad at his dad" before the meeting.
TMZ notes that Jolie and Pitt are cooperating with one another for the well-being of the family, and Jolie wants the kids to have a "fully-involved mother and father," but there's reportedly no hope of a reconciliation for Brangelina. People reports that though both parents are working together, they're not speaking. "Brad and Angie haven't had any contact, and it's all being worked out through their teams," a source said. "It's a really sad situation."
As for Pitt's reaction to his meetings with his children, a source previously told Us Weekly, "It was emotional for him." Another insider added, "It wasn't fully of joy and happiness."