Even Rush Limbaugh Had Some Harsh Words For Trump's Legal Team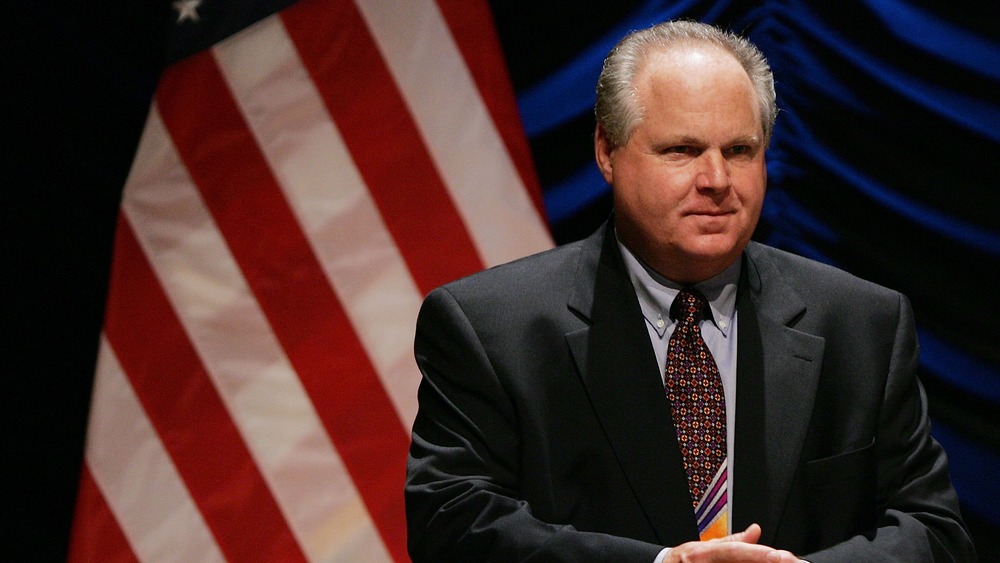 Win Mcnamee/Getty Images
President Trump's legal team has garnered the criticism of conservative radio host Rush Limbaugh. Following the Trump camp's failed attempt to prove the 2020 election was rigged during a rowdy press conference on Nov. 19, the outspoken Republican seems to share a similar sentiment to many Americans, essentially asking the president, "What?"
"You call a gigantic press conference like that — one that lasts an hour — and you announce massive bombshells, then you better have some bombshells," Limbaugh said on his syndicated radio show on Nov. 23, per National Review. "There better be something at that press conference other than what we got ... I talked to so many people who were blown away by it, by the very nature of the press conference. They promised blockbuster stuff and then nothing happened, and that's just, it's not good."
Despite being an avid Trump supporter, Limbaugh was clearly disappointed that the press conference didn't shed any new insights or proof of their belief that the election was illegitimate. "I understand — I'm the one that's been telling everybody this stuff doesn't happen at warp speed, at lightspeed the way cases are made for presentation in court, Limbaugh said, according to Fox News, "but if you're going to do a press conference like that with the promise of blockbusters, then there has to be something more than what that press conference delivered." Keep scrolling for more details about what the outspoken conservative thought about Trump's chaotic press conference.
Rush Limbaugh expected more from the Trump legal team's press conference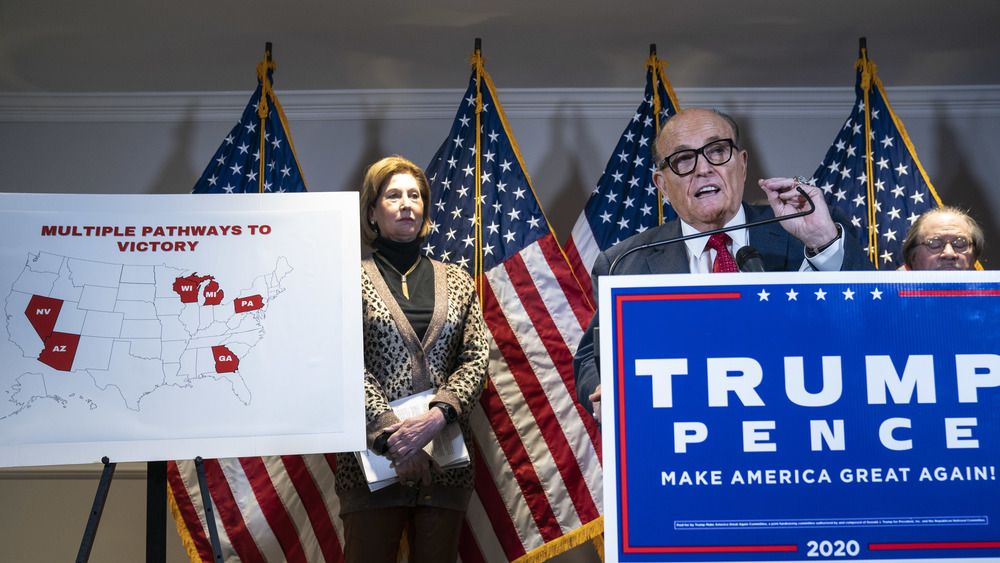 Drew Angerer/Getty Images
Radio host Rush Limbaugh had high hopes for the Nov. 19 press conference held by President Trump's legal team, but his expectations were not met. While Trump's gaggle of lawyers attempted to deliver evidence of widespread voter fraud in the 2020 election, the conservative personality felt they fell short, demonstrating little proof of the President's "landslide" victory, per Fox News.
The press conference was led by Trump's personal lawyer, Rudy Giuliani, who also raised eyebrows for his frazzled appearance and for making random references to the film My Cousin Vinny. The attorney appeared to be melting with brown dye dripping down his face. "Rudy Giuliani's hair dye (or bronzer?) is dripping and he has no idea. I'm crying literally laughing," one user tweeted at the time. "They forgot to properly refrigerate Rudy and now the poor guy is melting," another added.
Aside from his off-putting display, the former mayor of New York claimed there were several accusations of voter fraud in states that were projected to go blue, contributing to President-elect Joe Biden's win. Despite claiming to have evidence of a "national conspiracy" to steal the election in favor of Biden, he failed to deliver any of his proof. He claimed that if he were to share his sources, the court would object and witnesses could face retribution if named, per National Review. According to Giuliani, he had "at least ten" individuals who could detail instances of voter fraud but they "don't want to be harassed."
Trump's attempt to distance himself from Sidney Powell didn't go as planned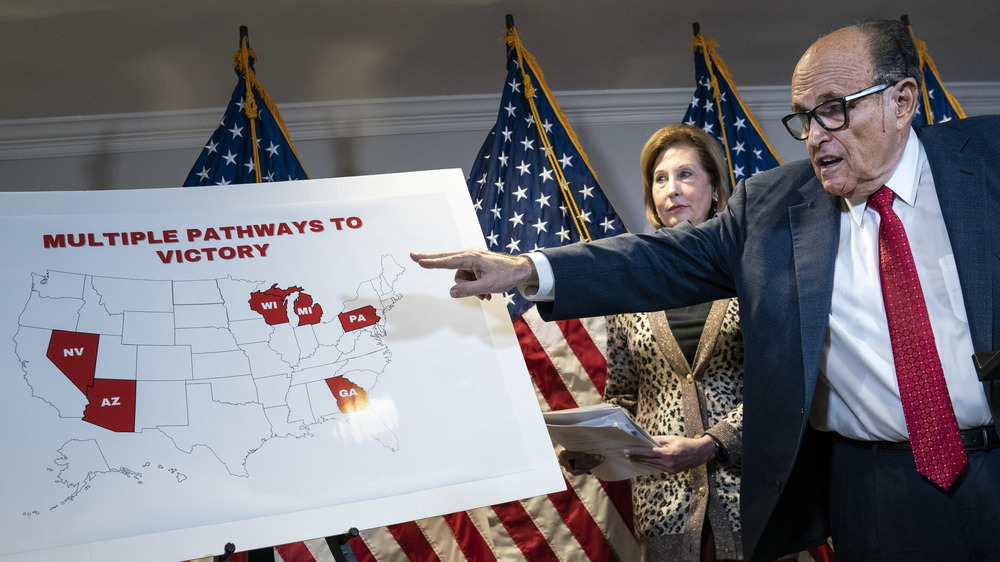 Drew Angerer/Getty Images
In addition to Rudy Giuliani's poor performance for the President, attorney Sidney Powell's didn't help Trump's case either, and his team seemed to know it. She alleged that Dominion voting machines were used in several states to shift votes in a global plot involving Cuba, Venezuela, and China to rig the election, per Fox News. Despite her accusations and assertion that evidence of her claim would be shown in court, she didn't display any proof of her own to back up her claim at the time.
Shortly after Powell presented at the conference, Trump's camp made efforts to distance themselves from the attorney. Giuliani and Jenna Ellis, Trump's senior legal advisor, released a statement on Nov. 22 claiming Powell is "not a member of the Trump Legal Team" and is not working for Trump "in his personal capacity." Despite their attempt to separate themselves from Powell, Limbaugh said it's a "tough thing to deny she was ever part of it because they introduced her as part of it. I mean, she was at that press conference last week." He added, "The problem with that press conference last week, folks, it goes way beyond Sidney Powell." Limbaugh suggested, given the lack of concrete evidence presented, that the team was wasting time they just don't have, saying, "Time is of the essence as it is speedily vanishing." Given that President-elect Joe Biden's team has officially started the transition process, it seems Limbaugh is right about that.