RM Reveals The One Thing That Will Be Missing From BTS' New Album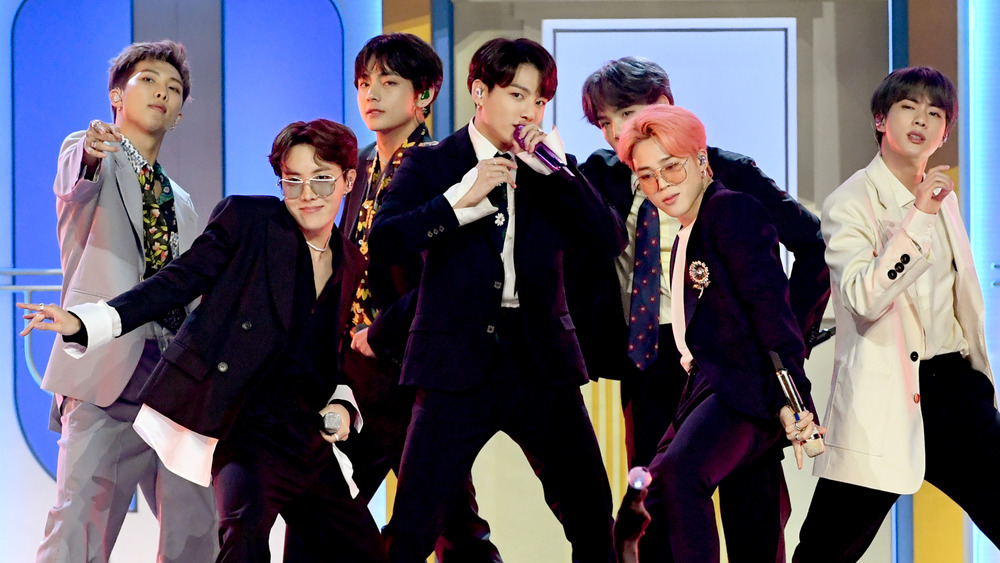 Kevin Winter/Getty Images
On Nov. 20, 2020, K-pop superstars BTS released their second album of 2020 and their fifth U.S. studio album, BE. The first single off the album is "Dynamite," which was also the group's first song to be fully recorded in English. The tune has become an enormous hit, selling over 2 million digital copies, per Forbes, and the video has surpassed 630 million views on YouTube as of this writing. "Dynamite" topped the Billboard's Hot 100 singles chart three separate times after debuting at number one, making BTS the first all-South Korean act to top the chart.
The Recording Academy nominated BTS for the Best Pop Duo or Group Performance Grammy for their song "Dynamite" on Nov. 24. 2020. BTS posted a hilarious video of their reaction to their Grammy win on Twitter with a long, nonsensical string of text that basically translates to "OMG." Pure joy! Speaking with Esquire, BTS mentioned that they had hoped to receive a Grammy nomination. Band member Kim Nam-joon — AKA "RM" — stated, "I think the Grammys are the last part, like the final part of the whole American journey." (If newcomers are wondering whether BTS deserves all of its success, watch their Tiny Desk concert to understand the group's charm, talent, and swagger.)
Amid BTS' success, the group decided to make a slight tweak to its messaging, as revealed by RM to Esquire. Keep on scrolling to find out what is different about their new album.
RM says the new album will address COVID-19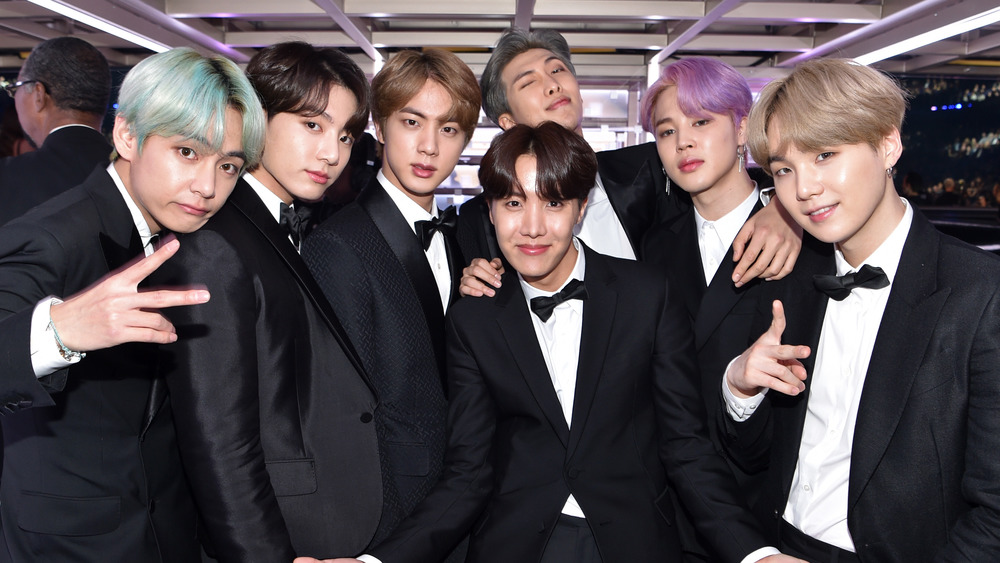 John Shearer/Getty Images
BTS' latest album, BE, was recorded entirely during the global pandemic. The album consists of eight songs, designed to showcase their strengths as individual vocalists and the range of emotions they and their fans have experienced. The band's lyrics are typically honest and are expressive, with group member Suga telling Esquire that no BTS album would be complete without a track that addresses social issues.
Although the band typically tackles some hefty subjects, the group's main rapper RM told Esquire that there have been some changes. "I don't think this album will have any songs that criticize social issues," he said. "Everybody is going through very trying times right now. So I don't think there will be any songs that will be that aggressive." That said, the album is far from escapist, as it directly addresses the pandemic and its consequences, including themes of isolation and loneliness. On the track "Blue & Grey," a line reads, "Oh this ground feels so heavier / I am singing by myself / I just wanna be happier," letting fans know it is okay to have negative thoughts because that is how many are feeling.
Of "Dynamite," RM told Esquire, "For this song, we wanted to go easy and simple and positive. Not some, like, deep vibes or shadows. We just wanted to go easy." With Jin agreeing, he explained, "We were trying to convey the message of healing and comfort to our fans." Post-pandemic BTS will be back to inspiring change, but for now, they're comforting fans.