The Hilarious Way BTS Celebrated Their Grammy Nomination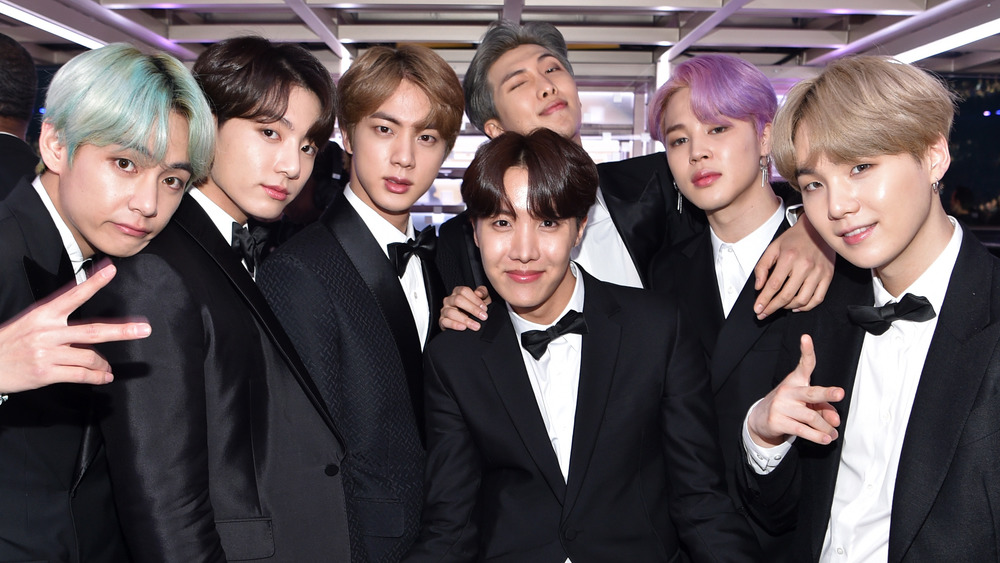 John Shearer/Getty Images
Like a stick of "Dynamite," BTS exploded with sheer joy over their 2021 Grammy nomination! 
The Recording Academy announced the nominations for the 2021 Grammys, with the show being broadcast live on January 31, 2021 and hosted by comedian Trevor Noah (via Pitchfork). Though that's not news to lovable K-pop boyband BTS, who were apparently glued to their TV screen as this year's nominations came in. Beyoncé led the list with nine nominations for her visual album Black Is King, per Entertainment Weekly, while Taylor Swift, Dua Lipa, and Roddy Ricch each scored six (no love for The Weeknd?). Meanwhile, BTS made the list with one nod for best pop duo/group performance for their smash hit "Dynamite." And don't they know it.
While the massively popular group could fill enough trophy cases with their U.S. award show wins to necessitate a lengthy trip to Ikea, the Grammys have famously evaded them. As Billboard noted, the group did earn a nod at the 2019 ceremony for best recording package, but this nomination marks their first nod in a major category. "We would like to be nominated and possibly get an award," RM told Esquire before the announcement. He added, "I think the Grammys are the last part, like the final part of the whole American journey... So yeah, we'll see."
Well, it finally happened! Scroll down to see BTS react to their 2021 Grammy nomination. It may truly be the most wholesome thing you watch all day.
BTS' Grammy nomination made history
So how did BTS react to their first major Grammy nomination? On Nov. 24, 2020, as the nominees for the 2021 awards show came in, the group filmed themselves waiting for the results. In the clip, Jungkook, Jimin, RM, and V appear to be watching a livestream of the nominations, per Billboard. Then, it happens. BTS' nomination is announced (for their No. 1 hit "Dynamite"), and the boys erupt in celebration, clapping, cheering, and generally freaking out.
The group aptly captioned the video to Twitter with a version of "OMG" that is actually too long to fit on this page, capturing the intensity of their reaction in text form. Clearly, BTS' hordes of fans, AKA their ARMY, felt the same way about this major moment. The tweet has 1.2 million likes and counting, as of this writing. And the comments to the video have been equally adorable and brimming with excitement. "V'S FACE AKKHASKJASK," one Twitter user wrote. "Why does Tae look perplexed lmao," questioned another. "jimin's eyes ... huge congratulations to you guys!!!" wrote a third, along with some emotional emojis. 
This moment is especially important because it's glass ceiling-breaking. As ET pointed out, BTS is the first K-pop group nominated in a major category. So it's not just a milestone for the group, but for K-pop. Staying humble and celebrating achievements with your fans is a huge part of the celebrity experience. And we love that the BTS boys are getting rowdy over their 2021 Grammy nod. It surely won't be their last.