Jay-Z, Kanye West May Be Frenemies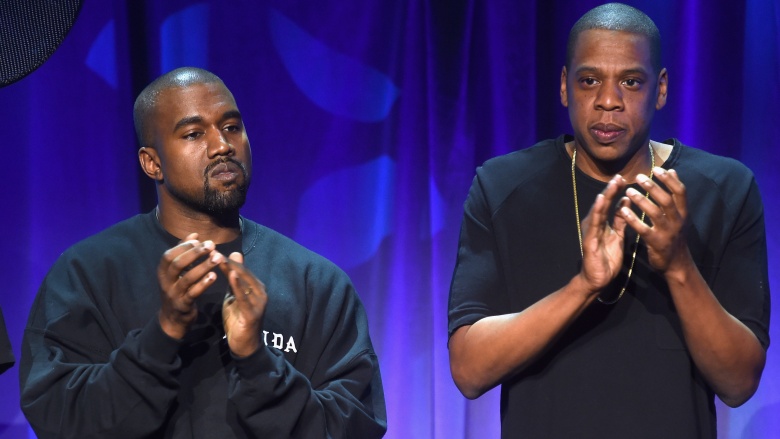 Getty Images
Pals Jay-Z and Kanye West may not be besties after all.
West ranted about Jay-Z on Oct. 19, 2016 during the Seattle stop on his Saint Pablo tour. Before performing a Drake track, Yeezy spat, "There will never be a Watch The Throne 2...That's the reason I wasn't on this song. I wasn't on the song 'cause of Hov...Because of some Tidal/Apple [Music] bulls**t...Every time I perform ["N****s in Paris"], I think about this s**t."
West continued, revealing that the problems with Hova aren't just professional, but personal. He said Jay-Z only called instead of visiting after West's wife, Kim Kardashian, was robbed at gunpoint in Paris in October 2016. West also complained that his daughter, North West, and Jay-Z's little girl, Blue Ivy Carter, have never met. "Don't call me after the robbery and say, 'How you feelin'?'" West ranted. "You wanna know how I'm feelin'? Come by the house...Bring the kids by the house like we brothers. Our kids ain't never even played together."
A source told Page Six, "Jay can't stand him," the insider said. "He looks at him as this crazy, eccentric motherf**ker he can tolerate in small doses. Kanye is a nut job. Everyone knows that." The source added, "There was so much money to be made [on Watch The Throne]. Jay was like, 'I'm gonna knock this out. We're going to do a tour to bring in millions of dollars. I can tolerate that.'" The insider continued, "Jay doesn't want that much to do with him. He likes his own space and is private. They're very much not the same person. Jay's immediate circle is very insular, and Kanye is just a guy who always wants something in the spotlight."
It's not the first time the longtime friends and collaborators have feuded. Jay-Z confirmed that when the duo recorded Watch The Throne, they didn't see eye to eye on everything, and there was rumored to even be a slap involved, which Hov denied. "Yes, we get on each other's nerves, but that's part of pushing each other," Jay-Z told Hot 97. "...It's a thing when people are pushing you to be greater, and we push each other to be greater. So of course there are times when we're in the studio, we're yelling, but that's about it." He conceded to BBC Radio One (via NME), "[We spent] four days, four days literally arguing...not like fighting. Well, there was some pushing at one point but not between us, just everyone else got a little excited."