The Truth About Carla Gugino's Partner, Sebastian Gutierrez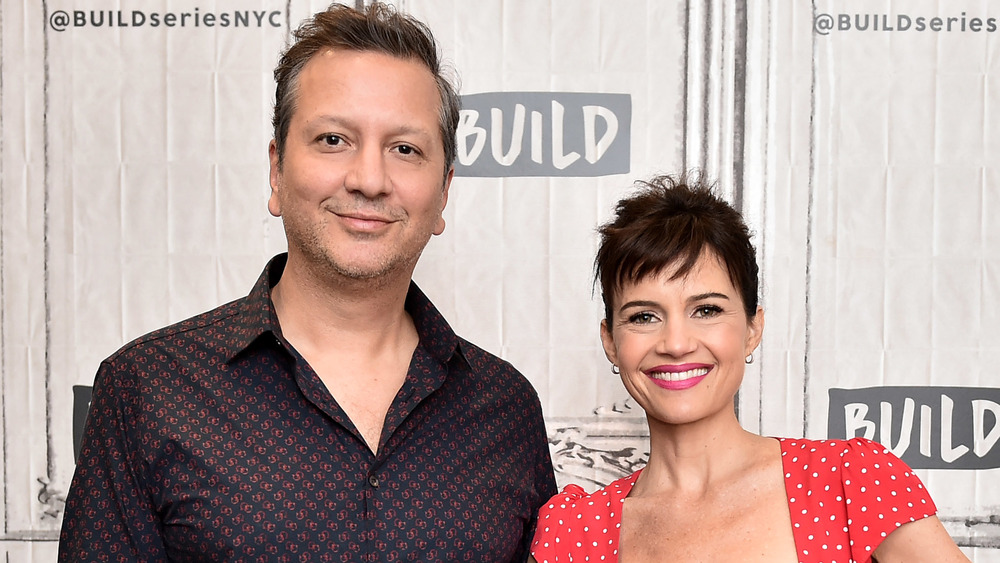 Steven Ferdman/Getty Images
There are a few things that you might not know about The Haunting of Bly Manor's Carla Gugino. For instance, you might be curious about how much money she has brought in over the years or want to know about the Bon Jovi video she starred in (wait, what?!). You might also be interested in why she's able to "[channel] sexuality like some high-voltage current," as The Guardian puts it.
Gugino has had a range of relationships when it comes to her work on-screen, including roles in films that are suitable for mature audiences only. Just check out 2017's Gerald's Game, in which her character finds herself in a nightmarish situation during what was supposed to be a spicy night with her husband, played by Bruce Greenwood. The fact that she is able to tackle intimate roles like that might be because she's in touch with a certain side of herself.
Gugino opened up in 2020 about the fact that sexuality is "a primal part of who we are" and explained that it's "part and parcel of who I am." She also noted that she wants to explore this aspect of who she is through the roles that she takes on, "because as a woman, I find it to be a huge center of our power that has been misused and misrepresented a lot of the time." This straightforward attitude toward that part of herself is surely one of the reasons that she has enjoyed a lasting relationship with her partner, Sebastian Gutierrez.
Here's what Sebastian Gutierrez finds 'frustrating' about Carla Gugino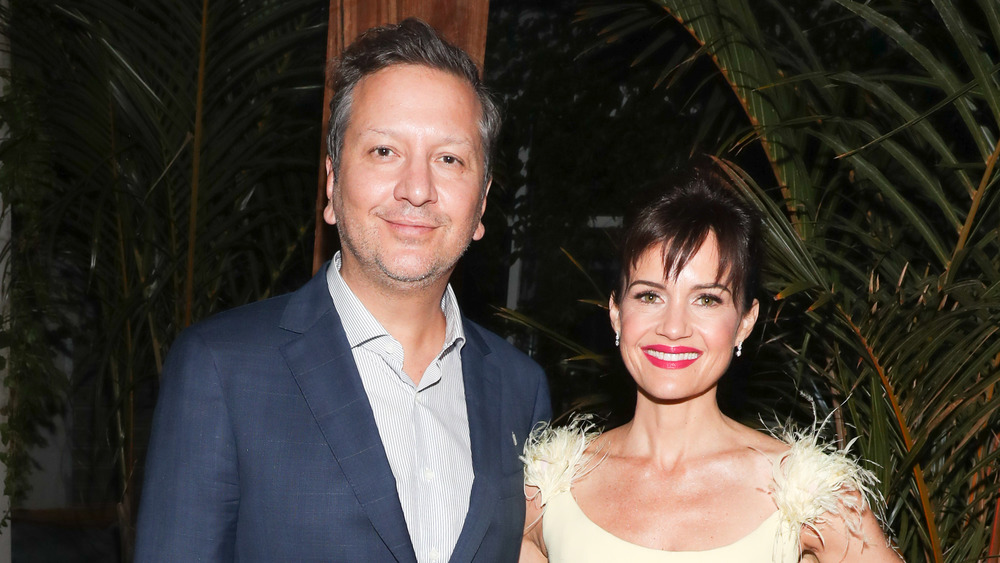 Bennett Raglin/Getty Images
Carla Gugino and Sebastian Gutierrez have been together for years, but who is Gutierrez? Well, he also works in show business. However, he is only an occasional actor. More frequently, Gutierrez acts as a writer, director, and producer who has worked on 2003's Gothika and 2006's Snakes on a Plane. He's also behind the television series Jett, which premiered in 2019 and stars —you guessed it — his love, Gugino. In the thriller, Gugino plays a "[w]orld-class thief" who "is just out of prison and already being forced back into what got her there, by a group of eccentric and dangerous criminals." This is just one of the "fascinating characters" that Gutierrez has created "for her to play and bring to life," according to Collider. 
"Carla, as you probably know, is forever underused ... and that's so frustrating," Gutierrez noted. That's why he added, "It's so exciting, for me, that I can actually give her stuff to do." He broke down what that often involves, saying, "I'm like, 'Now you have to sing and dance, and do this thing. And you have to break in a door and unlock the thing and get out of the handcuffs.' With some if it, you're just laughing and like, 'Good luck!' But, she's so game."
Gutierrez also admitted, "In short, she's my favorite actress." And that's just the way he likes it. He also apparently prefers her to be his girlfriend as opposed to his wife.
Marriage 'isn't important' to Carla Gugino and Sebastian Gutierrez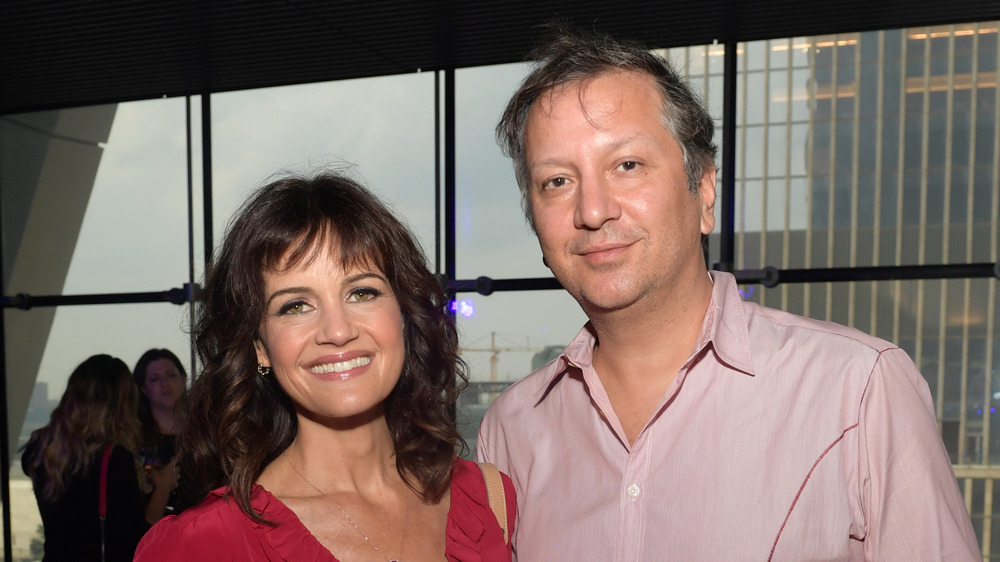 Ben Gabbe/Getty Images
There seems to be a little confusion out there when it comes to the status of Carla Gugino's relationship with her longtime love, Sebastian Gutierrez. In October 2020, CheatSheet reported that "Gugino [had] been married to ... Gutierrez since 2005." On the other hand, the outlet also noted that, while they "have been together for over a decade ... the two have not felt the need to walk down the aisle" — and that would seem to be more accurate.
Indeed, in 2009, Gugino herself opened up about her relationship with Gutierrez while doing an interview for Women's Health. At that point, she was apparently living "mainly in Los Angeles" — although she had "a place in NYC too" — along "with her boyfriend of 12 years." Marriage "isn't important for us," Gugino admitted. She added, "We like being boyfriend and girlfriend; there's something sexy and fun about that." The star also explained that they are "very much about, 'There's nothing holding us here other than our desire to be together.'"
When it comes to the kind of things that do keep them interested in each other, Gugino claimed that it was about being what Women's Health deemed "playful." For example, her dressing room features a spot for Gutierrez's chair so that he has a comfortable place to sit and enjoy a cappuccino that she makes before she puts on "fashion shows for him," which he surely loves. These two obviously know how to keep the relationship fresh!