The Bon Jovi Music Video You Never Realized Starred Carla Gugino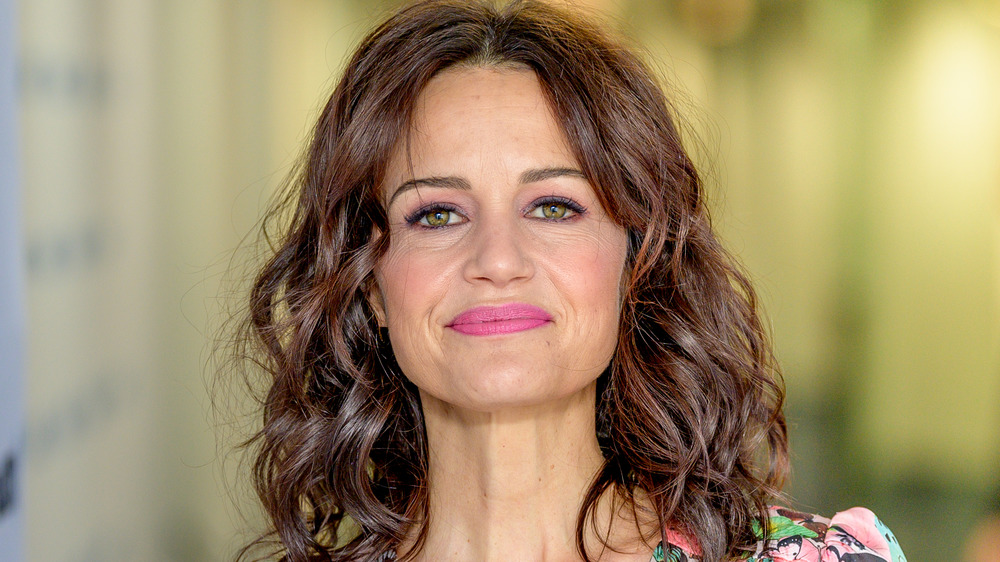 Roy Rochlin/Getty Images
From Alicia Silverstone's appearance in multiple Aerosmith jams to Tom Hanks' smooth-as-butter dance moves in Carly Rae Jepson's "I Really Like You," celebrities have been starring in music videos for decades. And why not? It adds a little extra star power, and it can only help boost a song's popularity. Sure, we didn't need an ultra-intense Shia LaBeauf starring alongside Maddie Ziegler in Sia's "Elastic Heart" music video, but we got it. And even in that case, the video got us talking. It's racked up more than one billion views to date. 
Another star you probably didn't know was in a music video is The Haunting of Bly Manor's Carla Gugino. The actress has actually been in the biz for decades, per The Guardian. She played mom Ingrid Cortez in 2001's Spy Kids and a caped crusader in 2009's Watchmen years before appearing in both of Netflix's Haunting shows. As Olivia Crain in The Haunting of Hill House and as the mysterious Storyteller in Bly Manor, Gugino has enthralled the masses with her impressive chops. Netflix users are still binging the spooky series well past Halloween, but unlike newcomers like Kate Siegel and Oliver Jackson-Cohen, you've seen Gugino way earlier. Like, in a Bon Jovi music video.
Yup, back in the 1990s, a young Carla Gugino starred alongside some A-listers in one of Bon Jovi's biggest hits. Can you guess which song? Scroll down because you're "halfway there" to getting an answer!
Here's why Carla Gugino may look extra familiar
So what music video did Carla Gugino star in? No, it's not "Livin' on a Prayer". We got you, didn't we? She appeared in Bon Jovi's 1994 music video for "Always"! In the video, you can see a young Gugino intertwined in a steamy romance with a rock star who looks similar to Jon Bon Jovi, played by actor Jack Noseworthy. However, things take a turn when Gugino's lover is unfaithful with ... a young Keri Russell! A lot happens in the six minute-long saga, but fans were clearly digging the story that was told. As of this writing, the video has more than 650 million views on YouTube. See? Star power never hurts. 
In February 2020, the actress told The Guardian that sexuality is "a primal part of who we are" and "part and parcel of who [she is]". So she's likely still proud of her Bon Jovi moment. That said, she thinks male filmmakers have a long way to go. "... [A]s a woman, I find it [sexuality] to be a huge center of our power that has been misused and misrepresented a lot of the time," she told the outlet. "I find it so interesting that you can see a nipple shot off, but you can't see a woman walking from the bed to the bathroom naked without being commented on." Gugino has seemingly gone from showcasing her looks in a Bon Jovi video to being a force both on and off screen.