Inside Jon Bon Jovi's Marriage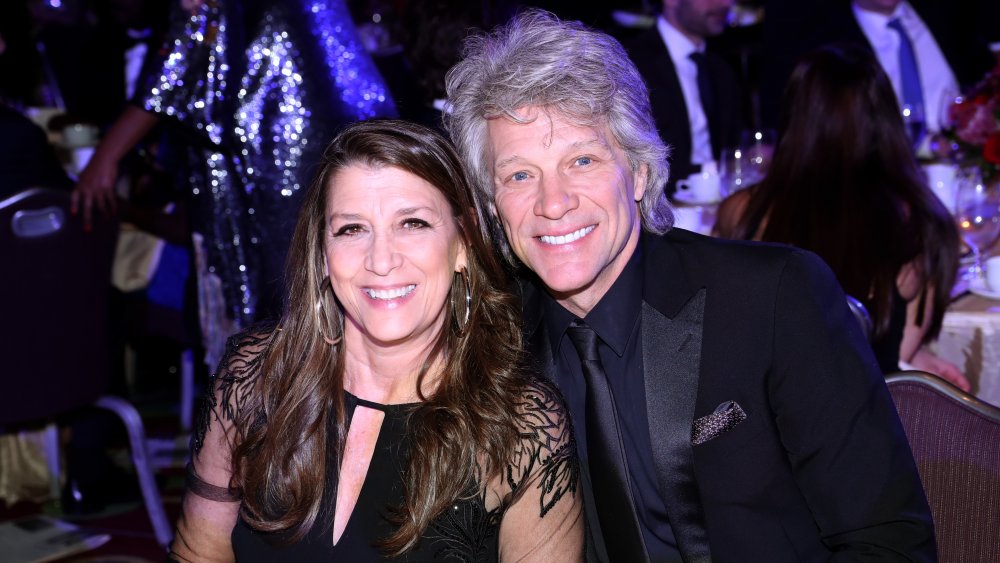 Bennett Raglin/Getty Images
While most of their poodle-haired '80s peers fell off the radar once the grunge scene took hold, Bon Jovi somehow remained just as massive as ever. Selling an astonishing 21 million copies, their 1994 compilation Cross Road was one of the best-selling albums of the decade. And they continue to pack out stadiums across the world with their anthemic brand of arena rock to this day.
Impressively, the marriage of their perfectly chiseled frontman Jon Bon Jovi has been even more enduring than his band. Yes, the proud New Jersey native (and avid Jersey Shore hater) has been with his high school sweetheart Dorothea Hurley since way back in the early 1980s. And four decades on, the couple that pretty much no one has ever labeled "Jonothea" is still going strong.
Not that their relationship has all been plain sailing. Indeed, as Jon admits himself, he certainly wasn't a saint during Bon Jovi's rise as one of the biggest bands in the world. However, tales of rock star debauchery and promiscuity have never really been the singer, actor, and former Philadelphia Soul football team owner's shtick. Here's a look at how Jon and Dorothea have given love a good name.
Jon Bon Jovi wooed Dorothea Hurley after sticking to a three-week rule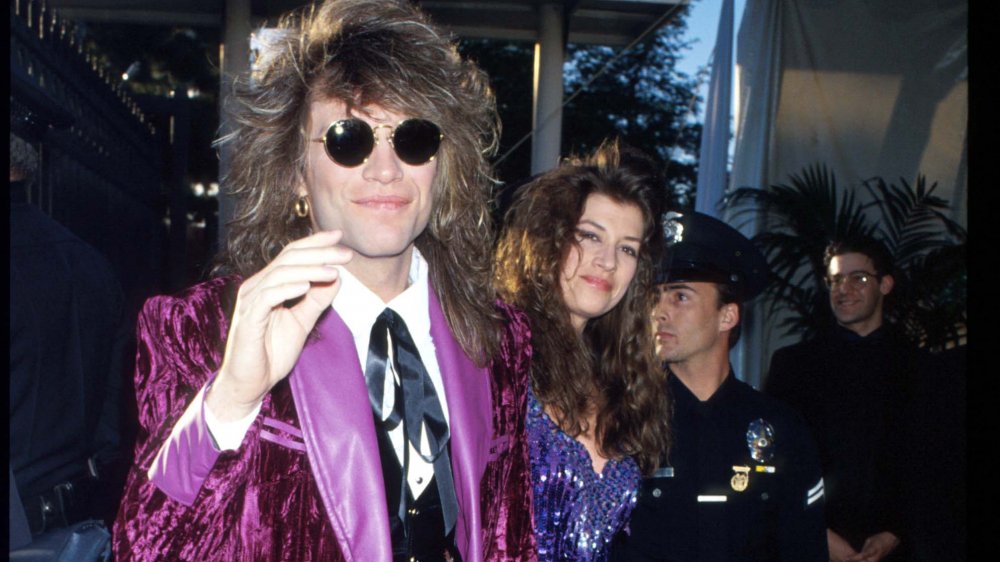 Laura Luongo/Getty Images
It seems hard to believe now, but there was a time when Bon Jovi's frontman wasn't an exquisitely coiffured rock god with millions of women across the world falling at his feet. Back in 1980, he was just an average New Jersey guy with a slightly different name, Jon Bongiovi, and one who had his very own distinctive version of bro code.
Jon first clapped eyes on Dorothea when they both studied at Sayreville War Memorial High School in 1980. Unfortunately for the future Ally McBeal star, the object of his affections was going steady with another student at the time. But when the man in question joined the military, the singer took his opportunity to swoop in. Well, after a little while, anyway.
Jon recalled to Best Life in 2017, "Dorothea was going out with one of those guys who joined the service. He left town, and hey, you know the five-second rule when you drop a piece of toast on the ground? I gave him three weeks. We started dating, and that was the end of that." He wasn't wrong there. From that moment on, the pair barely left each other's sides for the best part of the next 40 years.
They waited a while to say 'I do'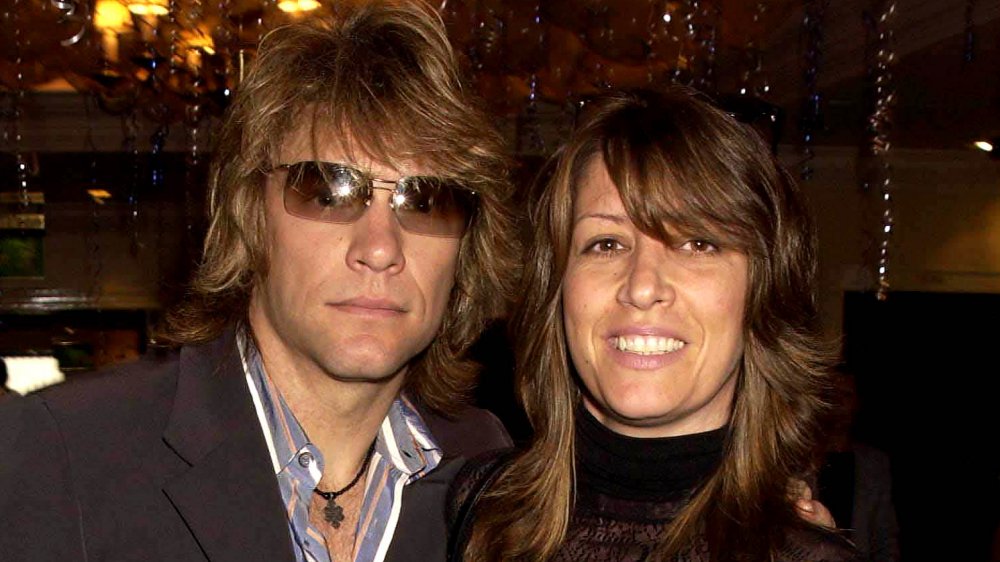 Dave Benett/Getty Images
Jon and Dorothea were definitely in a very different place to their teenage sweetheart selves at the end of the decade. The former had enjoyed two number one albums, four chart-topping singles, and the adoration of millions of pop-metal fans worldwide. But he wasn't yet a married man. Indeed, despite nine years together, Jon and Dorothea were still only able to call themselves boyfriend and girlfriend rather than husband and wife.
That all changed in 1989 when Bon Jovi played a three-night residency at Los Angeles' famous The Forum. Speaking to Best Life 18 years later, their frontman explained, "We were staying at the St. James's Club, which is that beautiful art deco hotel on the Sunset Strip across from the old Hyatt House. I pulled the curtain back in my room, and there's a billboard of me staring right back. I turned to Dorothea and said, 'I got an idea. Why don't we go right now?'"
The 'idea' that Jon was referring to was a wedding ceremony. The pair subsequently took a spontaneous flight to indulge in one of the ultimate rock star cliches: the Las Vegas wedding. Yes, the Bongiovis exchanged their vows at Sin City's Graceland Wedding Chapel. Unfortunately for them, not everyone approved.
Jon Bon Jovi's manager believed his wedding was career suicide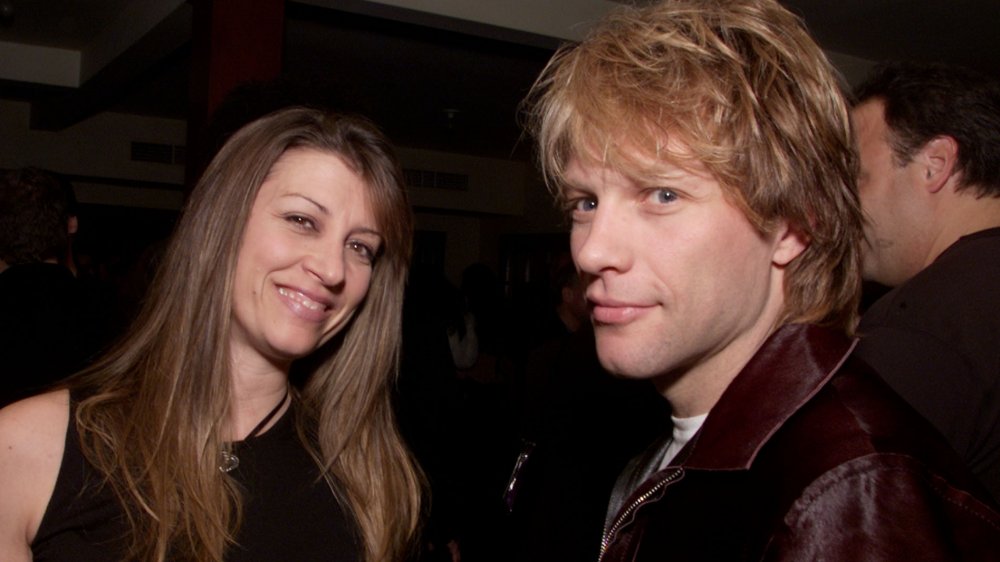 Kevin Winter/Getty Images
It seems unlikely that Jon Bon Jovi received a "Congratulations" card from his band's manager after getting hitched to Dorothea Hurley in Las Vegas in 1989. In 2018, the rocker recalled to the Mirror how his impromptu wedding was seen as career suicide by the man who helped guide Bon Jovi to success.
"It was like Harry Styles or Justin Timberlake getting married. I was that to the young girls in my time. When I came back from Vegas my manager was furious. He was like, '­America's boy is now married ... that's not a good career move.'" And there were plenty more disgruntled reactions where that came from. Jon's record label was also dismayed to learn that one of their ultimate pin-ups had taken himself off the market for good. The rocker's mom wasn't exactly overjoyed at hearing the news, either. "F*** no, she was not impressed," Jon added.
Unsurprisingly, with many of his nearest and dearest refusing to throw any confetti in celebration, Jon's honeymoon period lost some of its shine. The Grammy winner explained, "America wasn't happy on that Monday when they found out about the wedding and a lot of people tried to ruin a beautiful thing. They tried to cheat us out of that moment."
Dorothea Hurley has no problem with her husband's female following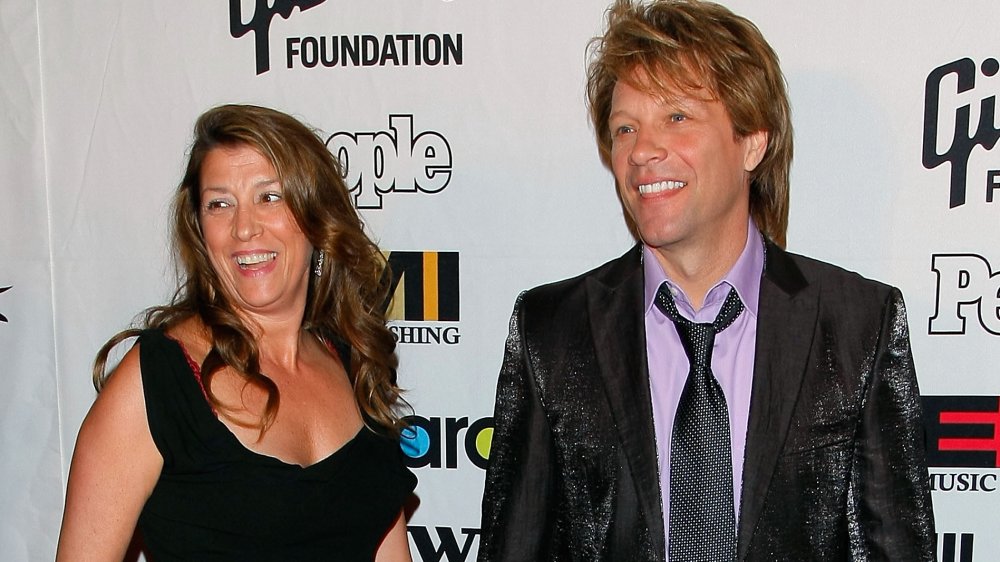 Jemal Countess/Getty Images
Of course, Jon Bon Jovi walking down the aisle to declare his undying love for another woman was never going to stop female fans from lusting after the rocker. Despite his manager's reservations, the singer remained a pin-up long after saying 'I do.' In fact, Jon was still making People magazine's annual Sexiest Man Alive list as recently as 2010!
Luckily, the lady who captured his heart for good doesn't appear to have any problem with US tabloid magazine readers drooling over her husband. In a 2016 interview with People, Dorothea Hurley was asked about Jon's appeal with the opposite sex. With impressive diplomacy, she answered, "I think it's great they love the music. They love the band and are so loyal."
Perhaps her husband's comments in a chat with Men's Health six years earlier helped to quell any sense of jealousy. He said, "I don't look at this week's hot starlet and think about trading in or trading up. I don't have a mistress on the side or another family across town. You're never going to read that story about me. I have no regard for that whole lifestyle."
Jon Bon Jovi reportedly once dumped Dorothea Hurley for Diane Lane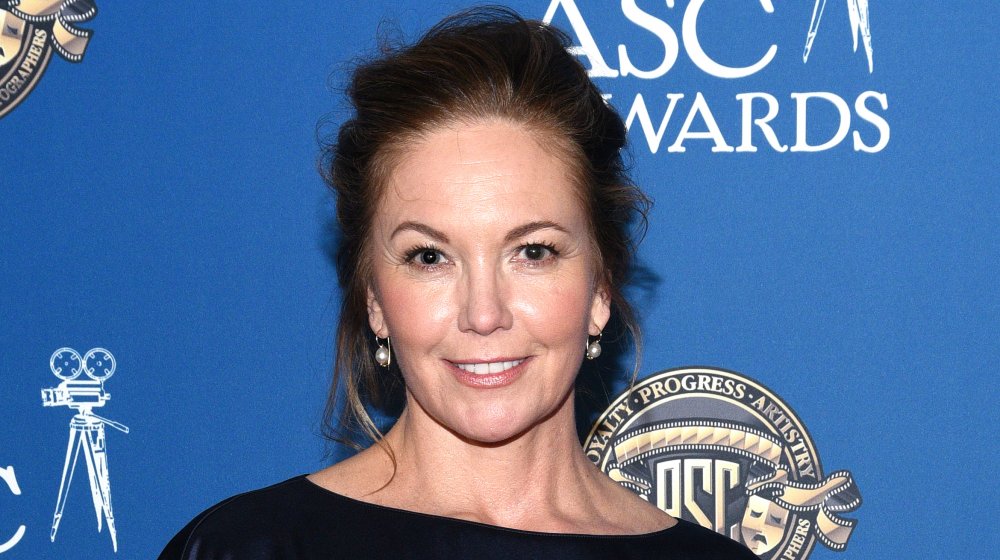 Michael Tullberg/Getty Images
Jon Bon Jovi freely admits that he hasn't always been on his best behavior during his long-running relationship with Dorothea Hurley. And the rock god certainly wasn't in the mid-1980s when he reportedly dumped the love of his life for a future Hollywood star. Yes, according to ex-Bon Jovi manager Rich Bozzett, Jon once believed he'd be better off with Diane Lane.
According to Daily Mail, Bozzett alleges in his 2010 book, Sex, Drugs and Bon Jovi, that his former client ditched his high school sweetheart to shack up with the former child star, who was then very much a party girl. But he eventually returned with his tail between his legs after the Unfaithful actress apparently began to find bandmate Richie Sambora a more enticing prospect.
Lane was all too happy to confirm in 2017 that she did indeed enjoy a romance with the "Livin' on a Prayer" hitmaker back when copious amounts of hairspray were all the rage. During an appearance on Watch What Happens Live with Andy Cohen, the Oscar nominee was asked about the rumor. She replied, "Five months, I was 20. And I think every girl should have such a wonderful experience when she's that young." However, it's not clear whether Lane really was a man-stealer or if Jon and Dorothea were on a break.
They have four kids together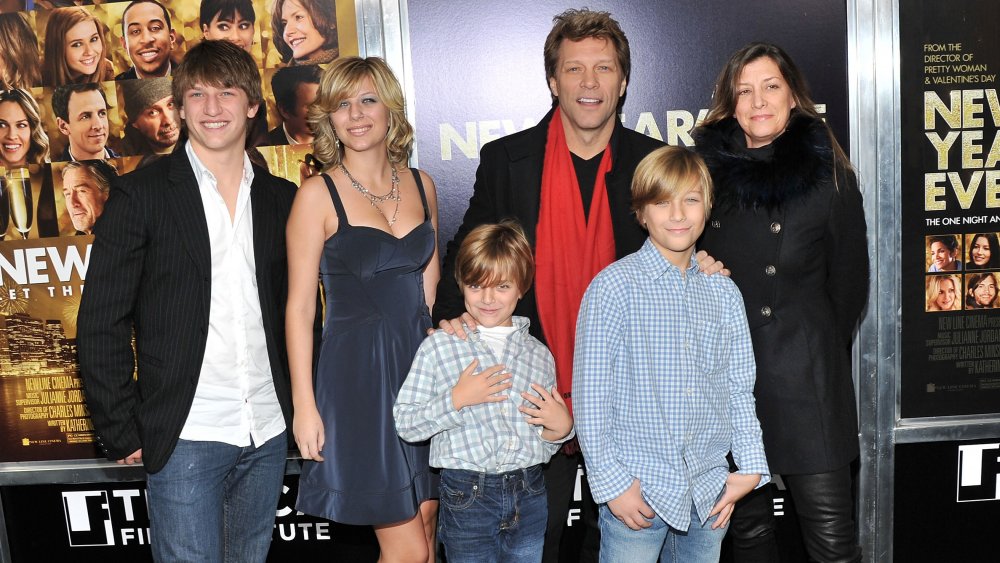 Stephen Lovekin/Getty Images
Jon Bon Jovi and Dorothea Hurley got a major scare in 2012 when their only daughter suffered a suspected drug overdose while studying at Hamilton College. Born in 1993, Stephanie Bongiovi was also arrested after being discovered in the possession of heroin, although the charges were later dropped. Jon told the Mirror a year later that it was the "worst moment" he'd had as a father. Stephanie thankfully made a full recovery and appears to have since cleaned up her act.
Luckily, the couple's three other kids don't appear to have given them much trouble. Arriving two years after his sister, Jesse Bongiovi, went on to study at South Bend's University of Notre Dame, where he played for the Fighting Irish football team. He's since gone into business with his pop as the co-founder of wine company Hampton Water, and in 2020, he told Closer Weekly just how much he's been inspired by his old man. "He would often wake me up in the summer to let me know he just finished a six-mile run. He works harder than anyone I've ever met, and I think it shows."
Jacob Hurley Bongiovi was welcomed into the world in 2002 and went on to land a place at Syracuse University, while the family unit was completed in 2004 with the birth of son Romeo.
They try to give their kids a normal life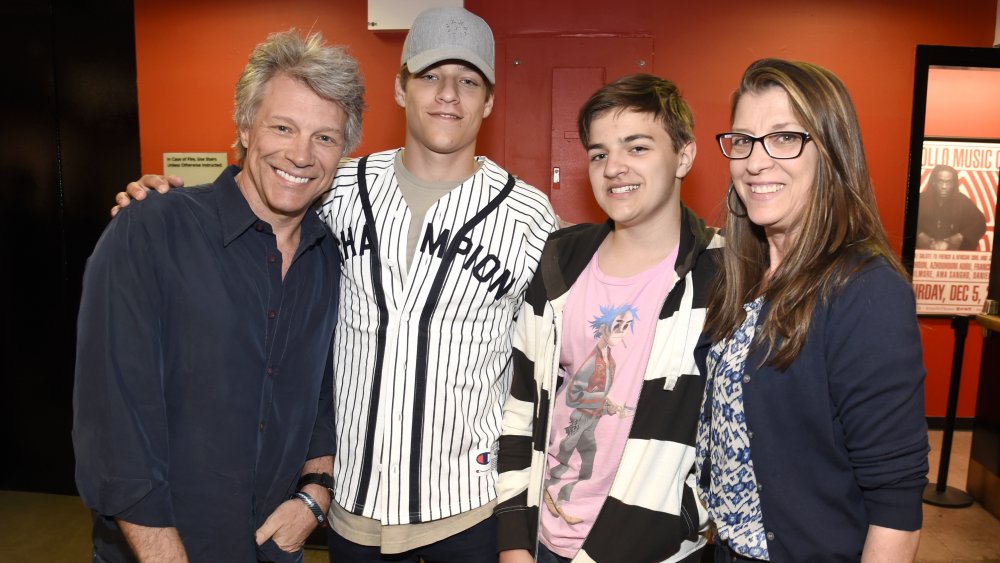 Kevin Mazur/Getty Images
You might think it's impossible for a chart-topping rock star of nearly 40 years reportedly worth $410 million to give his offspring a relatively ordinary upbringing. But New Jersey's second most famous musical export Jon Bon Jovi has certainly been trying.
In a 2016 interview with People, Dorothea Hurley claimed that she and her husband have always attempted to shield children Stephanie, Jesse, Jacob, and Romeo from the Hollywood lifestyle. "We try hard to give our kids a normal life. I never pointed to the TV and said, 'There's Daddy!'" And it sounds like the Bongiovi brood aren't exactly bothered about missing out on the glitz and glamor that follows their father around.
Jon also revealed he once asked his two younger sons if they wanted to attend a Bon Jovi show, and they replied with a firm thumbs down. "So that'll keep you humble," the star wryly remarked. Not that the "Always" singer is particularly enamored with hitting the road, either. He claims to leave the family home "kicking and screaming" whenever a new tour is about to kick off, adding, "You see my fingernails in the driveway ... I'm not a journeyman. I know some people who are applause junkies. I'm not."
Jon Bon Jovi believes Dorothea Hurley is the glue that holds them together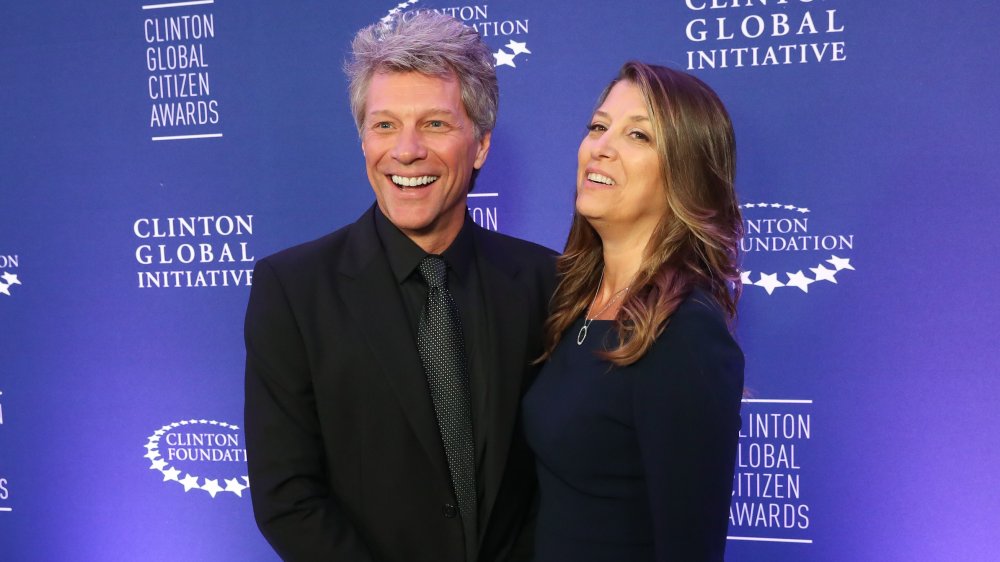 Rob Kim/Getty Images
Jon Bon Jovi proved that his way with words extends beyond Bon Jovi song lyrics in 2016 with a description of his wife that pretty much raised the bar for every other husband come Valentine's Day. In a chat with People magazine about his enduring marriage, the crooner hailed Dorothea Hurley as "glue." It gets more romantic, don't worry.
The singer went on to add, "I'm the crazy visionary with all kinds of things flying, and the seams are all splitting. She's the one following me with the glue and the thread and needle, keeping it all together." Aww. Dorothea wasn't exactly as effusive as her rock star husband, but she did explain why she feels the couple have managed to survive the pitfalls that make more than half of Hollywood marriages end in divorce. She said, "Somehow it works. I think because we grow at the same rate. We grew equally and not in opposite directions."
And Dorothea also appears to have maintained her enthusiasm for Bon Jovi's music, too. Discussing how she will often accompany her spouse on tour, she remarked, "I usually stand on the side and watch. The songs all sound great, but then you hear them live!"
Jon Bon Jovi wants them both to grow old gracefully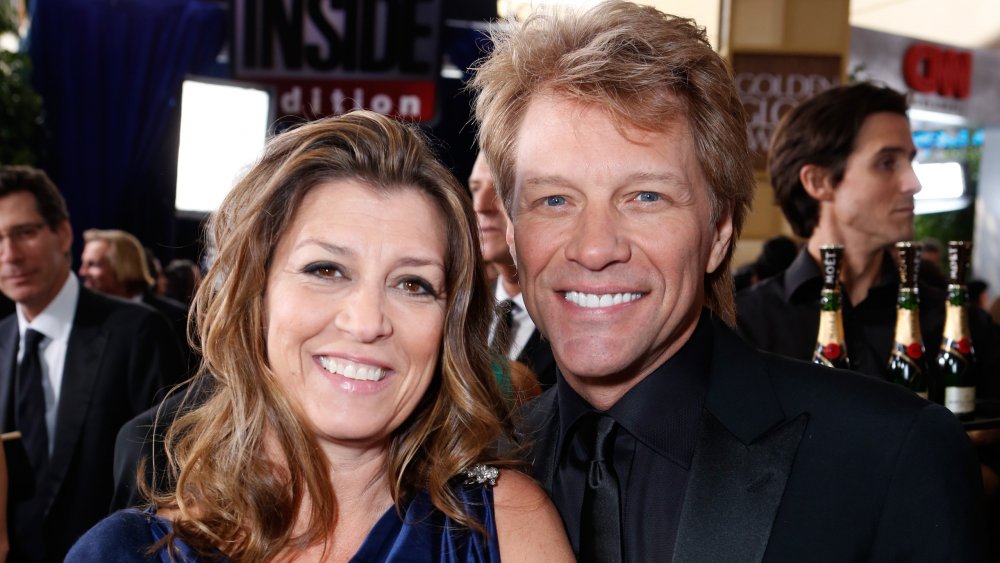 Alexandra Wyman/Getty Images
Should Jon Bon Jovi and Dorothea Hurley ever call time on their long-lasting marriage, then the former has already helpfully created a checklist of what qualities he looks for in a woman. So if you still have hopes of becoming Mrs. Bongiovi, check out how many you possess. The rocker likes his other half to be independent, strong, and essentially just all-around chill. Oh, and plastic surgery is a particularly big no-no.
Yes, in a 2007 interview with the Daily Mail, Jon listed all the things he likes about his wife Dorothea Hurley, and her aversion to going under the knife sat pretty near the top. "I find that women are much sexier when they age gracefully," He explained. "I want to see them in cowboy boots and blue jeans and not with so much liposuction that they can't even close their eyes. You see women with it everywhere in Hollywood and, urgh ..."
The "It's My Life" singer also insisted that he has no plans to trade Dorothea in for a younger model. In fact, he seems quite proud that they have one of rock music's most enduring marriages. However, Jon also made sure to give a shout-out to U2 frontman Bono and his wife Ali, who actually started dating way back in the mid-1970s.
Mutual respect is the key to their relationship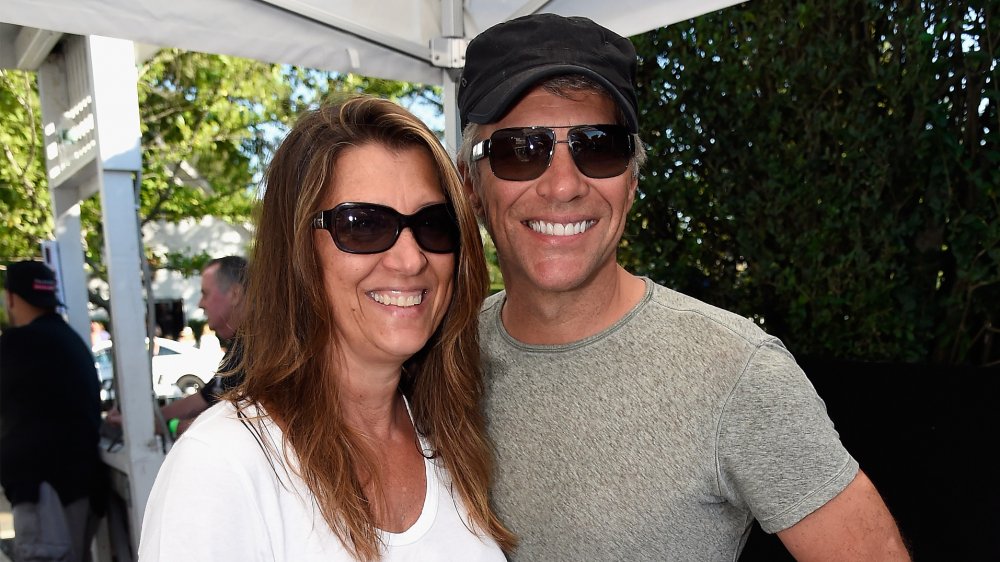 Kevin Mazur/Getty Images
In 2020 Jon Bon Jovi and Dorothea Hurley celebrated 40 years since they first met by what else, but giving another gushing interview about their relationship to People magazine. Yes, the couple proved once again that they have no problem with public displays of affection in a chat, which just happened to coincide with the release of Bon Jovi's new LP 2020.
When asked what the secret to their success is, Jon replied, "Mutual respect. Having grown up together and grown together. And we really like each other. We want to hang out." His wife then chimed in, "I always said I was good at spotting potential too. I have a gift."
The "Bad Medicine" singer then championed Dorothea for being his rock before reiterating that he's never allowed all the fan worshipping and globe-trotting showbiz lifestyle to affect his marriage: "We work hard at it, but we enjoy each other and we never fell for the trappings of what celebrity can do. We've witnessed that happen over the years to people that were close to us and people that we knew from afar. It's just what I do, it's not who I am. I write songs. I happen to be very good at performing them. That's it."
They also run a foundation together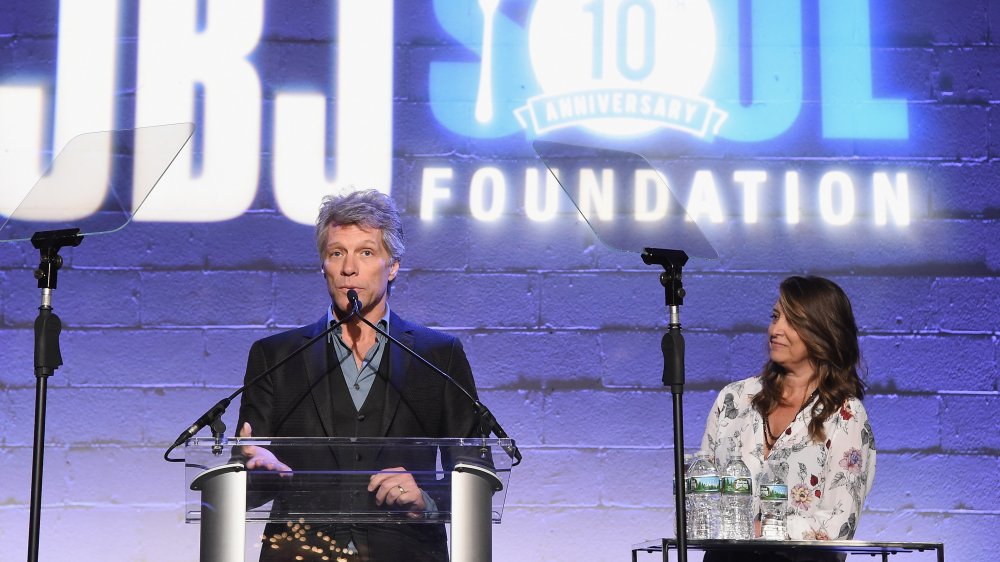 Dimitrios Kambouris/Getty Images
They say you should never mix business with pleasure. But tell that to Jon Bon Jovi and Dorothea Hurley, who have been running their own charity organization successfully since 2006. The imaginatively-titled Jon Bon Jovi Soul Foundation was launched to support those affected by homelessness and poverty in the Philadelphia area. And five years later, it expanded with the opening of the JBJ Soul Kitchen, a community-led eatery which boasts a pay what you can scheme.
Jon was his usual humble self when asked about the pair's efforts in a 2020 interview with People. "'If we could put a roof over someone's head or put food in their belly [then] it's quite simple: We don't need a scientist to find the cure [for COVID-19]." As the rocker added, "I'm happiest if I like what I do for a living, I'm doing right by my family and I'm making the world just a little bit better."
Dorothea also told the same publication that their decision to pay things forward was essentially a no-brainer. "It's a partnership. When we see injustice or people suffering, you want to help. We're very blessed, and we have the ability to do that."