Dolly Parton's House Isn't Decorated The Way You'd Expect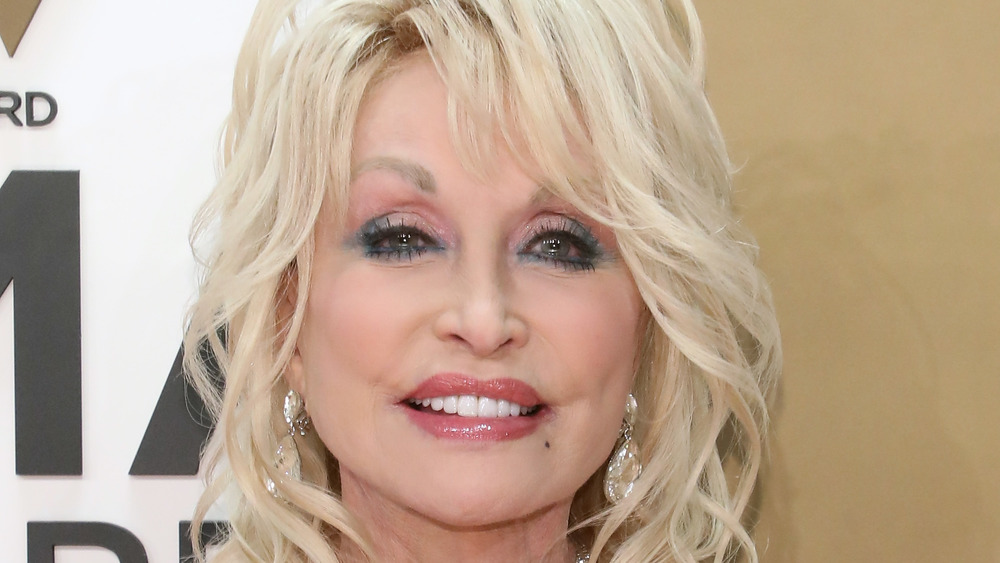 Taylor Hill/Getty Images
Country music icon Dolly Parton is known for her one-of-a-kind bedazzled rustic style. The multi-Grammy Award-winning artist has sported a sky-high hairstyle ever since the 1960s beehive first debuted, and pairs her 'do with basically anything that's covered in sparkles — think crystal rhinestones, beaded embellishments, and other flashy accessories.
According to Harper's Bazaar, Dolly Parton "is a style icon in a league of her own," thanks to her "larger-than-life hair, long red nails, grade-A bedazzling." So, of course, many wonder if her Brentwood, Tenn. residence is also decorated in the same country glam-inspired way. After all, celebrity homes are notorious for going above and beyond when it comes to design and decor. 
While we're no MTV Cribs, we decided to do our own digging to the inside scoop on Parton's Tennessee digs. Interested in learning more about her swoon-worthy family home? From the impressive acreage to the surprising interior design, keep reading to find out all about this country music star's mega-mansion.
Here's what we know about Dolly Parton's Brentwood property
Many have wondered what Dolly Parton's Brentwood property looks like inside. According to Amo Mama, "Even though Dolly Parton and her husband, Carl Dean, have been living in a 3,324 square feet mansion since the late '90s, the singer-songwriter doesn't show it off a lot." The only known information about the mansion has been based off of aerial footage. The List reported that "the property has over 10 structures, gazebos, a swimming pool, tennis court, [and] a chapel."
However, thanks to Instagram, Parton revealed a glimpse inside of her ultra-private estate in March of 2020. Following Kenny Rogers' death, Parton shared a few touching videos in honor of her "Islands in the Stream" partner. While the videos not only paid tribute to Rogers and uplifted fans during the COVID-19 pandemic, Amo Mama stated the videos also showcased the interior design of Parton's home.
In the videos, fans can see classic yellow-painted walls, hardwood flooring, floral curtains, white window treatments, and Parton's wooden piano. These decor choices are a stark contrast from what Parton typically flaunts in her outerwear. The only accent piece that was reminiscent of Parton's unique fashion style was a colorful bedazzled cross that sat on top of her piano, as screenshotted above.
While these videos are only a sneak peek of what Parton's home looks like inside, it appears that maybe her taste in furniture is a bit more refined than her taste in fashion.