Are Demi Lovato And John Mayer Dating?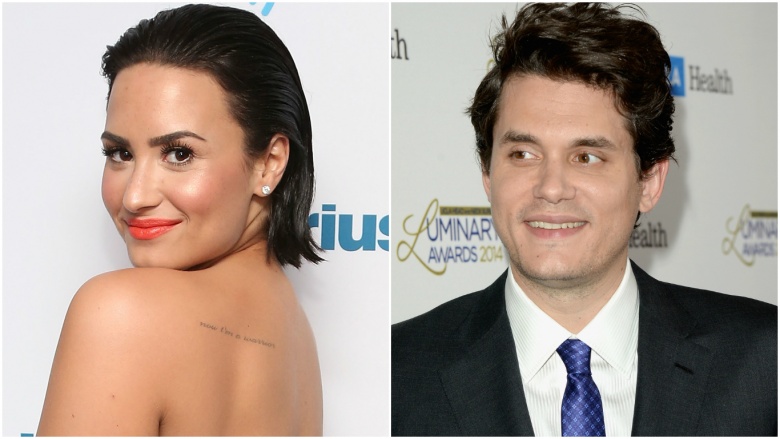 Getty Images
Does singer Demi Lovato have a new post-Wilmer Valderrama rebound?
A source told Us Weekly that Lovato, 24, was getting flirty with musician John Mayer over the weekend. "John had his arm around Demi and was whispering sweet nothings into her ear," a spy said. "She was into it. They weren't making out or anything, but she was giggling the whole time." A second witness said that the pair "chatted it up for over an hour," and that Mayer told the "Confident" singer she "has one of the greatest voices."
It's not the first time Mayer, 39, has reached out to Lovato. In 2009, the "Your Body Is A Wonderland" singer gushed on Twitter (via People), "I have 'La La Land' by @ddlovato stuck in my head. Actually, it's not stuck. I'm choosing to sing it. B section is sophisticated," he wrote. Lovato replied, "That is quite possibly the best compliment I've received in this business. Thank you so, so much!" He responded, "You're going to make lots of records, I can tell. Write one song at a time and never, ever apologize for any of them, ever."
Mayer put his money where his mouth was and even collaborated with Lovato on her song "World of Chances" from her sophomore album, Here We Go Again.
"John Mayer's been a huge influence on me. His songwriting really inspires me," Lovato told MTV News in June 2009. "I guess he had heard I was a huge fan, and he sent me a letter. Then we ended up writing together. And it was really great 'cause he actually reached out to me, and it was like a dream come true...He's a really, really funny guy, and he talks a lot...I had a great time. He taught me a lot about the business and gave me a lot of advice."
In August 2016, Lovato was rumored to be dating UFC fighter Luke Rockhold, even allegedly getting matching tattoos with the brawler shortly after her split from longtime love Valderrama, 36, in June 2016. Mayer has a slew of Hollywood starlets in his history, including Katy Perry, Jennifer Love Hewitt, Jennifer Aniston, Jessica Simpson, Taylor Swift, and Minka Kelly—who's now dating Valderrama.