Why Lily Allen Can't Stand Katy Perry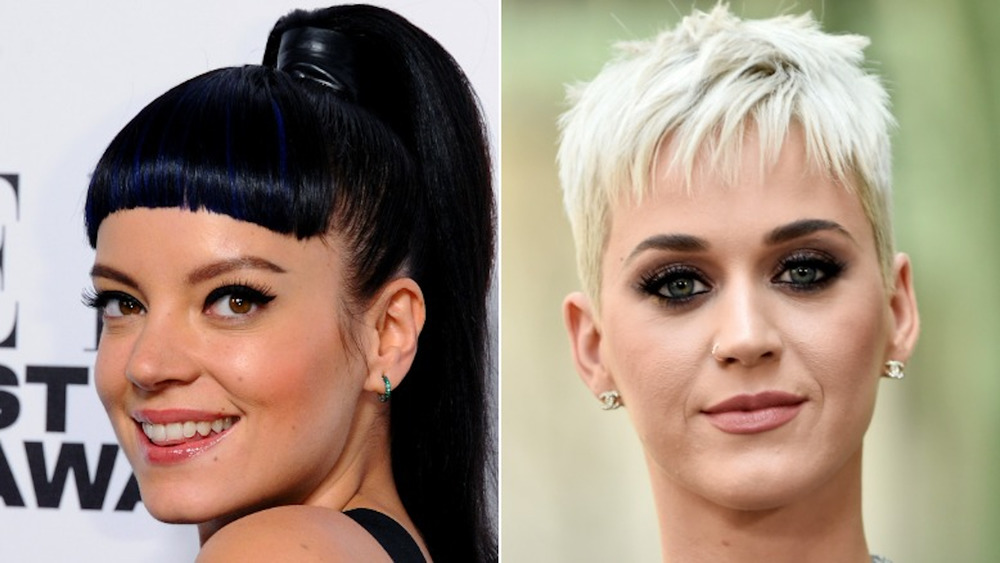 Anthony Harvey, Pascal Le Segretain/Getty Images
While Katy Perry has famously had beef with plenty of pop superstars, from Taylor Swift to Pink, a "Dark Horse" contender for her nastiest feud would be with British singer Lily Allen.
Before diving into the beef at hand, it's worth noting just how similar Perry and Allen, the cheeky songstress behind the hit "Smile," are on paper. Both inject humor into their songs (cue Left Shark meme here) and both are in relationships with famous actors — Perry recently welcomed a child with her partner Orlando Bloom, while Lily Allen won our hearts by secretly wedding Stranger Things' David Harbour in 2020, Vegas-style. Oh, and both have songs titled "Smile," but we digress. 
Arguably, both singers have also stayed in their pop lane. Overseas, Allen, whose brother is Game of Thrones' Alfie Allen, became a household name off her pure-pop releases like "The Fear." And can't the same be said about Perry? Discovered by Max Martin after struggling as a Christian pop artist, Perry hit it big off songs like "I Kissed a Girl" around the same time Lily Allen was dominating the U.K. charts. A decade later, Perry is still putting out pop with her enjoyable 2020 album. While other peers like Lady Gaga and Taylor Swift have switched up genres faster than you can say "pop-country," Katy Perry has never drastically changed her musical style.
So what's the beef between Lily Allen and Katy Perry? It's pretty thorny, even for these vocal pop stars. Scroll down to find out. 
Katy Perry and Lily Allen have taken serious jabs at eachother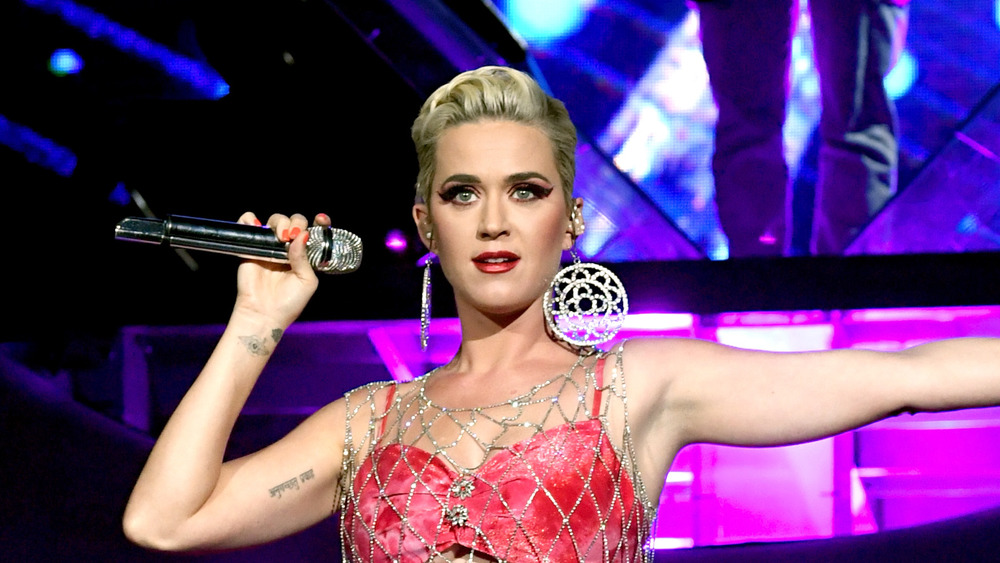 Kevin Winter/Getty Images
Lily Allen and Katy Perry's problems started when Perry described herself publicly as a "skinnier version of Lily Allen." Hmm. "When I met her, I was bit frosty with her," Allen told CapitalFM in 2008 (via Daily Mail). "Because someone asked her to describe herself. She's like, 'Aha, I'm like a fatter version of Amy Winehouse and a skinnier version of Lily Allen!'" Lily Allen then shot back with an insult of her own. She told the outlet: "It's like, you're not English and you don't write your own songs, shut up!" 
Perry acknowledged the comment in an interview with Us Weekly (via NME), walking back her weight joke. "Yeah, I made a joke about [that] earlier this year," she told the magazine. "I was just kind of joking and trying to be funny. I didn't mean anything by it. Comedians are not necessarily to be taken super seriously." It may have been a joke to her, but it clearly wasn't taken that way. 
Lily Allen upped the ante when she took to Facebook in 2009, per MTV, threatening to release Perry's phone number. "Just waiting for her to open her mouth one more time then it hits Facebook," she reportedly wrote. Wow, aggressive! But also, don't mess with a Brit whose biggest song is titled "F*** You." Hopefully, Katy Perry and Lily Allen can someday put this to rest.