Inside Kathryn Dennis And Thomas Ravenel's Serious Custody Battle
Southern Charm gives fans an example of how the South differs from other parts of the country. There's a saying in the South: "We don't hide crazy, we invite it to the front porch and give it a cocktail." The Bravo reality series is set in Charleston, S.C., and the two wildest Southern Charm cast members are Kathryn Dennis and Thomas Ravenel. The former couple is once again in a serious custody battle fighting over their two children, Kensington and St. Julien. 
There are details about Kathryn and Thomas that are crucial to understanding their custody battle updates. Thomas is a former member of the Southern Charm cast, kicked off the series in 2018. Bravo fired Thomas after he was arrested for assault and battery, months after his kids' former nanny accused him of sexual assault (via People). To add to his backstory, Thomas was South Carolina's State Treasurer, but got busted for federal cocaine distribution and was in jail for 10 months. Not exactly father of the year material, but Kathryn has had her share of struggles, too.
Kathryn is described by Vanity Fair in a colorful way: "[Dennis] temporarily lost custody of her two children due to drug use, and has a hankering for public screaming matches." A true Southerner may claim Kathryn is "as crazy as a betsy bug," or that Thomas is "meaner than a snake." Read on to get the inside scoop about Southern Charm's former lovebirds and their serious custody battle.
Thomas Ravenel is seeking full custody again, but things are getting messy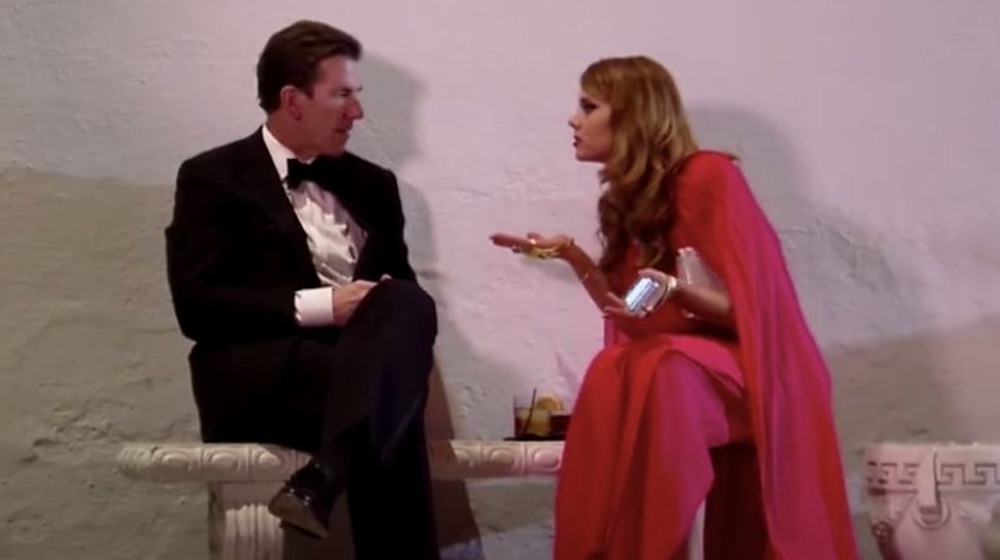 Bravo
Southern Charm's Kathryn Dennis and Thomas Ravenel have been fighting about the custody of their children since they split in 2016. The former couple's ongoing legal battles were part of Southern Charm's Season 4 storyline. According to Us Weekly, Thomas was awarded custody in 2017. Kathryn was able to get shared custody of the children in 2018, but filed for full custody after Thomas  was charged with sexual assault and battery of the couple's former nanny. Us Weekly reported in 2019 that the pair would share joint custody. 
All About the Tea reported in October 2020 that Thomas is once again seeking sole custody of Kensington and St. Julien. The reality TV blog noted, "The custody battle between Kathryn Dennis and Thomas Ravenel is back on — and Kathryn's out-of-control cocaine habit and negligent parenting is at the center of the revived war." The blog outlined a slew of Ravenel's sordid allegations against the reality-star mother of his children.
But color us skeptical, since Kathryn moved back in with her baby daddy temporarily, alarming Southern Charm fans. People reported on the new living arrangements and quoted Thomas: "I know we've had a rough patch these past couple of years. But ultimately it takes two to raise kids and I can tell they're happy." Wut? Oh, did we mention Thomas had a baby with his girlfriend and hid it from Kathryn? We don't think anyone really knows the truth about this legal battle! These parents are full of drama.