Justin Timberlake's Voting Booth Photo Could Land Him In Jail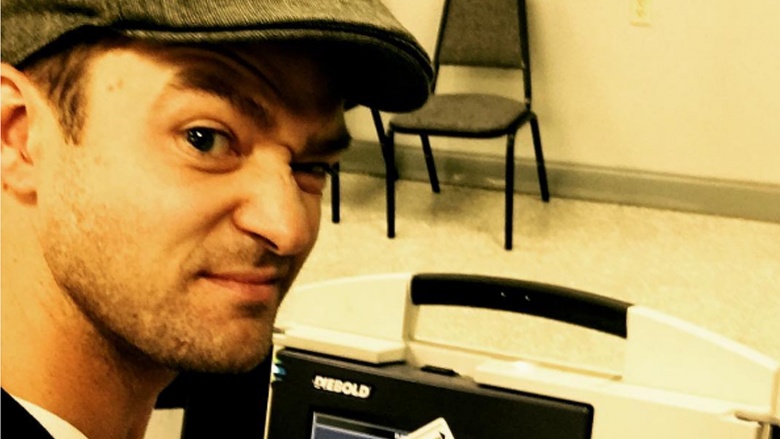 Instagram.com/jtimberlake
Whoops!
Justin Timberlake, in a sincere effort to encourage fans to vote, may have actually committed a crime.
The "Can't Stop The Feeling" singer Instagrammed a photo of himself at a voting booth in his hometown of Memphis, Tennessee, writing, "YOU! I just flew from LA to Memphis to#rockthevote !!! No excuses, my good people! There could be early voting in your town too. If not, November 8th! Choose to have a voice! If you don't, then we can't HEAR YOU! Get out and VOTE!"
Timberlake has been particularly active in this election cycle, even hosting a fundraiser for Democratic presidential nominee Hillary Clinton in August at the home he shares with wife Jessica Biel.
Unfortunately for Timberlake, taking the photo was against the law. According to Page Six, Tennessee passed a law that forbids voters from using phones to snap photos or shoot videos while inside a polling place.
Tennessee Secretary of State spokesman Adam Ghassemi says officials are "thrilled Justin can't stop the feeling" but reminded voters to use their phones inside polling locations only to help them vote.
TMZ reports that the Shelby County district attorney claims Timberlake's photo is "under review." If the singer does get prosecuted, he'd face a $50 fine (which is nothing for him, considering he has an estimated net worth of $230 million as of August 2016) and a possible 30-day jail stint.
The good news for Timberlake? No one has been prosecuted for it yet, so he may get off without too much trouble instead of crying a river in a jail cell. For now, it's probably best for him to rock his body, not the vote, in public. (See what we did there?)