Why Christina Ricci Punched Someone When She Hosted SNL
Francois Durand/Getty Images
Did Christina Ricci get a little too lively when she hosted Saturday Night Live? The long-running comedy sketch show — which was created in 1975 by the respected (if not feared) Lorne Michaels – has always been one thing: live! With seasons and seasons worth of iconic skits like Tina Fey's impression of Sarah Palin and "More Cowbell," the "L" in SNL has rung true. 
Usually, the live aspect is what gives SNL its distinction and air of excitement. The worst that happens is cast members will miss a beat or laugh during their own jokes, a.k.a "break" (and that's mostly Jimmy Fallon), but no live show can be 100 percent incident-free. Remember Ashlee Simpson's failed lip sync-turned-folk dance or Donald Trump's 2016 hosting appearance ... in general? Yup, SNL has had its rougher moments, too. And that brings us to this wild story involving Christina Ricci.
The former child star, who seemed to have the world at her snapping fingertips after playing Wednesday Addams in 1991's The Addams Family, successfully made the transition to adult stardom with films like Monster. However, we don't see much of the star these days. Regardless, she sure caused a stir back when she hosted SNL in 1999 with musical guest Beck. In fact, she punched a cast member. Needless to say, it's a story that's now part of the SNL history books. Scroll down to find out what exactly happened when Christina Ricci hosted — and clocked someone –  on Saturday Night Live.
Christina Ricci accidentally punched this cast member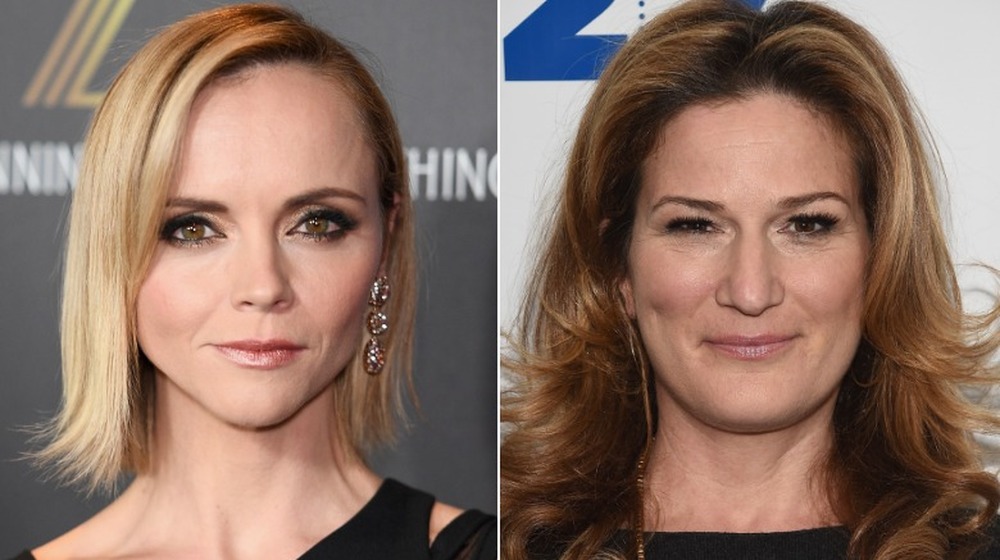 Dimitrios Kambouris, Dimitrios Kambouris/Getty Images
So who did Christina Ricci punch on Saturday Night Live? That would be Ana Gasteyer, who was a cast member on the show for six seasons. Radio personality Seth Rudestsky explained that when Ricci hosted in 1999, things were dicey from the start, as the actress had never performed live before. "Ana said that Christina didn't begin like most of us," Rudestky wrote for Playbill. "... [S]he started as a professional at a young age and had never performed in front of a live audience! She therefore drank two (!) bottles of champagne before the show began." Pretty unique way to prepare to host SNL if that's true! 
According to Rudetsky, the punch in question took place during a talk show-themed sketch where Ricci appeared as an out-of-control teen. Although the actress was only supposed to fake punch Gasteyer, viewers were taken aback when Ricci seemingly did punch the cast member straight in the schnoz (scroll to the 2:25 mark to see the punch). Apparently, in dress rehearsals, Ricci's punch was too far away, but live, she overcompensated in a huge way. 
"She had started as a child actor on camera," Gasteyer said during a SiriusXM interview. "So she had never been in front of a live audience before." The SNL alum added that Ricci "missed a stage punch — Google it — and punched [her] so hard in the nose." Gasteyer continued (acknowledging Ricci did have some champagne), "she was terrified!" Well, sounds like "nose" hard feelings between Christina Ricci and Ana Gasteyer.