Southern Charm: Why Kathryn Dennis' Famous Relative Is Sparking Controversy
Southern Charm star Kathryn Dennis has been somewhat of a scandal magnet. Her on-and-off relationship with Thomas Ravenel led to a very well documented custody battle. Back in March 2016, Kathryn entered rehab after suffering from cannabis abuse, alcoholism, amphetamine use disorder, self-harm, and major depression, according to court findings (via The Daily Mail).
In May 2020, Kathryn was caught in scandal again after sending racially insensitive messages on Instagram. Us Weekly reported that The Southern Charm star used a monkey emoji during a fight with radio host Tamika Gadsden. "I want to acknowledge that using a monkey emoji in my text was offensive, and from the bottom of my heart I sincerely apologize to anyone and everyone I hurt," Kathryn wrote via Twitter at the time. "Although the context was not my intention, there are no 'if ands or buts' that excuse me ... I did not give it thought, and it was and is wrong. I know I am not that person. I know and will do better," she tweeted.
Knowing all of that, what may be an even bigger scandal for Kathryn is that she is a direct descendant of the seventh Vice President of the United States, John C. Calhoun. Why is that controversial? Continue reading to find out.
Southern Charm's Kathryn Dennis' ancestor was a pro-slavery Vice President John C. Calhoun
Kathryn Dennis' ancestor, former Vice President John C. Calhoun, famously gave a speech on the Senate floor in 1837 that posited slavery as a "positive good" rather than the "necessary evil" defense that most slavery supporters gave at the time. So yes, Calhoun was pro-slavery and a white supremacist. There also happens to be a statue of Calhoun in Charleston, S.C., which is causing some major controversy in light of Charleston's history of slavery and the Black Lives Matter movement. 
During the Dec. 3, 2020 episode of Southern Charm, the statue's topic was brought up by the series' first cast member of color, Leva Bonaparte. "There is a Calhoun statue in the middle of Marion Square park," Leva told Danni Baird over the phone, per People. "It is huge, and it is of John C. Calhoun, obviously an ancestor of Kathryn's. He was vice president two times, but he is known as a person who fought to keep slavery as his last dying wish. That's why Kathryn has a big name. It's Calhoun. He was not a very big person." What does Kathryn think about all of this? 
Southern Charm addresses Kathryn Dennis' ancestor's controversial statue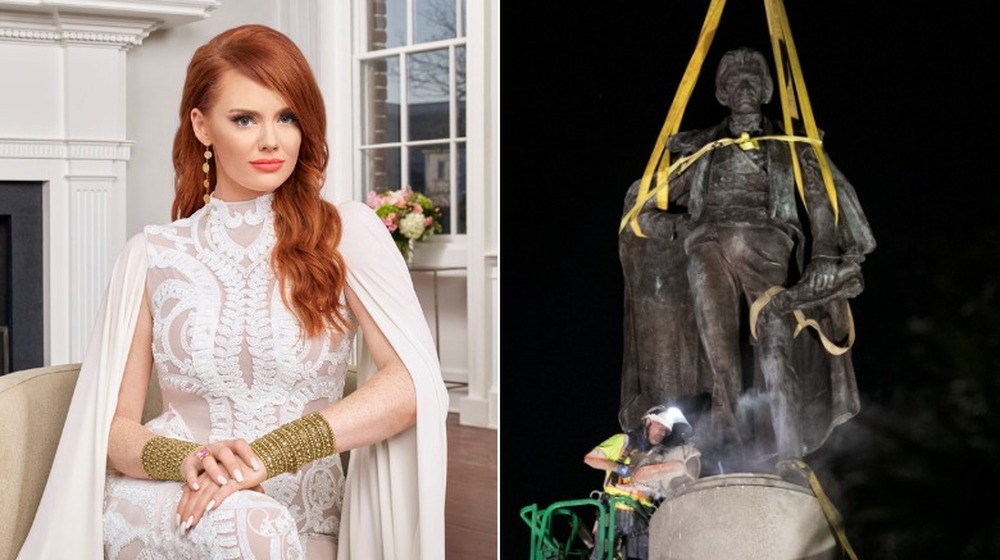 Tommy Garcia/Bravo, Sean Rayford/Getty Images
Leva Bonaparte and Danni Baird attended a meeting at the park where the statue of Kathryn Dennis' controversial ancestor resides (it has since been taken down) to support a campaign for its removal. While Leva didn't think Kathryn would show up at the event, she wishes that she had. "Kathryn should definitely be here today. To just show up and be like, 'I am related to John C. Calhoun, what he did was not okay, and I'm sorry' — that would have been such a testament to moving forward," Leva said, according to People. 
According to Leva, Kathryn's response to the statue was that it was "ugly," so she didn't care if it was taken down. "I think she was trying to be funny, but it's not funny," Leva said, People reported. If that was Kathryn's attempt at humor, she needs to reevaluate her joke book. Judging by this episode, race could be a topic that we see touched upon throughout Season 7 on Southern Charm. It will be fascinating to see how Kathryn Dennis handles the issue moving forward.