The Special Meaning Behind The Names Of Savannah Guthrie's Kids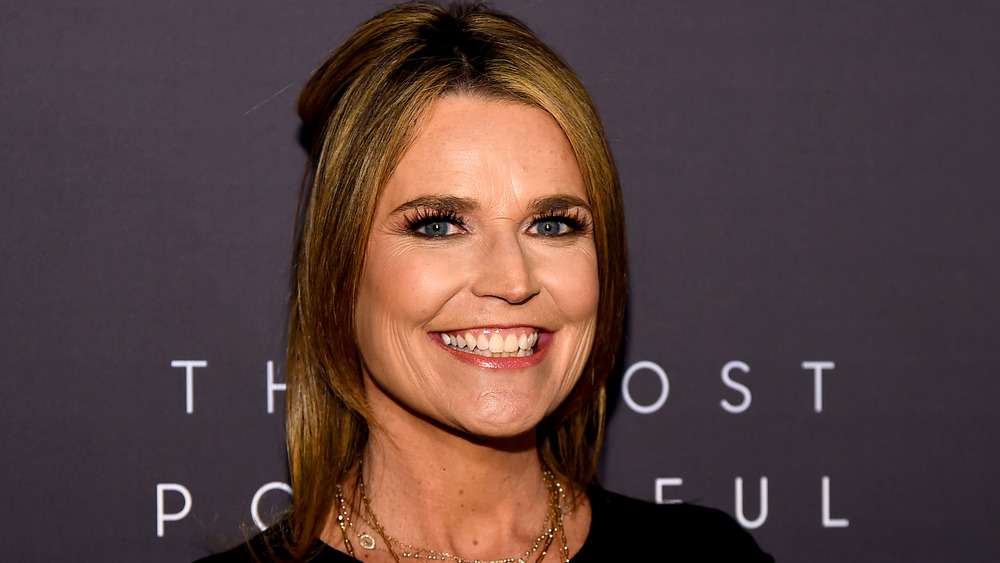 Theo Wargo/Getty Images
Today Show host Savannah Guthrie may co-anchor one of the most popular morning shows in the country, but her other important job is being a mom! Guthrie shares two children, Vale and Charley, with her husband, Michael Feldman. And despite her busy work schedule, Feldman says the TV host is a very hands-on mom. He told Reveal magazine, "She's [Guthrie] 'on' from when she wakes up at 4 a.m. until the kids go to bed at night. I'm in awe of her ability to create structure. I'm trying to figure out an acceptable time to have a cocktail, and she's like, 'Okay, arts-and-crafts hour!'"
Guthrie loves every minute of her hectic life, with the former lawyer telling People in August 2020 that she "always wanted to be a mom." She added, "So when we found out we were pregnant and going to get to have a baby, I don't think there were two happier people on this planet."
Similar to many celebrities, Guthrie didn't want her kids to have average names, and she and Feldman chose Vale and Charley for special reasons. Keep on reading to find out the meanings behind their monikers.
Vale's name fits her sweet personality perfectly
Today show co-anchor Savannah Guthrie's two children, Vale and Charley, were named with special intentions in mind. However, when Vale was born in 2014, Guthrie wrote in a blog for NBC News that she wasn't ready to name her baby girl because everyone convinced her that she was having a boy. She said, "We had a boy name picked and then we had an array of girl names. But we didn't really think we had to think too hard about the girl names, so when the doctor said, 'It's a girl,' I was absolutely shocked."
After spending a few hours looking at their baby, Guthrie remembered a name she always loved that she had heard years ago. She explained where she heard it, saying, "My close friend's sister-in-law is named Vale. And Mike liked the name too." 
Guthrie said that the name Vale even fit their baby girl perfectly, too. She added, "There was just something about it that fit her. When she was born the first thing I thought and kept saying was, 'She's so peaceful. She's so serene.' And that word Vale really conjures all those images of a valley by a peaceful stream and something restful and calm and beautiful." Aw.
Charley's name was inspired by a family member
In 2016, Today show host Savannah Guthrie welcomed her second child, son Charles "Charley" Max Feldman. She told Today that Charley was named after her late father, who died of a heart attack when Guthrie was just 16-years-old.
The TV star talked about her late father in an essay for Today, writing, "My father was a seemingly unlikely mix of qualities: always strong, sometimes terrifying, loyal to the end, and disarmingly gentle and tender when it counted. He was also tall, affectionate and funny; he had that personality that people describe as 'lighting up the room." She added, "He was a 5,000-watt bulb who could turn a mundane trip to the post office into a rip-roaring tale." Charley's middle name Max has a special meaning to Guthrie, as well. Max was named in honor of her grandfather, who shares the same name. 
Clearly, Vale and Charley are the perfect names for Guthrie's adorable kids. When it comes to parenthood, their mom shared a little advice to Reveal, writing, "Enjoy every moment. It goes way too fast. Also, don't rush potty training."