Why Adam Sandler Bought Goldie Hawn And Kurt Russell's House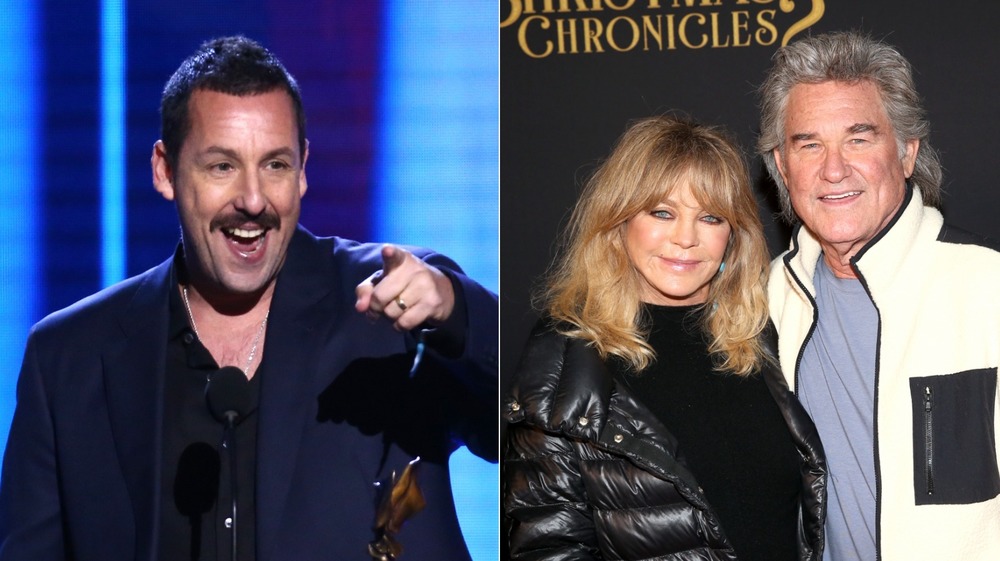 Tommaso Boddi/Getty Images, Jesse Grant/Getty Images
Purchasing a home is a pretty major commitment — one that involves considering multiple factors, ranging from cost to location to size to amenities. But if you're comedian Adam Sandler, love actually tops the priority list. When deciding to buy his house — which previously belonged to two fellow celebs, Kurt Russell and Goldie Hawn — Sandler did so for a romantic reason. In fact, from the sound of it, he acted rather impulsively... but that kind of just adds to the charm. Think of it as a (slightly chaotic) grand gesture, if you will.
According to Architectural Digest, Sandler bought Hawn and Russell's former home because it brought his wife Jackie a lot of joy — simple as that. The two attended a New Year's Eve party hosted by the celeb couple and Jackie couldn't contain her awe of the giant house. As the outlet noted, "Without seeing beyond the kitchen, Sandler made an offer and snagged the property before it ever officially hit the market."
It was in 2004 that Sandler reportedly purchased the Pacific Palisades pad for $12 million, per AD. But the heart behind the gesture? Priceless. Now, let's learn a tiny bit more about Sandler's relationship with Jackie and how this serendipitous purchase came to be.
Adam Sandler can thank another celebrity for introducing him to his wife in the first place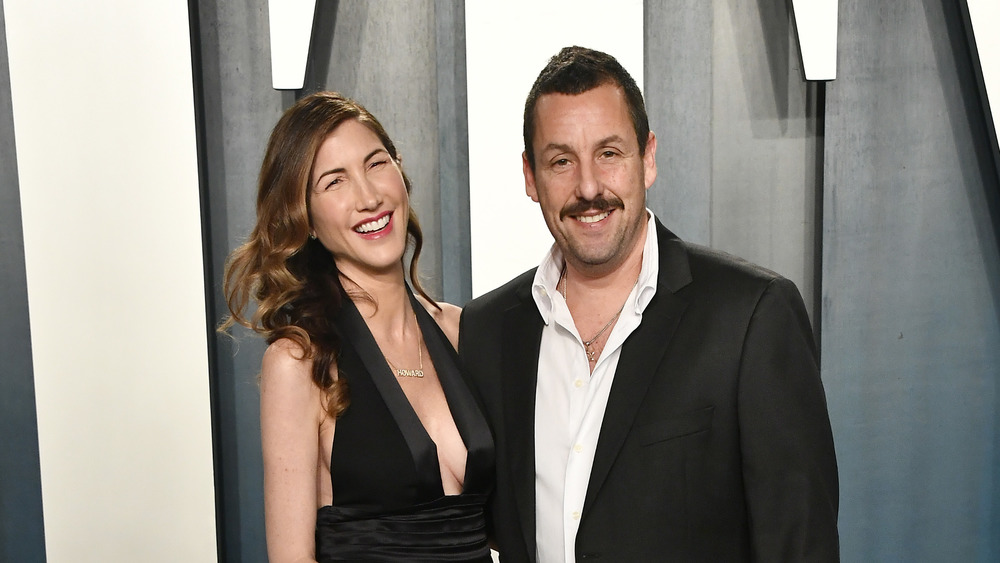 Frazer Harrison/Getty Images
Just like how the backstory of Adam Sandler's home ties back to another celebrity (or rather, two celebs — couple Kurt Russell and Goldie Hawn), Sandler's love story with his wife also involves a famous friend. As it turns out, Sandler first met his wife Jackie after she appeared in Rob Schneider's Deuce Bigalow: Male Gigolo. Back then, her last name was still Titone and it was Schneider who recommended Jackie to play a waitress in Sandler's 1999 classic Big Daddy — and the rest is history.
As pointed out by Daily Mail, Sandler got nostalgic in July 2020, reminiscing about meeting his now-wife on set. He shared a photo with his wife and wrote on Instagram, "22 years ago today we locked eyes and fell deep. Look forward to the next 22, young lady. Love you my forever girl." No shoutout to Schneider unfortunately, but at least we can all appreciate his role in making that movie meet-cute happen.
While we're at it, there's another key friendship worth noting here: Jackie is pals with Oliver Hudson's wife, Erinn Bartlett, per Architectural Digest. And since Hudson is Hawn's son, that's how Jackie and Sandler wound up at that fateful NYE party that led to Sandler's home purchase. The more you know! Hollywood is even smaller than we thought.