What Selena Quintanilla's Family Really Thinks About The New Netflix Series
Netflix released part one of its long awaited series on Selena Quintanilla, and fans of the late singer are raving about it. The 6 episodes of Selena: The Series follow the life and tragic death of the titular Mexican singer, who was murdered in 1995 in Corpus Christi, Texas by one of her fans, Yolanda Saldívar. Christian Serratos plays Selena, and according to People, Quintanilla's family worked closely with Netflix to bring the beloved star's legacy to life.
As fans binge-watch the newly released series, the family of Quintanilla is speaking out about the finished product. Selena's husband, Chris Perez, and sister, Suzette Quintanilla (pictured above), took to Instagram to share their support and immediate reaction to the series. 
"GUYS!!! OMG!!! Waking up and seeing this is insane and Beautiful!" wrote Quintanilla's sister, who is played by Noemí González in the series. "THANK YOU THANK YOU for this love you have always given to our family."
Selena's husband will 'forever respect the band'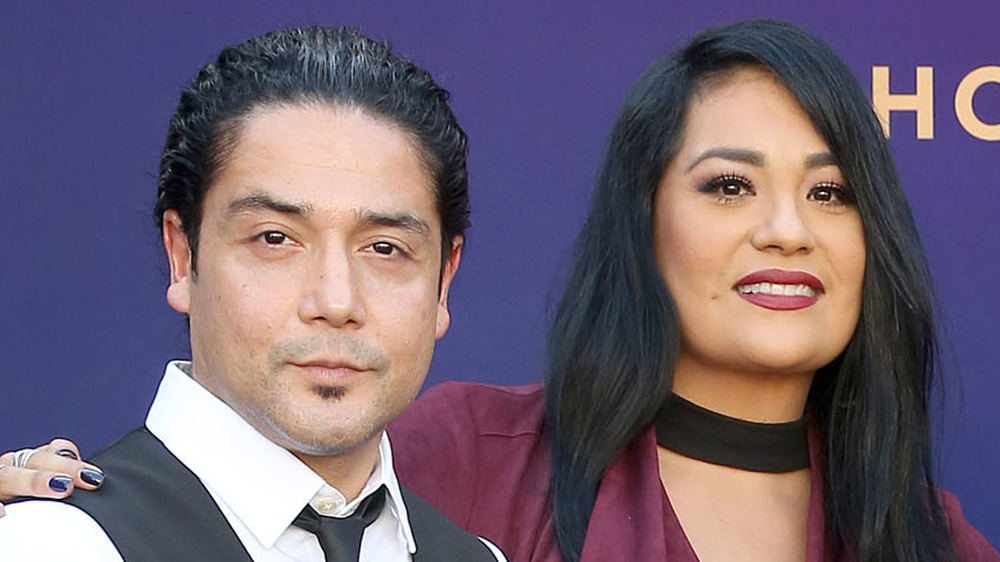 David Livingston/Getty Images
In addition to Selena's sister, Suzette Quintanilla (pictured right), the late singer's husband, Chris Perez (pictured left), also took to social media following the release of Netflix's Selena: The Series. His post added moving context to his relationship with the beloved superstar.
"I loved her music even before I joined the band," he wrote on Instagram. "I was intrigued by the fact that her brother had his name on everything as producer. Keyboard player Ricky Vela was my hero as far as musicianship goes. Her dad ran some amazing sound when I went to see them at an event in San Antonio. I learned so much by taking on their guitar player Roger Garcia's parts and doing my best to stretch it even further."
Perez, who's portrayed by Jesse Posey in the Netflix series, married Quintanilla in 1992 and played lead guitar in her band, Selena y Los Dinos, reported People. In his aforementioned post, the guitarist praised everyone involved in his late wife's career. "I will forever respect the band and the people involved in it," he said. "I hope you guys enjoy the series."