Dolly Parton Reveals What She Has In Common With Miley Cyrus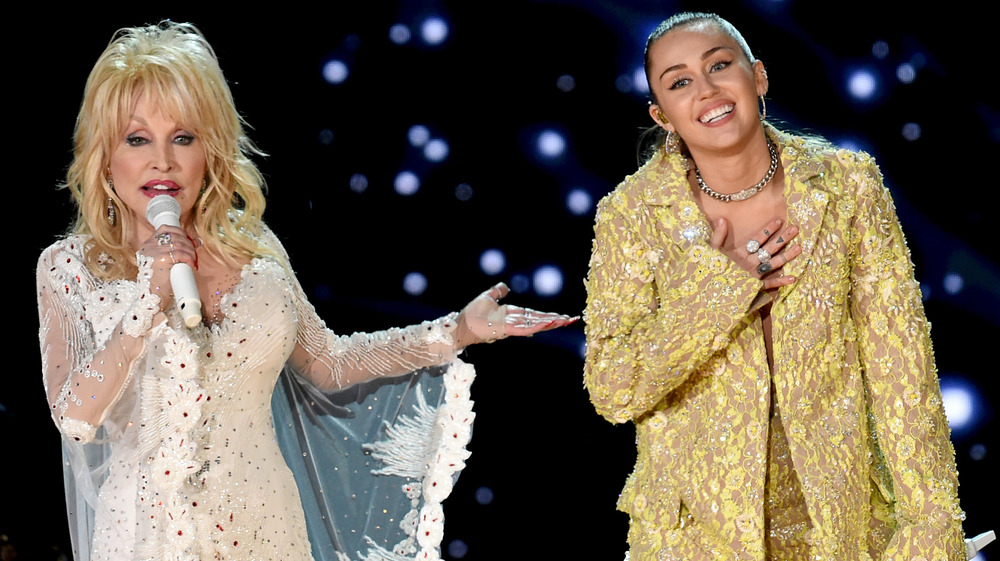 Kevin Winter/Getty Images
The world got its first glimpse at Miley Cyrus' close relationship with Dolly Parton when in 2006, she portrayed the Disney Channel alum's Aunt Dolly on Hannah Montana. However, their relationship goes way back, long before Parton stepped on the set. The Cyrus family and Parton herself consider the country singer to be Cyrus' godmother. In 2009, Parton told Good Morning America, "I'm her honorary godmother. I've known her since she was a baby." She explained, "Her father [Billy Ray Cyrus is] a friend of mine, and when she was born, he said, 'You just have to be her godmother,' and I said, 'I accept.' We never did do a big ceremony, but I'm so proud of her, love her and she's just like one of my own." 
They might not technically be "family," but Cyrus doesn't see it that way. In September 2020, Cyrus told Jimmy Fallon that when people ask if Parton is her real aunt, she tells them, "yes, she is." She also said Parton is "the best" in addition to describing the legend as a "living angel on earth." The "Midnight Sky" singer gushed, "When you meet her, she's like as incredible as you would have ever dreamed. She's even better."
Yes, the two singers have a long history, but they have a very different approach to their careers, or at least that is how it seems. However, Parton debunked that misconception during a December 2020 Marie Claire interview where she explained just how similar they actually are. 
Dolly Parton and Miley Cyrus are risk takers
Kevin Mazur/Getty Images
When Marie Claire asked Dolly Parton whether she has ever "envied" Miley Cyrus because she has "been able to do some wild things" in her career, the Netflix star said, "No, I never needed to be that wild. But I think it's fine for her." She added, "I'm kind of wild in my own way." Parton believes that being "true to ourselves" is "the key to everybody's success as a human being and as an entertainer." The "9 to 5" singer also thinks that "you have to know what your talents are, what your limits are." She stressed, "But I think you have to be brave enough to try." 
Confidence is a quality that she has in common with her honorary goddaughter, revealing, "One of my favorite sayings that I say about myself, that I made up, is that my desire to do something has always been greater than my fear of it." She added, "So I think that Miley often gets out there." Parton said that Cyrus "will get out there and get on that tightrope without a net underneath her."
Parton noted how she takes chances too, but just does "in a different way." That's perfectly acceptable, and when it comes down to it, Parton declared, "I do think she's a pro. I just think she's so talented, and she's beautiful."
Dolly Parton wants to 'lead by example'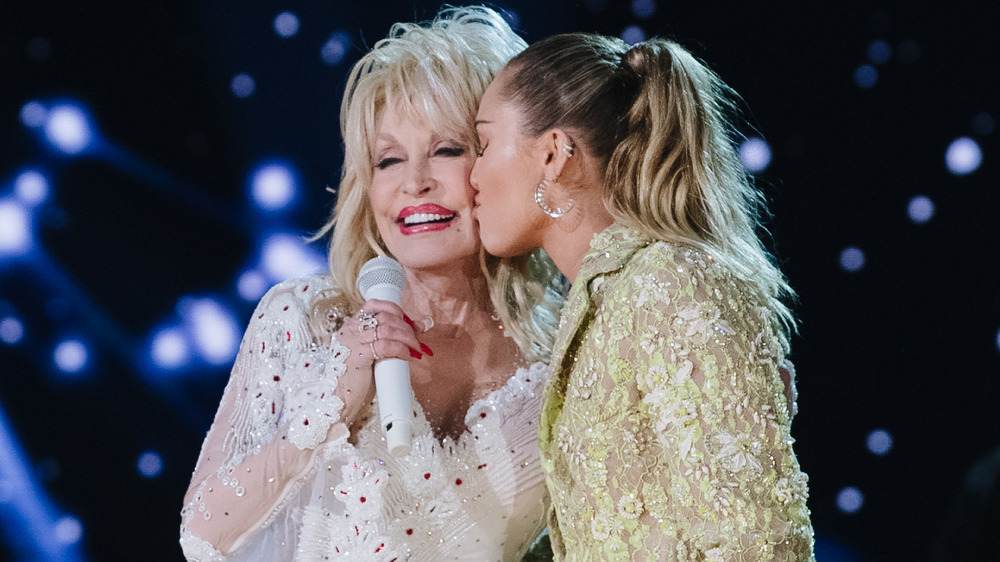 Emma Mcintyre/Getty Images
Miley Cyrus got asked by NPR in 2017 to share what she admires about Dolly Parton's career. She said, "The best thing that she does is she's not afraid to laugh at herself." She also credited Parton for being "able to make country music more sexual," stating that she does this by "looking the way that she does, and saying the things that she says, and being sexual in that way."
Sure, Parton and Cyrus have very different personal styles, but neither woman has an issue when it comes to pushing boundaries. Cyrus explained, "If you want to be pushing the boundaries, you have to like it. And to remember that you want to make music for the people that love your music for your honesty, and for your fans."
The admiration is mutual, as Parton old People in 2019 that Cyrus is "smart" and she "knows what she's doing." She emphasized, "I know we think she doesn't, and she might not every minute, but I still know that she's got good stuff in her." And that is why Parton doesn't go out of her way to dole out advice, instead preferring to "live an example," which is arguably the right approach considering how strong their bond is and years of success.