Why Margot Robbie Punched Alexander Skarsgård While Filming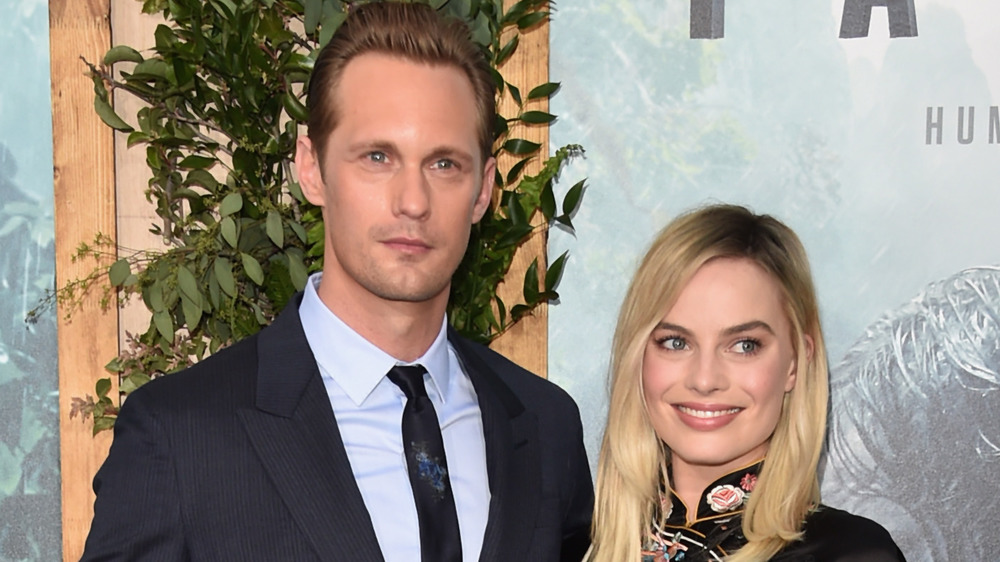 Alberto E. Rodriguez/Getty Images
Both Margot Robbie and Alexander Skarsgård have had interesting relationships with their various co-stars and other famous figures. Robbie was caught up in cheating rumors that involved Will Smith and was in a supposed feud with Kaley Cuoco. As for Skarsgård, the actor stirred up buzz around a possible romance with his castmate from the 2013 film The East, Elliot Page. But what about the relationship between Robbie and Skarsgård?
The two worked together on 2016's The Legend of Tarzan and the fact that they shared strong chemistry was not only something that fans saw onscreen, but it was also something the two sensed from the start. Although Skarsgård was familiar with Robbie's work thanks to her role in 2013's The Wolf of Wall Street, he told the Chicago Sun-Times that they first met in person when he "invited her over to dinner at [his] place a few months before [they] were scheduled to begin filming." That's when they immediately connected. "It was uncanny," he said. "From the moment I opened the door, I just knew that we would click — it was completely instant."
Robbie agreed. "We hit it off right away. I immediately felt like I was talking to one of my best girlfriends," she said with a laugh, which triggered an amused reaction from Skarsgård. However, she did admit, "Of course, he has much better abs!" If they were so fond of each other, you might be wondering why she ended up punching him while they were filming.
Margot Robbie punched Alexander Skarsgård during an intimate moment
When Alexander Skarsgård and Margot Robbie played Tarzan and Jane, respectively, in the 2016 film version of the classic jungle tale, director David Yates wanted a "leading lady" who "had chemistry with ... Skarsgård, but could also fend for herself in the Congolian wilderness," according to Entertainment Weekly. "If you enter the jungle with anybody, you want to go with Margot Robbie," Yates explained. "She's practical, and she's smart, and she's resourceful. And she can take care of herself."
Skarsgård added, "It was very important that we didn't want it to feel archaic or dated, where it's like, tough guy has to save the poor girl." He noted that they wanted audiences "to feel that she's strong and independent, and when you cast [Robbie], you'll definitely get that." That's certainly true. In fact, she can even throw a mean punch when necessary as Skarsgård found out while they were filming.
However, it wasn't a fight scene that had Robbie lashing out. Instead, she ended up hitting Skarsgård during an intimate moment between their characters. "They're doing this love scene together, and I said [to Robbie], 'Just slap Alex while you're making love, just kind of give him a punch,'" Yates recalled. Saying that it "was sort of an earthy, sensual moment of her enjoying sex with Alex," the director added that "the only bruise he picked up during the entire shoot was probably that punch from Margot. Which says a lot about her feistiness."