Rob Kardashian, Blac Chyna At War Over Pilot Jones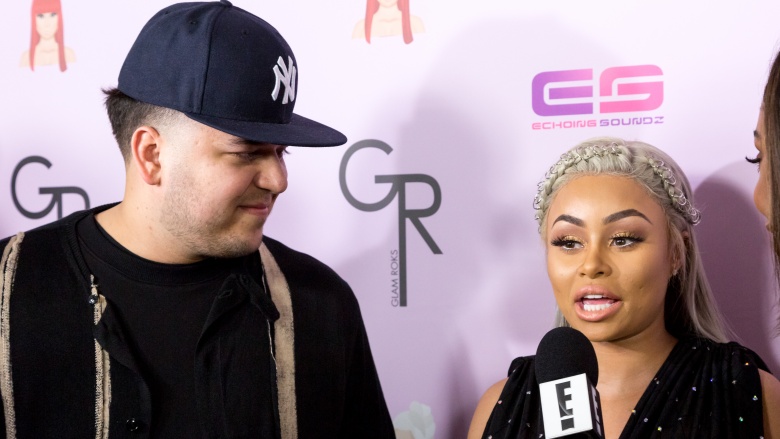 Getty Images
Rob Kardashian is currently under a criminal investigation after he allegedly sent some menacing text messages to a guy he suspects hooked up with his fiancee, Blac Chyna.
TMZ reports that singer Pilot Jones was on the receiving end of some not-so-nice SMS messages after photos surfaced of Jones with Blac Chyna, including one that read, "Leave my wife alone. I'm not playing with you."
One source says that not much may come of the investigation because the threat is "a little murky and general." A rep for the LAPD told Us Weekly, "Threat management is aware and looking into it this afternoon. At this time we have no other details."
Radar Online published photos on Oct. 27, 2016 of Blac Chyna and Jones partying in Atlanta, as well as smooching. Radar Online reports that Blac Chyna and Jones may have hooked up in March 2016 when she and Kardashian were going through a rough patch, though a rep for the former Glee actor and singer says the pair are just "great friends. They've known each other for a while."
Because of the timing of their alleged dalliances, Radar Online notes that there may be a question of paternity for Blac Chyna's as-yet-unborn baby, who we all assumed was sired by Kardashian. Blac Chyna told Radar Online that the cheating chatter is nothing but lies and lashed out at Jones on Instagram.
"So JC Pilot Jones whatever the f**k his name is has already tried to put out a story saying that he's the potential father of my child...Let me start off by saying this young man is gay," she wrote. "The only reason we took those pictures other than me trying to be a good friend was so he could send it to his boyfriend to make him like jealous [and] say that he's going back to girls!" She added, "Mind you, at the time I thought this was my friend and I didn't see a problem with it...This was over two years ago...I never had sex with him...Nothing ever happened past these pics. Mind you, if you really look at the picture, look at my right hand, it doesn't have my 'Future' tattoo next to that...Staged Af!"
She also accused Jones of approaching her lawyer to demand a payout for her Chymoji app and alleged that he was only coming forth with his story now to promote a new song he's releasing.
Still, Kardashian may not be totally convinced of Blac Chyna's innocence, even though it's not her fault. A source told People, "They've had many instances and fights in which he accuses or suspects that she's cheated. His issues with trusting girlfriends are deep-rooted."