The Huge Honor That Was Just Given To BTS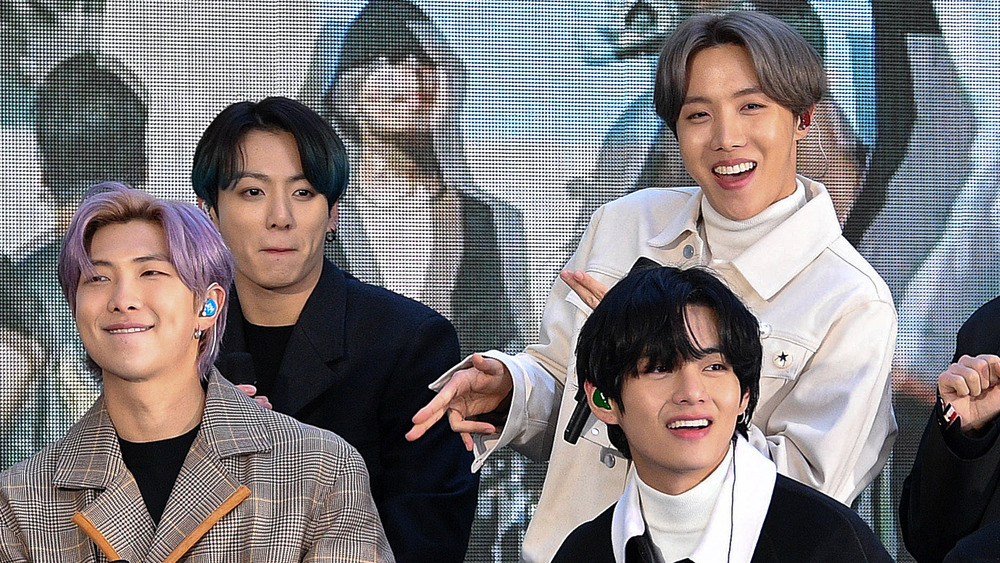 Dia Dipasupil/Getty Images
Even if you're not a fan of K-pop music, it's hard to ignore the recent global takeover by boy band BTS.
The band got its start in 2010, when Kim Nam-joon, who goes by the moniker Rap Monster (RM), was introduced to Mr. Bang, the CEO of BigHit Entertainment, per Time. They started working together and slowly formed what would be a seven person group by 2013. BTS began releasing music with members RM, J-Hope, Jimin, Jin, V, Suga, and Jungkook in 2013, and by 2015, they were on the fast track to worldwide success and scored a few shows around the world, thanks to their hit single "I NEED U."
BTS has since ballooned into a global phenomenon with their catchy beats, quick raps, and polished dance moves. Despite mostly singing in Korean, fans worldwide feel connected to the band because, according to Time, "BTS meets the demands of Top 40's authenticity era without sacrificing any of the gloss that's made K-pop a cultural force." Between their appealing music and activism for mental health, LGBTQ+ rights, and the Black Lives Matter movement, the K-pop band has built a strong relationship with its fans, nicknamed ARMY.
With so much success behind them and a seemingly fruitful journey ahead, the boys of BTS are being awarded a huge title. Keep reading to learn about the honor that was just given to BTS.
BTS received a humbling title from Time magazine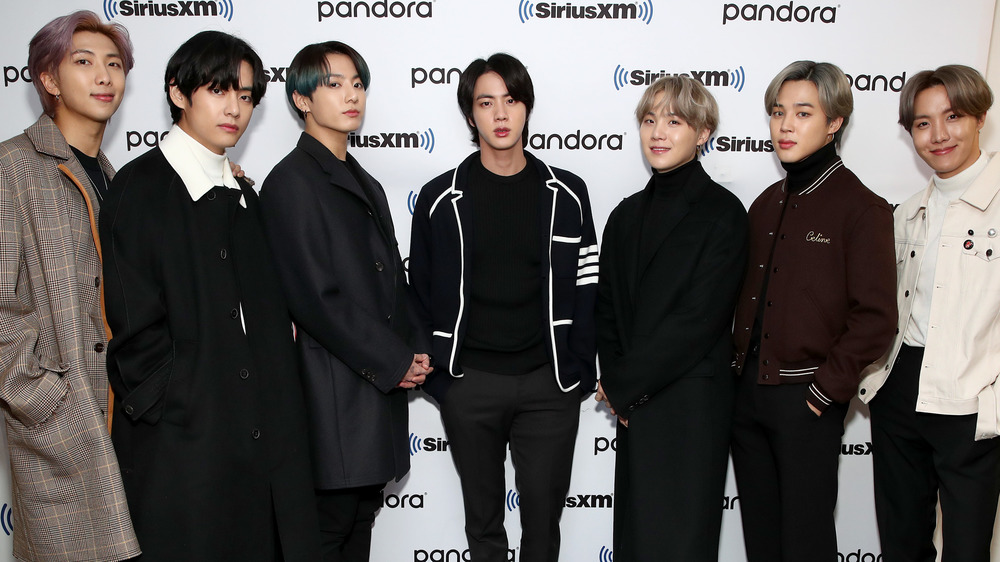 Cindy Ord/Getty Images
Time magazine announced on Dec. 10, 2020 that the publication named BTS as 2020's Entertainer of the Year, a title held previously by Lizzo.
2020 has been a massive year for the K-pop band, despite a canceled tour due to COVID-19. Just in 2020 alone, BTS released multiple albums, achieved their first No. 1 single (which was also their first all-English song), collaborated with Halsey, Sia, and Lauv (per Elite Daily), and broke several records such as Spotify's record for most streams on an album in 24 hours and YouTube's 24-hour single debut. They also streamed several concerts and performed at the MTV Video Music Awards, NBC's Today Show, and the American Music Awards, to name just a few of their 2020 gigs.
While being at the top of the world can influence a person, the members of BTS stay humble about their success. "There are times when I'm still taken aback by all the unimaginable things that are happening," Suga told Time in 2020. "But I ask myself, Who's going to do this, if not us?"
There seem to be no signs of slowing down for BTS, who have already admitted to wanting to perform together for years to come. "As long as our bodies hold up, we'll be doing the same thing in 10 years," Suga told The Hollywood Reporter in 2019. Congratulations BTS on your huge honor.