Val Kilmer Reportedly Battling Cancer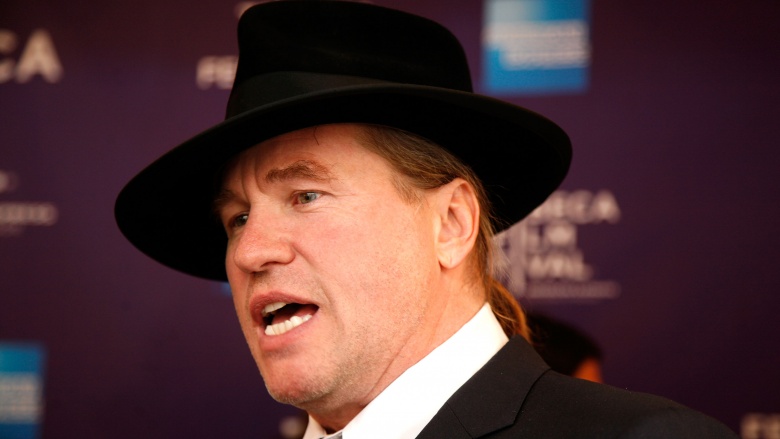 Getty Images
Actor Val Kilmer, star of Batman Forever (1995), The Saint (1997), Willow (1998), and Top Gun (1986) is reportedly battling cancer, and unfortunately, his prognosis may not be promising.
Kilmer's close friend, actor Michael Douglas, broke the news to The Sun on Oct. 30, 2016. "Val was a wonderful guy who is dealing with exactly what I had, and things don't look too good for him," said Douglas, who battled tongue cancer in 2010. "My prayers are with him. That's why you haven't heard too much from Val lately."
In June 2015, Kilmer was seen wearing scarves, even in warm weather, but he denied that it was to cover up any scarring or tumors. "I should mention I do not have cancer or a tumor. There has been a swelling that I have covered during this period of recovery from a procedure I had done which was not an operation on this area," he wrote on Facebook. "But I didn't want to create an opportunity for exploitive [sic] press to generate a story like what apparently now exists. I imagine I'm going to keep wearing scarfs [sic] till the swelling goes down, even though it's a silly look for LA SUMMER! Or LA EVER!"
In October 2015, the whispers about Kilmer's declining health became a dull roar. TMZ reported that he had been suffering from a throat tumor, which he steadfastly denied, and Radar Online reported that he was hospitalized in an intensive care unit under the name "Oscar Davis" and could barely speak because of a tracheotomy tube in his throat.
Sources told TMZ that Kilmer had initially been resistant to medical treatment as the result of his Christian Science beliefs, which reportedly dictate that sickness should only be healed by prayer, but that after an emergency, he began to come around to the idea of medical attention.
In January 2015, Kilmer's rep confirmed to Radar Online that the actor was "undergoing tests at a Los Angeles hospital for a possible tumor" and "being cared for by his two children."
However, Kilmer denied any chatter of tumors, cancer, or other serious illnesses, writing on Facebook that same month, "I have not had a tumor, or a tumor operations, or any operation. I had a complication where the best way to receive care was to stay under the watchful eye of the UCLA ICU. Friends have assisted who know my spiritual convictions and have been most sensitive and kind for the extra effort in making sure there's minimum gossip and silly talk." However, Kilmer did admit he had been hospitalized, posting on Facebook, "Thank you all for your prayers, love and support. I'm so happy to say, the emergency that lead me to dial 911 is well over and I'm out of the hospital and in a safe healing environment. The doctors and nurses I met were wonderful and very respectful of my spiritual priorities and I can't thank you all enough for your professionalism and genuine care."