Inside MyPillow CEO Mike Lindell's Rally Appearance For Donald Trump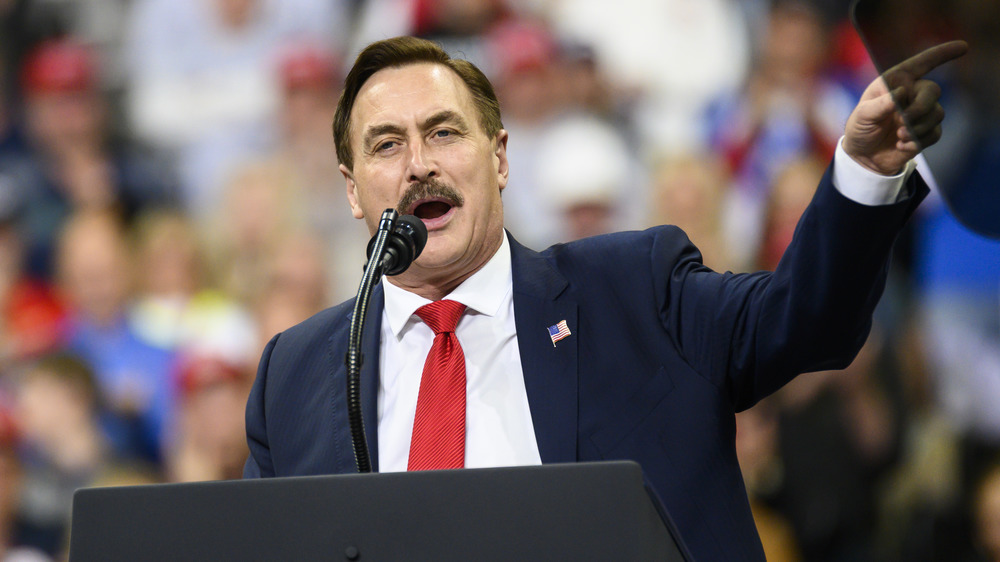 Stephen Maturen/Getty Images
If you only know Mike Lindell as "the MyPillow guy," let's take a second to get up to speed. Lindell, the MyPillow CEO, has said some pretty strange things over the years, including falsely promoting oleandrin as a coronavirus cure. This time around, Lindell spoke at a President Donald Trump rally in Washington, D.C. on Dec. 12, 2020, where he criticized Fox News — just a week after being interviewed by the network, at that. Politics-savvy readers may recall that the network called Arizona for President-elect Joe Biden before other news networks did. 
"They were going for everything. They were going to take everything we had," Lindell claimed at the Trump rally, according to the Daily Mail, while baselessly alleging the 2020 election was "stolen" from the former Apprentice star. "Why do you think Fox declared Arizona with only 14 percent of the vote in? They already knew what they did! They were in on it!" Lindell even went on to suggest that Fox employees should be sent to prison.
Lindell's criticism marks an abrupt shift, with Fox News having had a reputation as the news network of choice for many conservatives before and during most of Trump's presidency. But despite multiple official U.S. agencies confirming that the 2020 presidential election was secure, some Trump supporters have held "Stop the Steal" rallies across the country. This weekend's rally, which was later connected to multiple arrests and stabbings, was one such protest.
MyPillow CEO Mike Lindell claimed there's 'spiritual warfare in our country'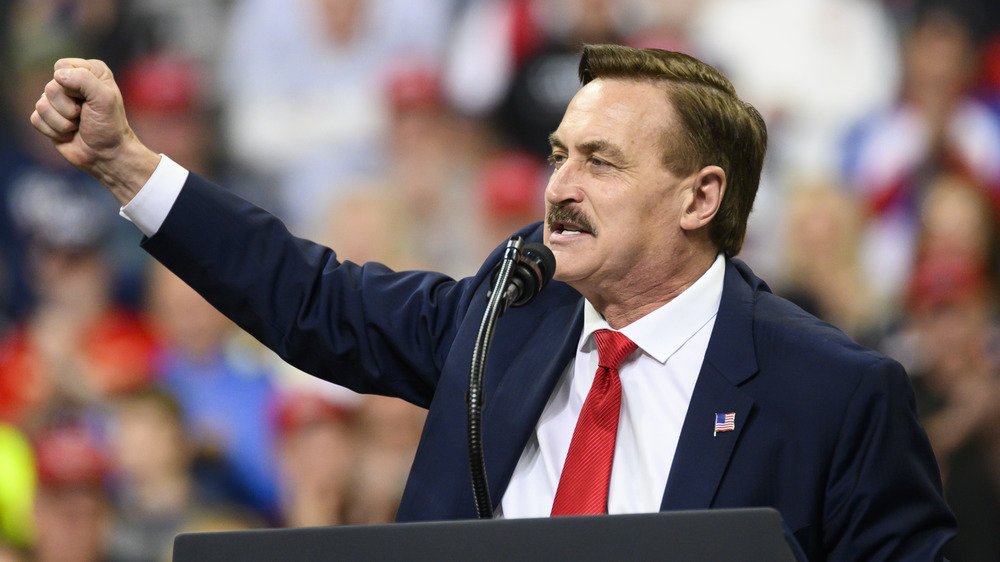 Stephen Maturen/Getty Images
In addition to taking aim at Fox News, the MyPillow CEO seemed to appeal to some Christians attending the Washington, D.C. event. "We cannot give up ever on this," Mike Lindell said during his speech, according to Newsweek. "This is a spiritual warfare in our country and in the world."
This isn't the first time Lindell has invoked faith while sharing his controversial political opinions. During Lindell's August 2020 conversation with Anderson Cooper, per Deadline, the CNN anchor compared Lindell to a "snake oil salesman" for touting an unproven coronavirus "cure" to unwitting people. In response, Lindell claimed, "I do what Jesus has me do! I give the glory to God!" Not to mention, back in 2019, Lindell claimed that Donald Trump was "chosen by God" to be the president, according to The Hill.
The latest "Stop the Steal" rally comes after the Supreme Court rejected Trump's lawsuit about the election results. POTUS had sought for Georgia, Michigan, Pennsylvania, and Wisconsin not to cast their electoral votes for President-elect Joe Biden. Lindell may have invented a miracle-like pillow, but despite his opinions on Trump and the election, Biden is moving forward with his transition team to become the country's 46th president next month.