The One Part Of Biden's Electoral College Vote Speech That Turned Heads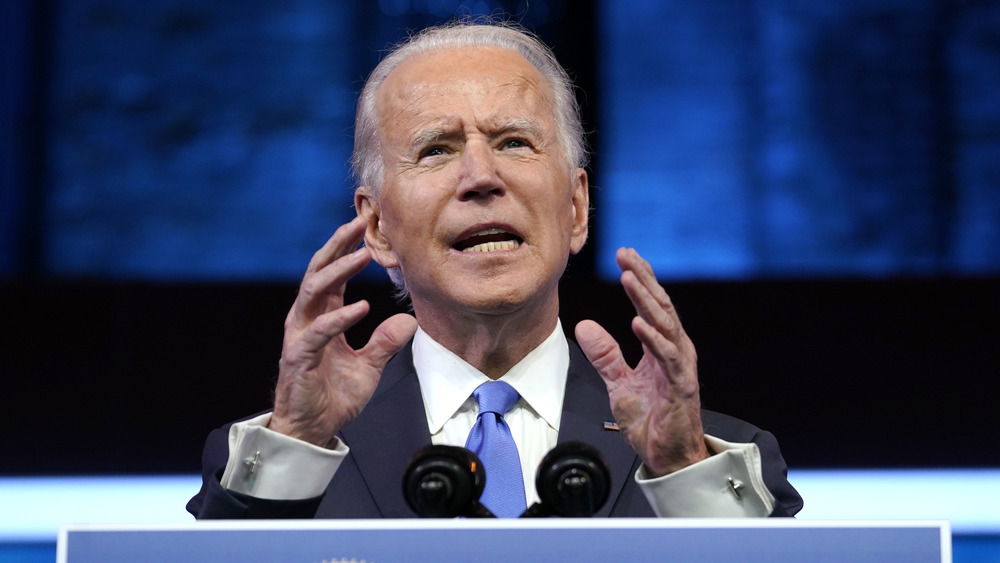 Drew Angerer/Getty Images
President-elect Joe Biden delivered a speech on the evening of Dec. 14, 2020, after the Electoral College confirmed that he won the 2020 presidential election against Donald Trump. For those who are keeping score at home, Biden won 306 electoral votes while Trump won 232.
It's been a long time coming, especially with Trump's refusal to concede to Biden, despite the president reportedly receiving encouragement from those closest to him, including his son-in-law, Jared Kushner, and wife, first lady Melania Trump. Simply put, it doesn't appear Trump will roll out the welcome mat for Biden anytime soon.
Now that the election has been decisively called for Biden, the Trump family will have to plan their departure from the White House to make way for the new president. Although this has brought relief to many, Biden's Electoral College speech slightly troubled those same supporters for one specific reason: He coughed the whole way through. So is Biden OK? Here's what's going on.
Joe Biden says he has a 'little bit of a cold'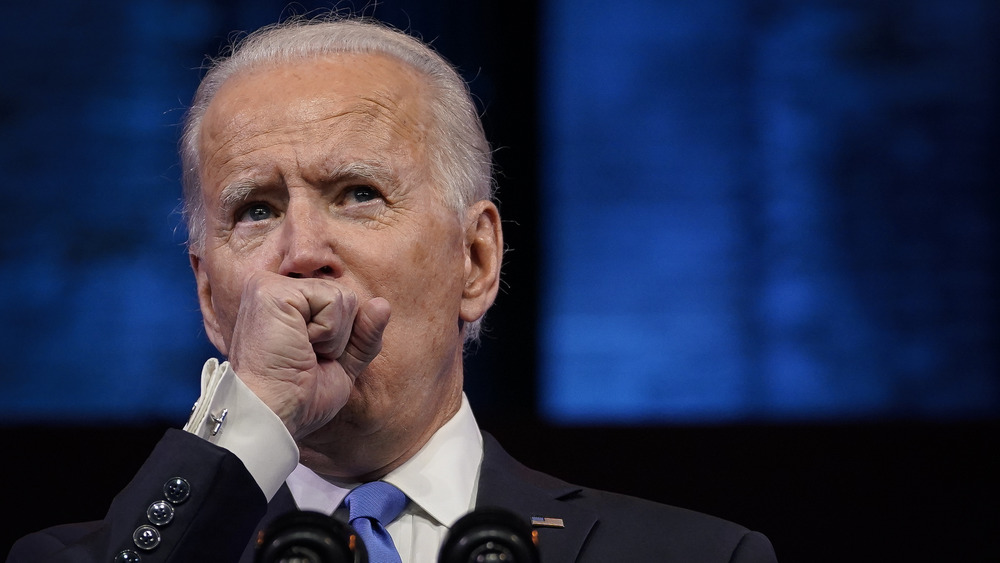 Drew Angerer/Getty Images
Joe Biden addressed the nation on Dec. 14, 2020, after the certification of electoral votes confirmed that he won the presidential election. The speech was arguably marred, however, by his continuous coughing and throat-clearing throughout, according to The Independent. His voice sounded hoarse, the outlet noted, and he had to pause many times while talking to clear his throat.
During a virtual call with his supporters, Biden explained his symptoms. "Thank you, I have a little bit of a cold, I'm sorry, but look, you know, you did it, you did it, not a joke," he shared, per The Independent. Biden added, "This campaign for president was more like the first time I ran as a 29-year-old for the Senate. I believed that ordinary folks and extraordinary folks would get together and make this work. You didn't let us down. You didn't let the country down. I really mean it, think about it."
Although his message was unifying, people were a little worried about the president-elect's health. One listener jumped on Twitter and said, "Someone get Joe Biden a d**n glass of water and a cough drop." British broadcaster Anthony Davis tweeted, "I pray Biden's cough is not the onset of Coronavirus. Never have we needed him more now." Hopefully, it's just a little cold, as he said!