Why Trump's Neighbors Are Fighting For Him Not To Live At Mar-A-Lago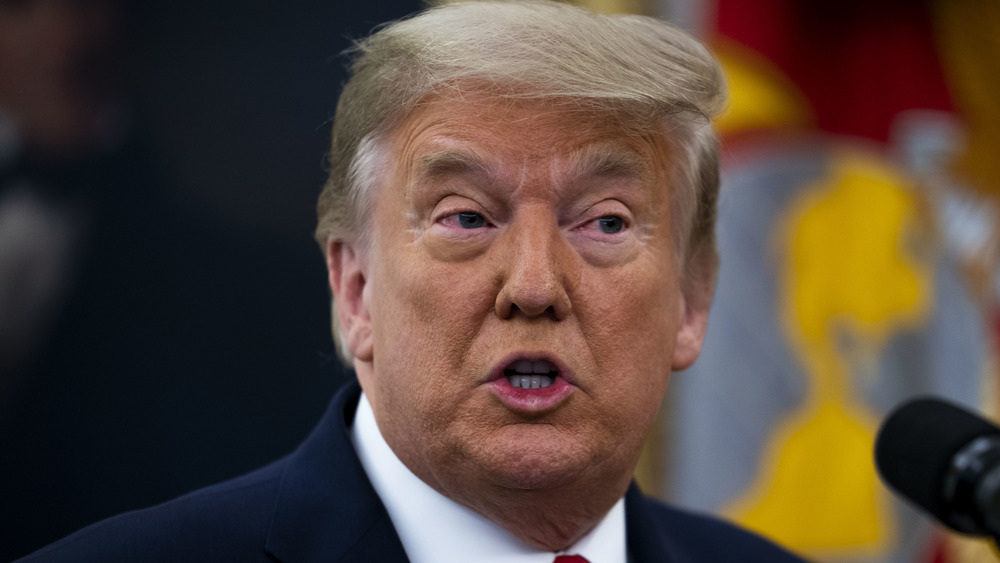 Pool/Getty Images
Despite the Electoral College vote officially confirming President-elect Joe Biden's victory on Dec. 14, 2020, as of this writing, President Donald Trump has yet to concede. In fact, the same day the Electoral College affirmed Biden's win, Trump took to Twitter alleging election fraud, tweeting, "This is BIG NEWS. Dominion Voting Machines are a disaster all over the Country. Changed the results of a landslide election. Can't let this happen. Thank you for the genius, bravery, and patriotism of the Judge. Should get a medal!"
Trump's time in the White House is coming to an end, as the Bidens will be moving in following Biden's inauguration in January 2021. So, where does the president plan on living once his term is over? Well, in October 2019, Trump tweeted that he was planning on leaving New York and making Palm Beach, Fla. his permanent residence, writing, "... despite the fact that I pay millions of dollars in city, state and local taxes each year, I have been treated very badly by the political leaders of both the city and state [of New York]. Few have been treated worse."
That being said, the idea of Trump's Mar-al-Lago residence in Palm Beach being his permanent residence doesn't sit well with his would-be future neighbors. 
Trump's neighbors hope he'll opt to 'avoid an embarrassing situation'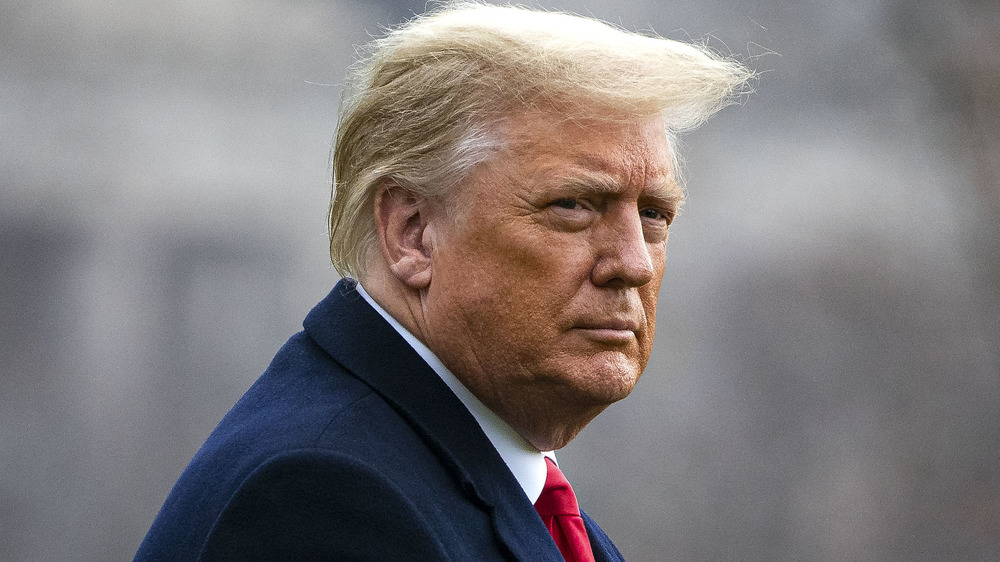 Al Drago/Getty Images
An attorney representing one of the families living near President Donald Trump's Mar-a-Lago residence reportedly sent a letter to the town of Palm Beach, Fla. and the U.S. Secret Service, according to the Daily Mail. The letter asked the town to inform Trump that he cannot live at the resort post-presidency, adding that opting for another residence would help to "avoid an embarrassing situation" if he is forced to leave at a later date (via the Daily Mail).
So why can't Trump live there? It's based on an agreement the former reality star signed when he turned the Palm Beach mansion he bought in 1985 into a private club in 1995. According to the Daily Mail, the club generated $21.4 million in revenue in 2019. The agreement, obtained by The Washington Post, states that he can spend a maximum of 21 days there a year and no more than seven days at a time. According to NBC News, Trump has already violated that agreement, having spent 133 days there as of October 2019.
Trump seems to be unbothered by the agreement he signed, as he changed his permanent address from Trump Tower in New York City to Mar-a-Lago in Florida when he registered to vote in 2020. He was previously registered in New York, per the Sun-Sentinel. On the off chance that Trump is able to find a loophole and permanently set up shop in Mar-a-Lago, the Kushners will reportedly only be an hour away on Indian Creek Island (a.k.a "Billionaire's Bunker"), which they bought for $30 million.