Mariah Carey And James Packer's Prenup May Have Led To Their Split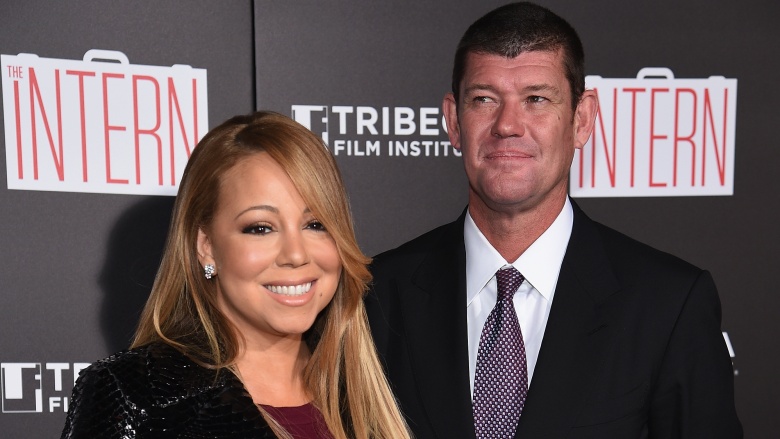 Getty Images
It turns out Mariah Carey's $50 million demand from ex-fiance James Packer didn't come out of thin air.
TMZ reports that Carey demanded the sum from the Australian billionaire because that's the same amount of cash she'd have taken home if they'd gotten married and divorced. The site reports that an email chain going back and forth between Packer and Carey's teams shows that Packer was eager to marry Mimi on March 1, 2016, and that Packer was exasperated with his team for not nailing down the couple's prenuptial agreement fast enough for his liking. In one message, Packer allegedly wrote, "I don't know who's working for who because there are a lot of names I haven't heard before on this email chain. The people who work for me—message—do as I say or f*** off. I want to get married on March 1st. James."
TMZ also notes that at the time the emails were exchanged, Carey already had a wedding dress and that flowers and flights had been ordered for all of the wedding guests. The union wouldn't necessarily have been legal at that time, however, because Carey's ex, Nick Cannon, hadn't yet signed their divorce papers, but that they intended on having a ceremony anyway.
Conditions of the alleged prenup include that Carey would have to return any gifts from Packer unless he provided her with a written statement that the item was, in fact, a gift—and that she'd get $50 million if they broke up.
Carey reportedly believes that when the prenup couldn't get finalized, that's when Packer's posse allegedly poisoned him against her.
An insider claims that another potential cause of the split is Carey's manager, Stella Bulochnikov, and her own contentious relationship with Packer. "He cannot tolerate her dictator style," an insider told Woman's Day Australia. "She's a constant in their lives and can be very abrasive. He can't cop her at all."
Packer wasn't the only person who wasn't a fan of Bulochnikov. A source told Page Six, "It seems as if Mariah has allowed a complete stranger, her new manager, to run her life, and others believe this woman is toxic. Seasoned executives in their profession don't want to put up with her. Stella is hard to work with. Mariah doesn't understand what's going on because Stella paints a different picture, so Mariah probably thinks it's petty disagreements. These are not just random people who have left her. These are loyal people who have been around for years, some 20."
However, an insider told AOL, "James never had issues with Stella. Stella really cared for James. She always had his best interest at heart. They were really close, like one big traveling family. The break up was for other reasons."