A Look Into William Shatner And George Takei's 40-Year Feud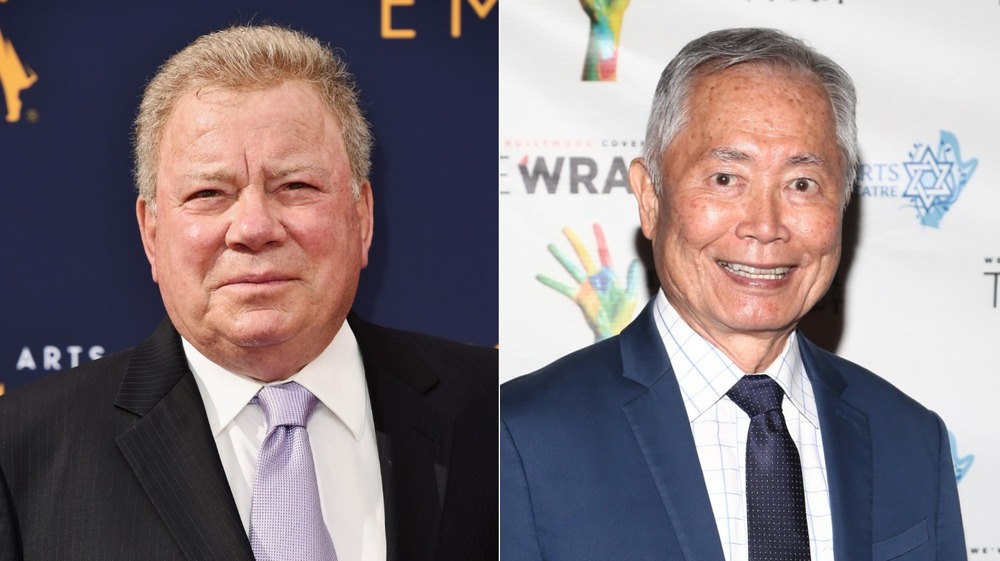 Alberto E. Rodriguez, Tommaso Boddi/Getty Images
While the vast universe of Star Trek might be depicted as a futuristic utopia where egalitarianism and equitability among humankind reign supreme, it's now common knowledge that the same couldn't be said when it came to the environment behind the scenes of the original series. Ongoing feuds lasting far behind the show's debut in 1966 and its subsequent four seasons — including rivalries between Leonard Nimoy and William Shatner, William Shatner and Nichelle Nichols, and William Shatner and... seemingly everyone – have become intertwined with Star Trek's general pop culture lore. 
Perhaps the longest feud to emerge from the show's original iteration is none other than the 40-year-old feud between William Shatner and actor George Takei, who first made his name as the U.S.S. Enterprise's resident helmsman Sulu, and later in life as an LGBTQ icon. So what, exactly, was the impetus for the decades-old feud? And does it look like the rivalry between George Takei and William Shatner will end up outliving them? Read on after the jump to find out. 
George Takei and William Shatner didn't get along from the beginning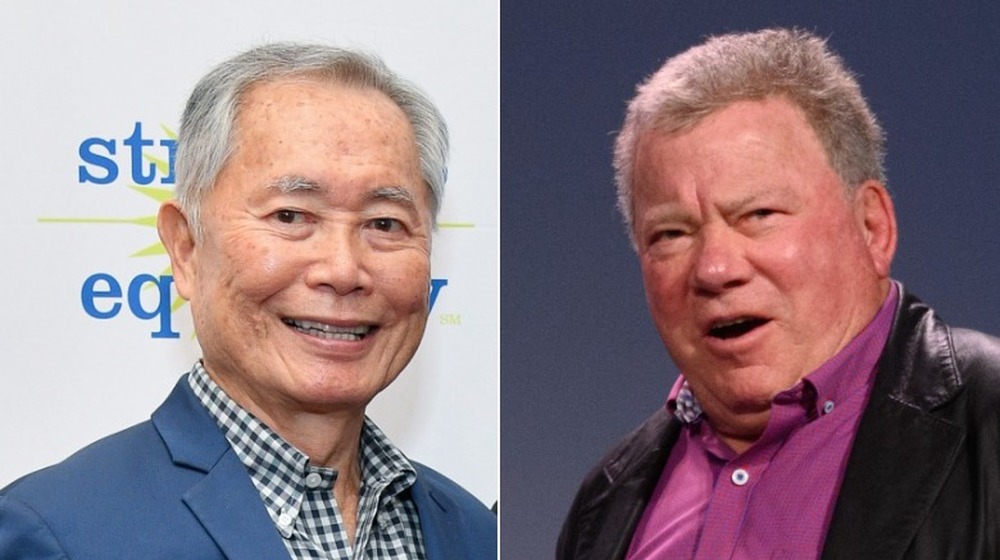 Dia Dipasupil, Daniel Boczarski/Getty Images
According to an interview George Takei gave during an appearance on ABC News in 2015, his feud and William Shatner began during their time on set, due to the fact that, per Takei, Shatner wasn't a "team player" when it came to working with both the Star Trek cast and crew.
"It's difficult working with someone who is not a team player," said Takei at the time. "The rest of the cast all understand what makes a scene work — it's everybody contributing to it."
The interviewer also brought up an incident between Takei and Shatner that took place in 2008, when Shatner posted at YouTube video in which he called Takei "psychotic" and "sick" in what seemed like an unprovoked attack, as well as minimized Takei's public coming out in 2005 as a gay man (per The Telegraph).
According to Takei, Shatner's post was in reaction to not receiving an invitation to Takei's wedding to his long-time partner — an invitation which Takei alleged he had sent. "Two months after my wedding [in September 2008], he went on YouTube and ranted and raved about our not sending him an invitation. We had. If he had an issue, he could have easily just phoned us before the wedding, simple as that. But he didn't." Takei further suggested the video was posted to drum up publicity for Shatner's talk show at the time, Raw Nerve, which ended in 2011. 
George Takei and William Shatner are still feuding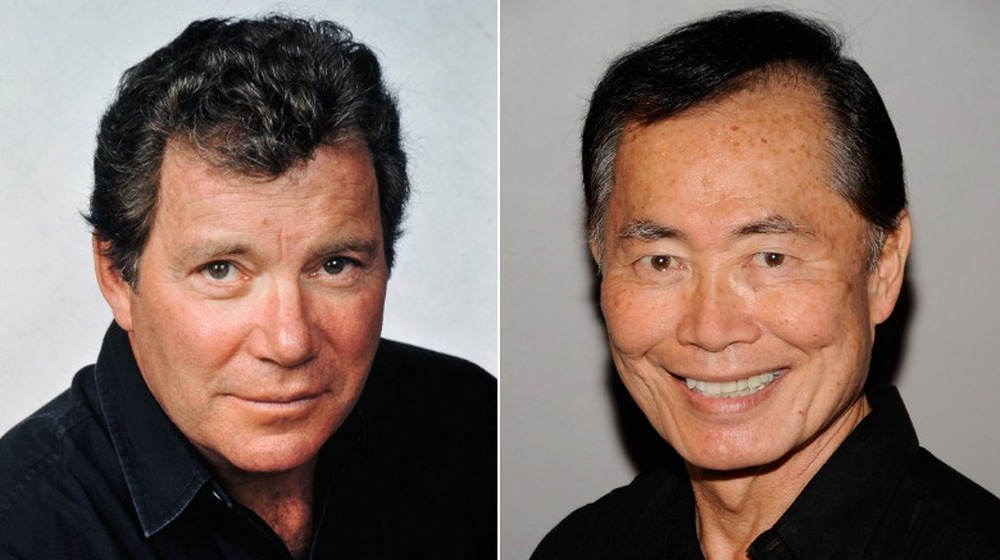 Getty Images
The feud between former Star Trek actors William Shatner and George Takei hardly ended there. Since Takei's candid interview with ABC News, a smattering of spats between the two have emerged again and again, despite what looked like an apparent but brief ceasefire in 2016 after they appeared in a photo op together. 
As CinemaBlend noted, another reported bout occurred in Aug. 2020 after Takei made an appearance on actor David Tennant's podcast David Tennant Does a Podcast With..., in which the Star Trek actor weighed in on Shatner's on-again, off-again, always-tenuous friendship with Leonard Nimoy, who originated the role of Spock. During the episode, Takei cited Shatner's purported insecurity and jealousy over Nimoy's fanbase, as well as the number of letters that Nimoy received during Star Trek's four-season run.
After the podcast episode aired, Shatner retaliated by taking to social media. "George needs a new hobby," tweeted Shatner with regards to his former co-star, who he accused of "making things up" and stating that the Star Trek cast never saw or signed fan letters. "That's why there's so many secretary signed photos. We barely saw George. He was in once a week at most-how would he know anything? The only person with jealousy is George."
Unfortunately, it looks like there remains no love lost between the adored Captain Kirk and the beloved helmsman Sulu — and that it'll stay that way as Takei and Shatner both head towards the final frontier.