Why Pete Davidson Might Be Removing All Of His Tattoos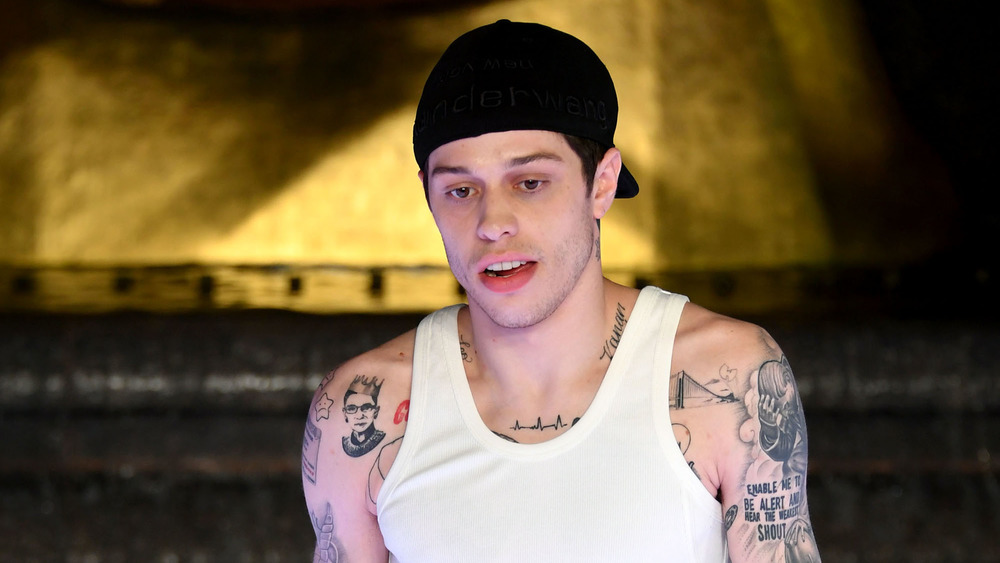 Mike Coppola/Getty Images
Comedian Pete Davidson is often recognized for his body art, so it's interesting that the Saturday Night Live star might remove all of his tattoos. Film critic Mike McGranaghan first dropped the rumor following an interview with Davidson, tweeting, "Pete Davidson is in the process of getting all his tattoos removed!" McGranaghan backed up his claim with a screenshot from the meeting, which shows Davidson raising a tattoo-free hand.
In the replies, haters began to question McGranaghan's credibility. "No, it's real," he countered in a now-deleted response, per Us Weekly. "He even showed his hand, which is already done. He said it takes 3-4 hours in the makeup chair to cover them, so he figured 'it would be easier to get them burned off.'" Considering the actor has over 100 tattoos, according to Body Art Guru, he has a long way to go.
Regardless of why Davidson is saying goodbye to his tats, fans are definitely sad to see them go. "Learning that Pete Davidson is removing ALL his tattoos might give me the same feelings a divorce would give me," one user tweeted, while another added, "Pete Davidson is getting his tattoos removed. I'm not ok." Keep scrolling for more details about why Davidson is reportedly saying goodbye to his tattoos.
Is Pete Davidson's decision related to Crohn's?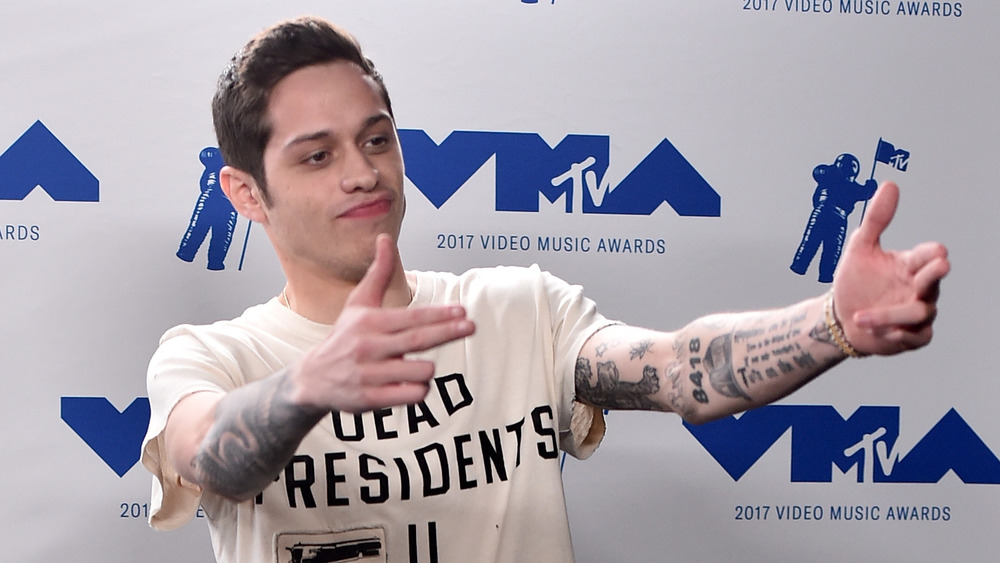 Alberto E. Rodriguez/Getty Images
Although Pete Davidson might be sacrificing his body art for the sake of his acting career, removing his tattoos may be pertinent for his health. As Davidson's fans flocked to Mike McGranaghan's tweet, one user took to the replies to suggest why the comedian might want to forgo his tattoos. "There have been tons of articles, starting with Newsweek, about the toxic ingredients in tattoos and the fact that they can migrate into your bloodstream. Given Pete's medical issues with Crohn's, this was a wise decision long-term," they wrote to the film critic on Dec. 16, 2020. 
Although there is no confirmation that this is the case, Davidson has openly discussed his struggles with Crohn's Disease, which is "an inflammatory bowel disease (IBD). It causes inflammation of your digestive tract, which can lead to abdominal pain, severe diarrhea, fatigue, weight loss, and malnutrition," according to the Mayo Clinic. When talking with Howard Stern in 2018, Davidson revealed that smoking marijuana is necessary for him to deal with his diagnosis. "I have Crohn's disease, so it helps more than you can imagine," Davidson said at the time, according to High Times. "There was a point where I couldn't get out of bed (due to the pain). I was 110 pounds. I also just love smoking weed. I've been smoking weed every day for eight years." 
Only time will tell whether Davidson wipes himself clean of the tats. Stay tuned!