Inside Hayley Atwell's Friendship With Chris Evans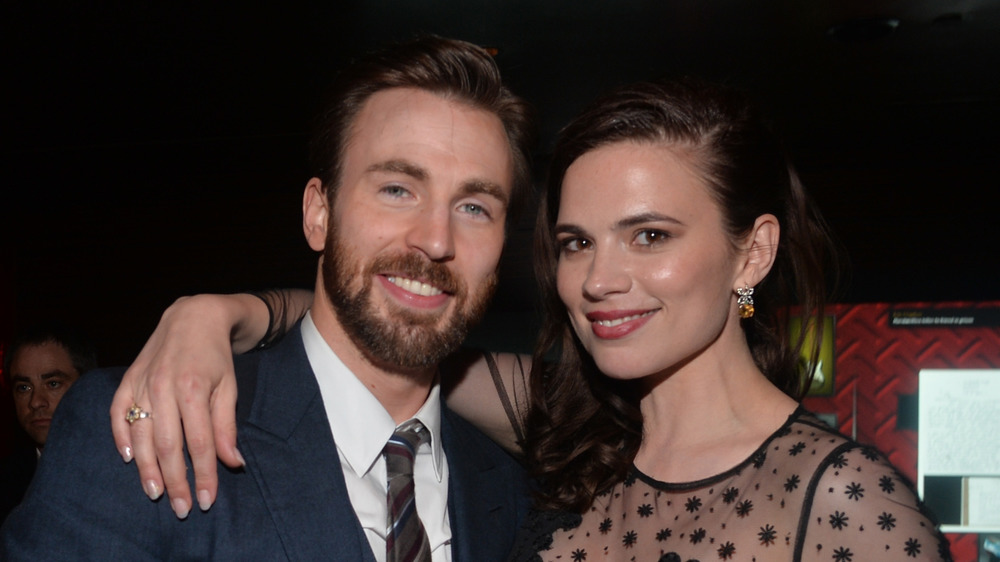 Alberto E. Rodriguez/Getty Images
In 2011, Hayley Atwell made her debut alongside Chris Evans in Captain America: The First Avenger, and a friendship was born. Atwell played Peggy Carter, the love interest to Evans' Steve Rogers/Captain America. The pair definitely are fond of one another, which made their onscreen pairing so perfect.
During a May 2015 appearance at Wizard World Comic-Con in St. Louis, she revealed what her favorite scene was from Captain America: The First Avenger. "The kiss, obviously! Duh!" Atwell shared. "He was so soft, and he smells so good." Their comfort with one another led to that being one of the most talked-about scenes from the film. Plus, there was that improvised grope by Atwell, which turned the heat up a notch. She told the crowd of that moment, "I had never seen him with his top off before that moment... He comes out of this pod looking like an Adonis, and so I impulsively just grabbed his boob. And so they kept that in there. That was the highlight of my life, let alone the actual scene."
In 2016's Captain America: Civil War, even though Atwell didn't appear in that film, her character, Peggy Carter's funeral, was featured in the movie. Evans sent Atwell a very to-the-point but aww-inducing text the day he filmed the scene. "I'm so sad today. You just died," Evans wrote, according to Cinema Blend. Continue reading to find out what Hayley Atwell and Chris Evans did together for fun.
Hayley Atwell and Chris Evans can make a killer Dubsmash video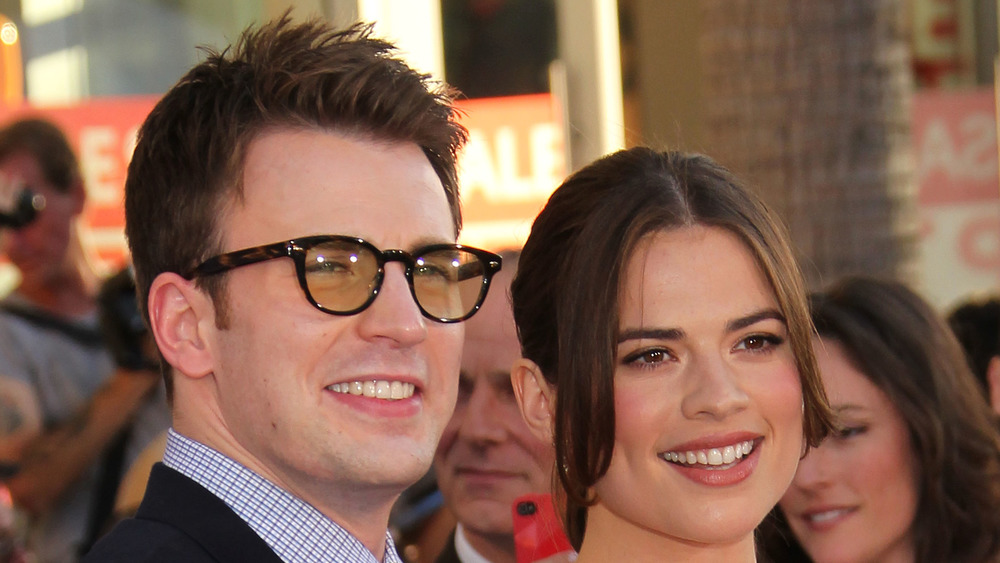 Frederick M. Brown/Getty Images
During Comic-Con in 2015, while Hayley Atwell was starring on the ABC series Agent Carter as Peggy Carter, she and her Agent Carter co-star James D'Arcy entered into a Dubsmash war, pitting them against Clark Gregg and Chloe Bennet from Agents of S.H.I.E.L.D. Per MTV News, there were some major back and forth battles that took place, but they all did come together at one point. Then Atwell upped her game by calling on her friend Chris Evans to enter the battle for one final performance. In the video, Captain America and Peggy Carter were reunited and enjoyed one big kiss! That was followed up with another Dubsmash video set to the tune of Queen's "Another One Bites the Dust," giving them their mic-drop moment. 
The friends reunited on screen for one final time as Peggy Carter and Steve Rogers in Avengers: Endgame with a shot of the two characters finally having a dance with one another. She told The Hollywood Reporter, "I thought it was a fitting end to a story that has affected so many people. I thought it was very endearing, innocent and wholesome in the way that it keeps those characters in their time." While we won't be seeing Hayley Atwell and Chris Evans together again in another Avengers movie, we have our fingers crossed for another epic Dubsmash battle.