What Jill Biden Had To Say About People Insulting Her Doctorate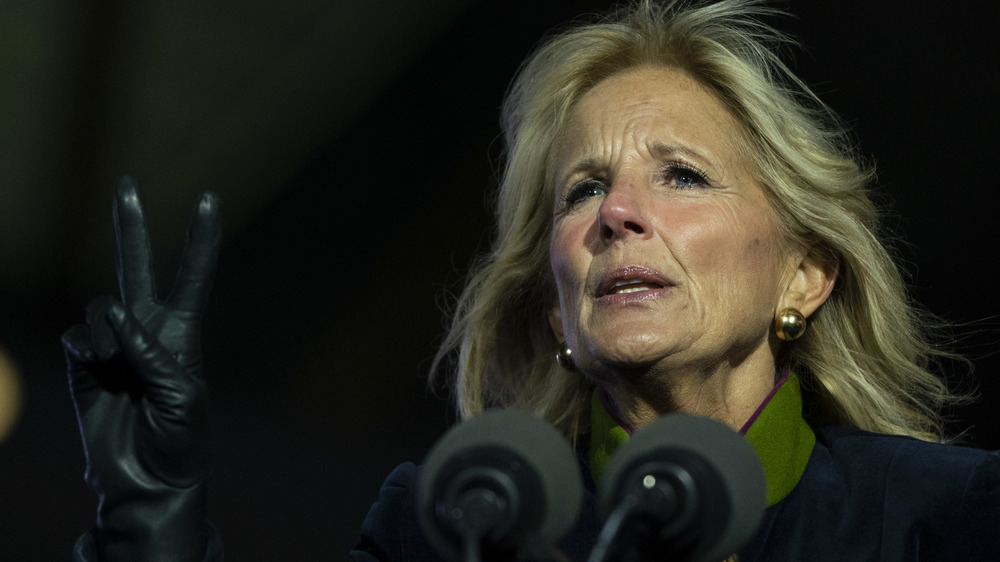 Drew Angerer/Getty Images
Future first lady Jill Biden — or, should we say, Dr. Jill Biden? — is proving she won't take an insult sitting down.
In the wake of a Dec. 11, 2020 op-ed in The Wall Street Journal, which claimed that Jill's doctor of education degree doesn't give her the right to the title "Dr.," she and President-elect Joe Biden appeared on The Late Show with Stephen Colbert to address the controversial article. "That was such a surprise," she said. "And it was really the tone of it."
The Wall Street Journal and the author of the article, Joseph Epstein, have both received major backlash for his stance, which is that Jill's use of the title "sounds and feels fraudulent, not to say a touch comic." According to The Hill, "several public figures and others on Twitter are condemning [the article] ... with some saying the piece was 'trash' and 'misogynistic.'" Former First Lady Michelle Obama even posted a lengthy defense of the future first lady on her Instagram account. 
But what did Jill herself — and the future president — have to say about the article?
Jill Biden's reaction was more reserved than Joe Biden's
CBS Broadcasting Inc.
Jill Biden kept a level head while addressing the controversial Wall Street Journal column on The Late Show with Stephen Colbert, defending her work instead of attacking the author. "One of the things I'm most proud of is my doctorate, you know, I worked so hard for it," she said, according to ET Online.
She also voiced her appreciation for those who spoke out against the piece. "Look at the people who came out in support of me," she said. "I am so grateful and I was just overwhelmed by how gracious people were toward me."
President-elect Joe Biden, ever proud of his wife's accomplishments, told Stephen Colbert how diligently she worked to earn her degree. "She had two masters degrees," he recalled. "She kept going [to] school all the time, while teaching at night."
Although Colbert and Joe joked about him getting payback for the insulting article, Jill quickly hushed her husband — and her credentials stand on their own just fine.