Barbara Walters' Rep Responds To Connie Chung's Shady Remark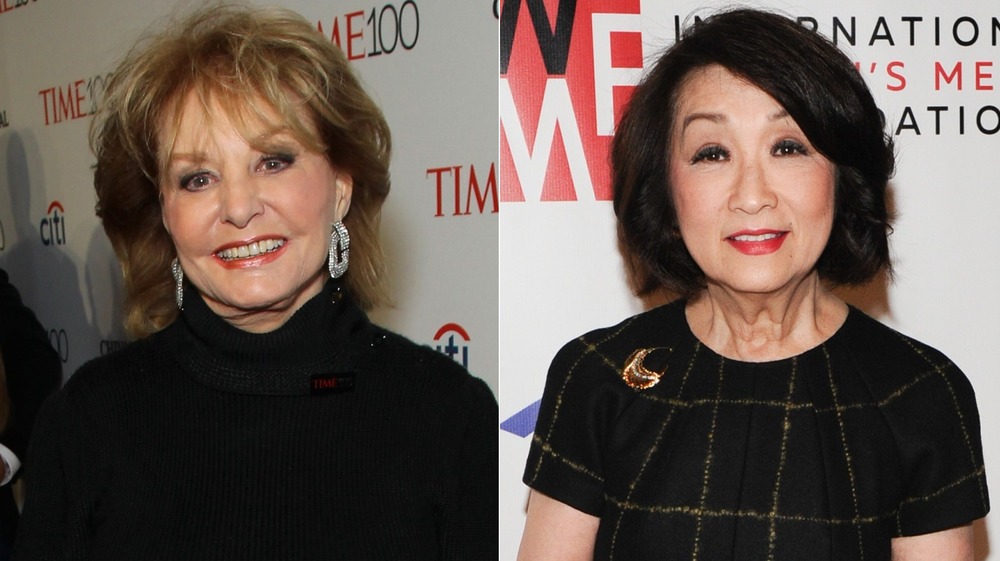 Bennett Raglin, Daniel Zuchnik/Getty Images
Connie Chung, acclaimed reporter, recently spoke out about her long and impressive career. Chung was a trailblazer in the news world. As a woman and a minority in a time when networks wanted neither, her decades-long career is a testament to her work ethic and passion. Every good story needs a villain, and according to Chung, the villains in her story are her co-anchors and co-workers throughout the years.
In an explosive interview given to LA Magazine's podcast, "The Originals" in December 2020, Chung did not hold back when spilling the tea about what it was really like to work with some of the biggest names in news. Chung was paired with Dan Rather at CBS, which she described as something out of a horror movie. "If I turned my back, I felt like I might be in a scene of Psycho in the shower," she said, per The Daily Mail. When asked about her relationship with David Letterman and the longstanding rumors that there was something of romance between them, Chung had this to say. "I had this thing for him, and he had a thing for me," she said, per TMZ, "And yet, I really didn't have a thing for him. Do you know what I mean?" Honestly, we don't.
More importantly, though, Chung threw down the gauntlet when talking about her relationship with Barbara Walters and Diane Sawyer. She made some allegations they couldn't ignore, and now a rep for Walters is speaking out.
Barbara Walters defends herself against Connie Chung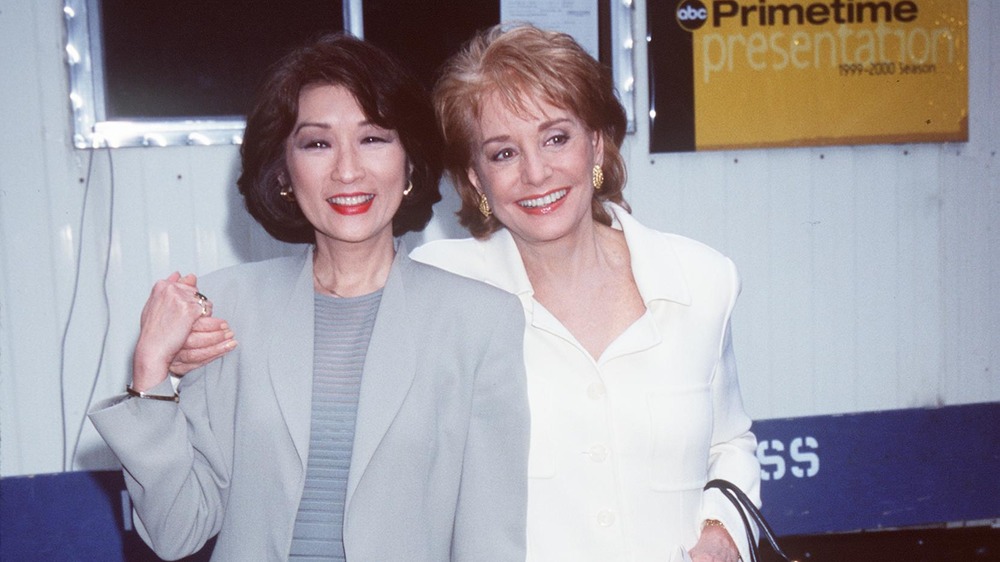 Robin Platzer/twin Images/Getty Images
During Connie Chung's interview about her long career as a reporter, she was, of course, asked about her relationship with former co-anchors Diane Sawyer and Barbara Walters. According to Chung, when she landed her gig at ABC, she was thrilled to have the chance to work with Sawyer and Walters, per TMZ. "When I got to ABC News, I joined with both Barbara Walters and Diane Sawyer there and I thought, "Oh, this is going to be great. It'll be three women who get along.'"
She couldn't have been more wrong. Chung went on to detail how the network allegedly tried to prevent her from scoring big interviews. "Barbara and Diane were the only ones who could compete for the interview, and I had to stand down," she claimed, per The Daily Mail.
Chung also alleged that what went on behind-the-scenes was out of control. When speaking about her time at ABC, Chung claimed that Walters and Sawyer would try to get her on their side to gang up against the other, and then turn around steal interviews from her. Chung even said that their behavior was "not unlike what Tonya Harding did to Nancy Kerrigan."
In response to the allegations, Walter's reps released this statement to TMZ: "Barbara paved the way for every female journalist that came after her. She has been a tremendous supporter for all women." It seems like Chung would disagree. Who knew network news was so dramatic?