Ryan Reynolds Confirms Second Child Is A Girl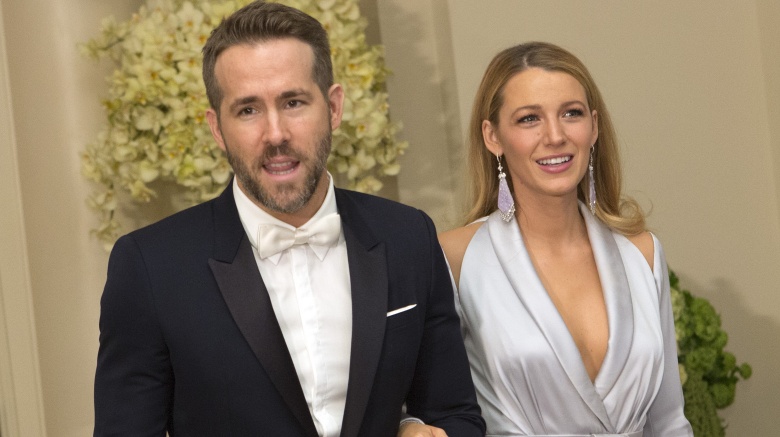 Getty Images
Ryan Reynolds and Blake Lively's second child is another little lady!
Reynolds, 40, accidentally revealed the baby's gender on Conan on Wednesday when venting about fatherhood.
"Two [kids] under two is tough...a lot of estrogen. It feels like an American Girl Doll just took a s**t on my life," he cracked. "I'll pour some cereal in the morning and there's like, a tiny shoe in there. That's a choking hazard for me!"
He added, "It's pretty remarkable, you know? I used to say to my wife all the time, 'I can't actually imagine ever loving a second child as much as I love the first.' Then, that baby comes popping out...[and] I was totally wrong."
He previously hinted at the baby's gender in October 2016, when he tweeted, "The mobile above my daughter's crib is just a whole bunch of NuvaRings. So she remembers how lucky she is."
Lively, 29, hinted on Instagram that she wasn't too thrilled about her husband's loose lips. She posted a photo of a chocolate cookie with the caption, "The ways I know that @vancityreynolds got himself into huge trouble on @teamcoco tonight: Not only did he come home with my true love, @levain_bakery cookies, but he personally toasted them for me and brought me a cup of milk WITH ICE. Literal brownie points."
The private couple, who are also parents to daughter James, 22 months, have kept both their kids under wraps: James' birthday was never even revealed until Reynolds wished her a happy first birthday on Instagram, and the baby has never been photographed in public. Their second little girl was born in September 2016 and her name has yet to be revealed...that is, perhaps until Reynolds has another talk show appearance.