Tommy Hilfiger Clarifies Comments On Gigi Hadid's Size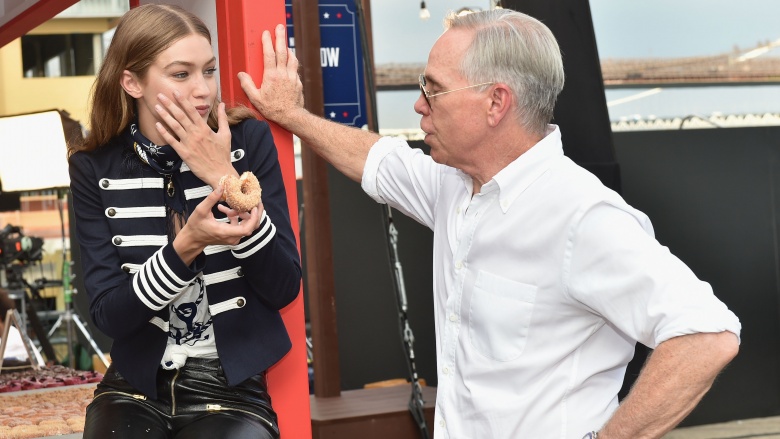 Getty Images
Did Tommy Hilfiger really call supermodel and muse Gigi Hadid fat?
Not quite, but he came under a lot of fire because someone on his staff thought she wasn't thin enough...despite, you know, being really thin.
When discussing his runway show at New York Fashion Week in February 2015, Hilfiger explained why Hadid, 21, rocked a poncho.
"Our casting director said, '[Hadid] doesn't really fit because, you know, she's not quite as tall as the other girls, she's not quite as thin,'" Hilfiger told Yahoo Style. "So they put a red, white and blue poncho on her—it covered a lot of her body, unfortunately, but it received millions of hits."
Hilfiger's comments subsequently led to an online backlash, prompting him to clarify what he said to Page Six.
The designer then had to backtrack on his own comments after they made headlines.
"The casting people put Gigi in the poncho, and I was not happy. I was saying, 'Don't hide her body,'" he said. "Even though the poncho ended up being the best-selling piece, I was very unhappy. The suggestion that I thought she wasn't thin enough upsets me to no end. Gigi is the epitome of perfection.
"I am proud to have her as the face of my brand and proud to have her collaborate with me," he added. "There's no other girl like her in the entire fashion world—not only because of her beauty, but because of her style. We worked with her to design a line—designers don't usually let models design with them—she had a style we thought was incredible."
Incidentally, Hadid walked his next fashion show in September in a bikini. "She opened and closed the show in the bikini, because she's our No. 1 model," he told Page Six. "She would not be the Tommy girl if I didn't think she was perfection, the It girl of today, not just because of her face, not just because of her body, but because of who she is."