V From BTS' Nickname Has A Special Meaning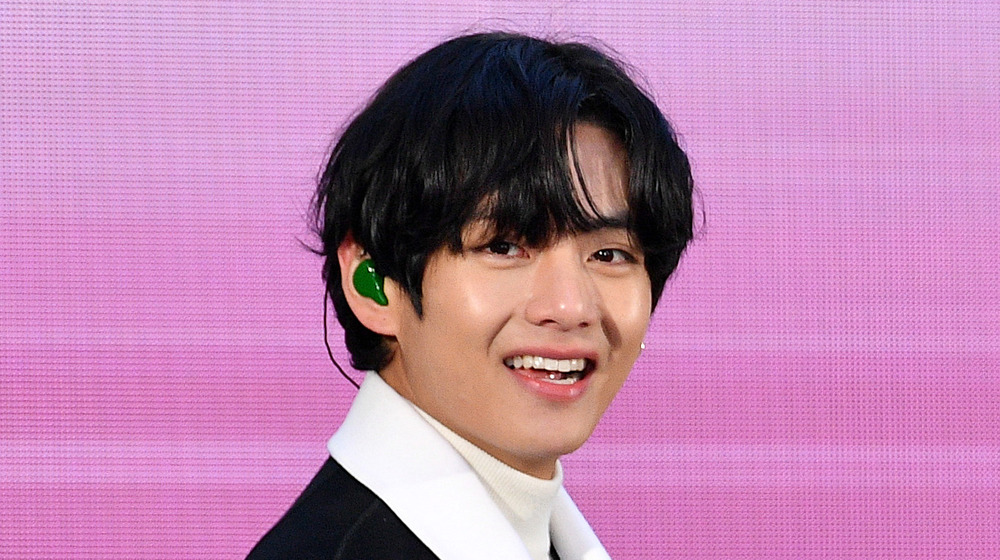 Dia Dipasupil/Getty Images
K-pop boy band BTS has taken the world by storm and attracted a massive fan base with chart-topping songs like "Dynamite," "Life Goes On," and "Boy With Luv." BTS, which is short for "Bangtan Sonyeondan" and translates to "Bulletproof Boy Scouts" in Korean, has created a fandom similar to that of former boy bands such as NSYNC and the Backstreet Boys. Fans can't get enough of members RM, Jimin, Suga, J-Hope, Jin, Jungkook, and V.
In addition to their Grammy-nominated work and sold-out world tours, BTS member V (aka Kim Taehyung) created quite the stir on an individual level when he uploaded some suave selfies to Twitter in August 2020. The BTS "Army" — the collective nickname for its fans — swooned over the singer's appearance in those mirror pics. Looking oh so sophisticated in a floral-patterned suit and perfectly styled hair, V even earned a very special nickname, thanks to those famous selfies. 
Keep reading to see what all the hype is about.
There's a reason BTS fans nicknamed V a 'National Treasure'
Did BTS superstar V know he was going to break the internet when he posted two selfies (pictured above) and the caption "Hi Army" to Twitter in August 2020? According to the International Business Times, Korean fans were so impressed by his style transformation that they gave the singer the nickname "National Treasure."
V reportedly earned this title based on how quickly his selfies went viral. He "set a new record as the Korean solo artist to surpass over 1 million likes in the shortest amount of time" — less than 1 hour and 29 minutes, according to AllKPop. V's tweet has since become one of the most popular tweets in all of social media history, with more than 3.1 million likes and counting.
"National Treasure" is just one of the many nicknames bestowed upon this K-pop sensation. Because of his love for Gucci, it's not surprising to hear him referred to as "Gucci Boy." V also goes by "Baby Bear," which derives from the nickname his dad gave him when he was a young child, according to PinkVilla. Another common nickname is "Tae Tae," which is short for his name, Kim Taehyung, and let's not forget his "Baby Lion" moniker — a play on his gentle demeanor and fierce fashion style. 
With BTS continuing to win the hearts of fans all around the world, it's safe to say V's collection of nicknames will most likely grow! Don't be surprised if he's promoted to the rank of "Global Treasure" soon.