The Unusual Encounter Margot Robbie Had With Prince Harry
Kevin Mazur, Max Mumby/indigo/Getty Images
Some unlikely friendships have come from the small circle of celebrities in Hollywood, but what happens when Hollywood crosses over with the Royal family? In at least one case, it can make for a very strange first meet-up.
Margot Robbie's friendship over the years with Prince Harry is largely thanks to her Suicide Squad costar Cara Delavaigne, who was previously friends with the Prince. The actress first met the Duke of Sussex at a party with mutual friends, before eventually developing a texting-level friendship. "He's pretty quick on text actually," Robbie revealed to Extra. "Unlike me — I write back four days later, weeks later sometimes."
The Bombshell actress admitted to The Sun, because of her unlikely friendship with Prince Harry, her friends think she's their ticket to meeting the royal family. "Everyone now thinks if they come on a night out with me in London they'll bump into Prince Harry," said the actress.
Although hanging out with Robbie may not be the way to bump into a prince, it did happen to her — in a pretty unusual way. Keep reading to learn all the details. 
Margot Robbie thought Prince Harry was Ed Sheeran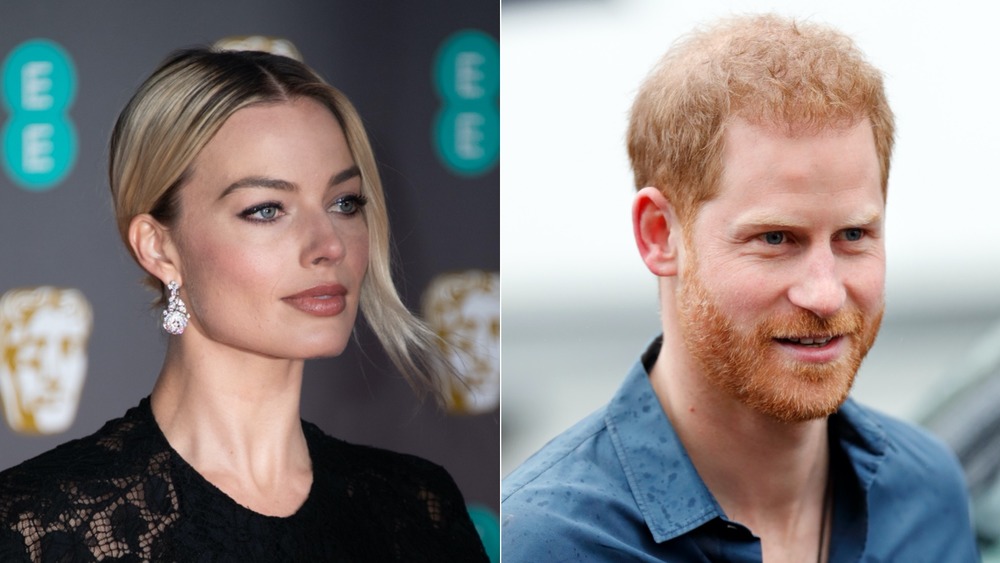 Gareth Cattermole, Max Mumby/indigo/Getty Images
In an appearance on The Tonight Show starring Jimmy Fallon, actress Margot Robbie revealed to fans just how she met the Duke of Sussex, Prince Harry.  She had gone into a photo booth with him and a few other friends at Suki Waterhouse's party and made small talk with Harry without realizing who he was. "He's not wearing a crown!" Robbie joked. Fallon showed the photo they took together, featuring Robbie with her tongue out and Harry in a hat and glasses. 
"Actually, when I saw him in those glasses, I was like, 'Oh my God, I didn't know Ed Sheeran was at the party,'" explained Robbie about a night at Suki Waterhouse's party. "And he was really offended. He was like, 'Shut up!'"
Robbie further revealed in Love Magazine (via the DailyMail), she "just thought it was a guy named Harry and thought, 'What a nice guy'."
Clearly, there were no hard feelings for the confusion, given Robbie and Prince Harry's lasting friendship. Robbie got to live out a fairy tale — for a few hours — when she discovered the "nice guy" at the party was really a Prince.