The Truth About Tom Hanks' Friendship With Barack Obama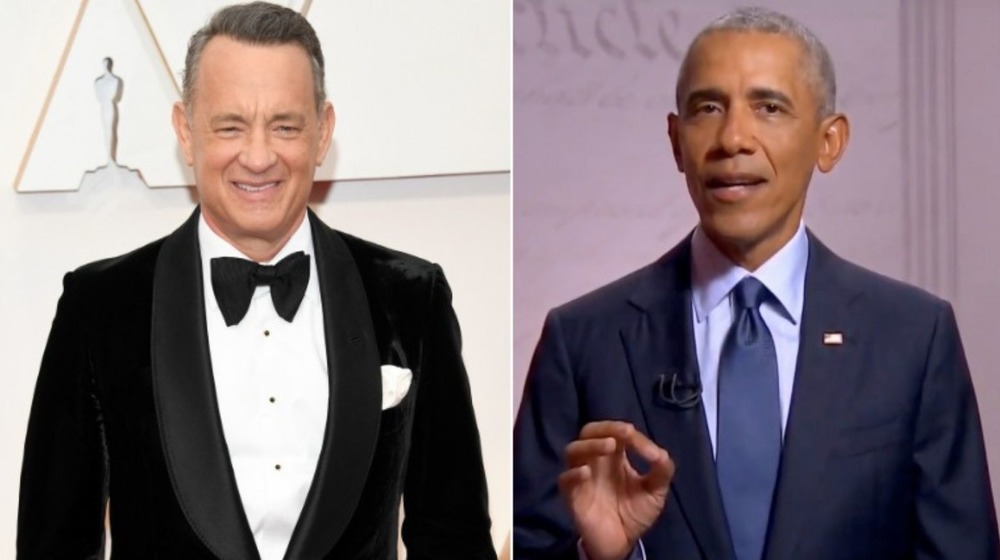 Kevin Mazur, Handout/Getty Images
Two of the most beloved figures in America are Tom Hanks and former President Barack Obama, but did you know Hanks and Obama are friends? In 2017, Travel and Leisure reported that Obama and Hanks even went on vacation together.
According to Travel and Leisure, "the coolest Americans alive" relaxed together in French Polynesia on a yacht near Tahiti in 2017. The group included the former president and his wife, Michelle Obama, Hanks, Oprah, and Bruce Springsteen. To hang out with even one person on that list would be incredible.
People reported that Hanks tried to get the former POTUS to spill some of the juicy stories from his time in the White House while on their vacation, but Obama shut down the actor and told him: "I'd like to share a ton of stories from it, but they're classified."
It appears the friendship between Obama and Hanks remains strong. The Daily Mail reported that Hanks and his wife, Rita Wilson, joined Michelle Obama in 2020 to encourage Americans to utilize voting by mail in the presidential election. The friendship between the actor and Obama may have actually started in 2008. The Forrest Gump actor made news in 2008 when he endorsed then-Senator Obama for president — on MySpace!
Barack Obama gave Tom Hanks the Medal of Freedom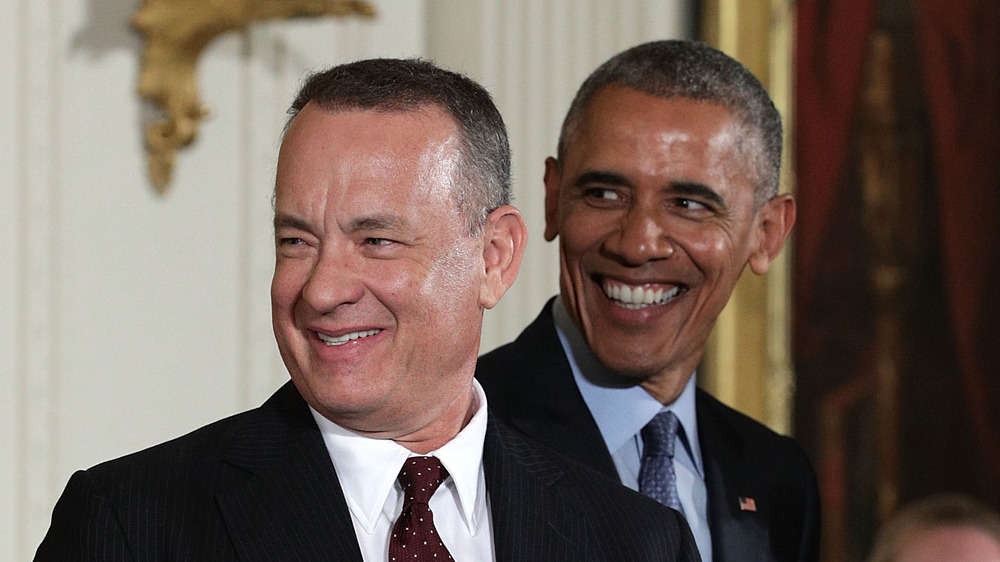 Alex Wong/Getty Images
The relationship between former President Barack Obama and Tom Hanks is also a respectfully professional one. The actor was given the Presidential Medal of Freedom in 2016 by then-President Obama. According to The White House announcement, Hanks received the honor for his work and for his civic contributions: "Tom Hanks is one of the Nation's finest actors and filmmakers...Hanks has advocated for social and environmental justice, and for our veterans and their families." The announcement also mentioned Hanks' most iconic film roles, saying they "have left an indelible mark on American film."
Receiving the Presidential Medal of Freedom is quite an honor. In the White House announcement about the Medal of Freedom, President Obama said:  "The Presidential Medal of Freedom is not just our nation's highest civilian honor—it's a tribute to the idea that all of us, no matter where we come from, have the opportunity to change this country for the better."