The Truth About The Ivanka/Melania Trump Feud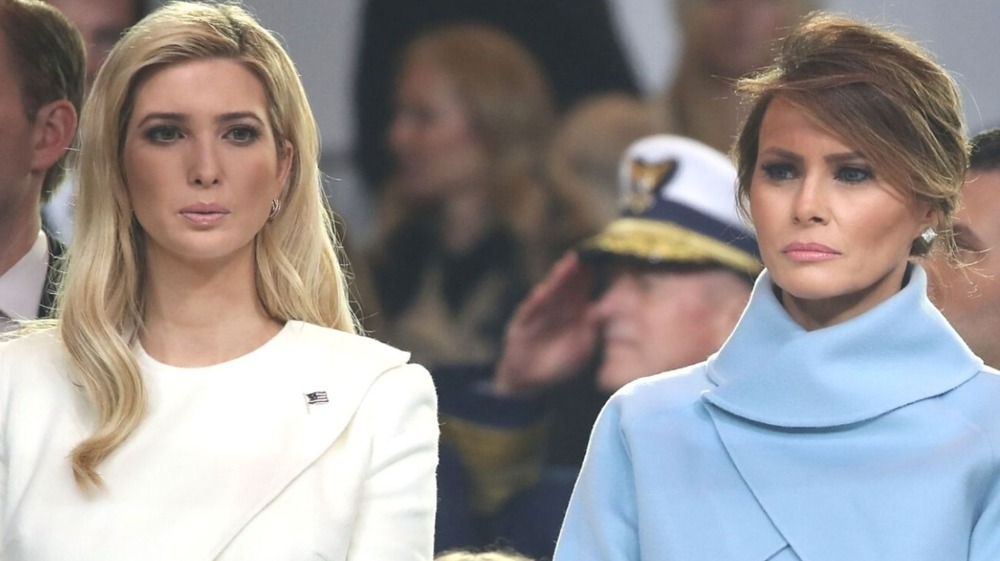 Mark Wilson/Getty Images
We may receive a commission on purchases made from links.
Ivanka Trump and Melania Trump are the women who are at the core of Donald Trump's life. And they supposedly can't stand each other! The podcasts The New Abnormal, did a deep dive into the war between Ivanka and Melania and it was delicious. Per the Daily Beast, The New Abnormal's episode on Dec. 18, 2020 featured Stephanie Winston Wolkoff, former BFF of FLOTUS and author of Melania and Me: The Rise and Fall of My Friendship with the First Lady.
Wolkoff wrote her best-selling book after the Trump administration dumped her like a hot potato after pulling off 18 inauguration balls and working as an assistant in the east wing. Melania's former best friend was paid back for her hard work by the Trumps pinning a portion of missing inauguration funds on Wolkoff. According to WWD, the first lady's former friend found out "three years after the inauguration that there was a $26 million fee in the budget that appeared to be paid to Wolkoff."
In her book, Wolkoff writes the inauguration budget as "sleight of hand, creative accounting, bulls**t at its finest, and the press ate it up, hook, line and sinker." Keep reading because you don't want to miss any details about the Ivanka and Melania Trump feud!
Melania Trump's former pal spilled all about the rivalry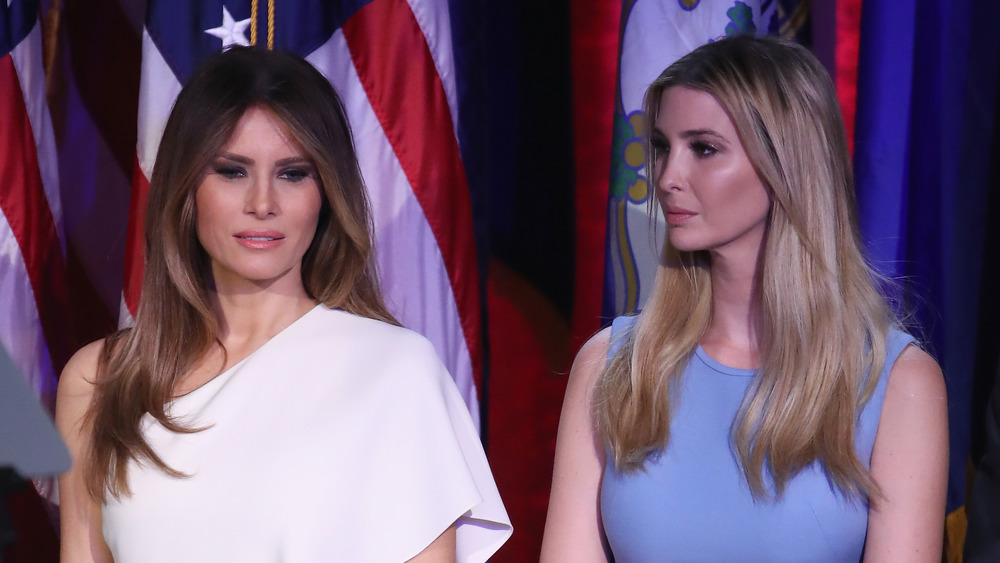 Mark Wilson/Getty Images
On The New Abnormal podcast, best-selling author Stephanie Winston Wolkoff confirmed what many suspected: Ivanka Trump and Melania Trump are at war. According to Wolkoff, the two women "loathe" each other.
Pod host Molly Jong-Fast asked the FLOTUS' former best friend if Ivanka was "dumb or evil." Wolkoff responded with insights about Ivanka and the other grown children (via Daily Beast), "I think it's a mixture. I really do. I think that Ivanka is Donald in a suit, right? All of the Trumps are taught to be Trumps. They don't show emotion. A Trump is a Trump because they are authentically and unapologetically skin deep, and also self-serving. And their attitudes and disrespect for each other are again; you have to get any inside to see it."
Wolkoff spilled all the dirt about Ivanka during the pod interview. The former White House insider claimed Ivanka tries to box in Melania, and the daughter of POTUS is shameless: "So [Ivanka] impinged on Melania's duties while overstepping her rank and boundaries. We called [Ivanka] the serial poacher." She also told The New Abnormal hosts, "The princess wanted to render Melania irrelevant. And you know, Melania refers to them as 'snakes,' Jared and Ivanka, and they'll do anything to get what they want." Ouch!
Melania Trump's smile to Ivanka Trump at RNC may have been a hint
Who can forget Melania Trump's passive-aggressive smile at Ivanka Trump during the 2020 RNC Convention? If you missed one of the potential signals of the Ivanka-Melanie war, you could watch the short RNC video clip on The Telegraph's YouTube page. According to People, many online took this as evidence that the two don't really get along. Per the outlet, "Viewers were quick to read into a thousand-yard stare the first lady gave after greeting her stepdaughter."
Meanwhile, during her interview on The New Abnormal, Stephanie Winston Wolkoff brought receipts in her battle with the Trumps. The best-selling author recorded conversations with FLOTUS as she became concerned she was set-up. Part one of Wolkoff's shady spill-fest was released on the podcast on Dec. 18, 2020. Part two of Wolkoff's chat on Ivanka and Melania's war will be released on Dec. 23, 2020. 
Town and Country reported that Wolkoff shared recorded conversations between herself and the first lady on CNN. The women's chat was explosive because they talked about children's border separations and how the first lady feels about decorating the White House at Christmas. You can listen to Wolkoff and Melania's conversation here. And if you want to hear more about the apparent feud between Ivanka and Melania, you can listen to The New Abnormal on Apple Podcasts, Spotify, and Stitcher.