The Real Reason Dr. Anthony Fauci Got The COVID-19 Vaccine On Live TV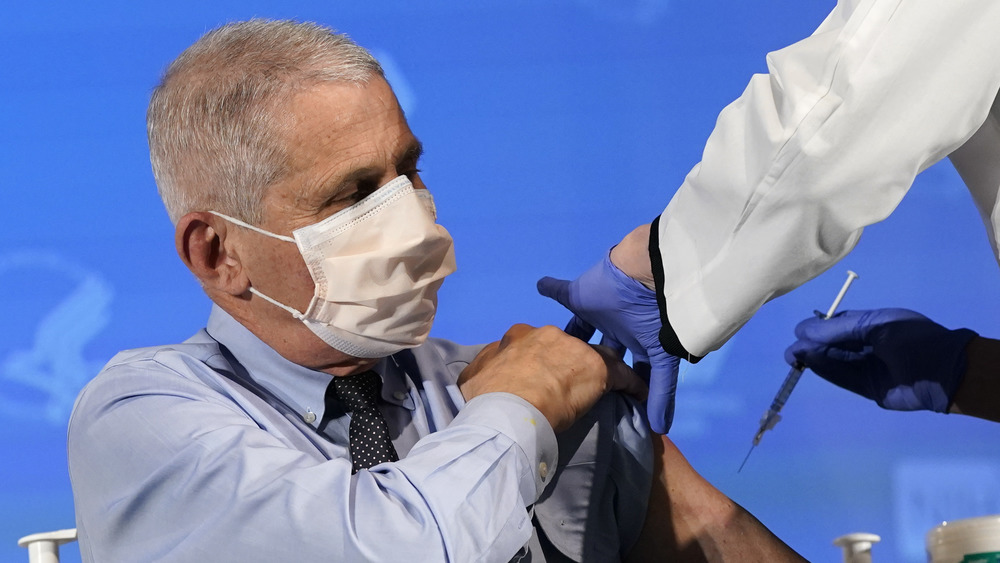 Pool/Getty Images
The country's top infectious disease expert Dr. Anthony Fauci received his first dose of the Moderna coronavirus vaccine on Dec. 22, 2020, on live television no less. Fauci was filmed getting the inoculation at the National Institutes of Health (NIH) Clinical Center in Bethesda, Maryland, along with Health and Human Services Secretary Alex Azar, NIH Director Francis Collins, and several other frontline workers, per New York Post.
The Moderna vaccine was approved by the Food and Drug Administration on Dec. 18, just days after the Pfizer-BioNTech vaccine was approved on Dec. 11. President-elect Joe Biden and soon-to-be first lady Jill Biden received the Pfizer vaccine just one day before Fauci at ChristianaCare Wilmington Hospital in Delaware. Biden was also filmed receiving his vaccine, stating, "I'm doing this to demonstrate that people should be prepared when it's available to take the vaccine," per NYP. "There's nothing to worry about. I'm looking forward to the second shot. So is Jill. She's had her shot earlier today. She loves shots, I know." 
Additionally, Vice President Mike Pence, who is head of the White House Coronavirus Task Force, received his COVID-19 inoculation on television the same day the Moderna vaccine was approved. By televising the event, Pence hoped to reassure the "American people can be confident" in the vaccine, per CNN. He added, "We have one, and perhaps within hours, two, safe coronavirus vaccines for you and your family." Keep scrolling to see why Dr. Fauci decided to get his inoculation on live television.
Dr. Fauci wanted to send a message to the American people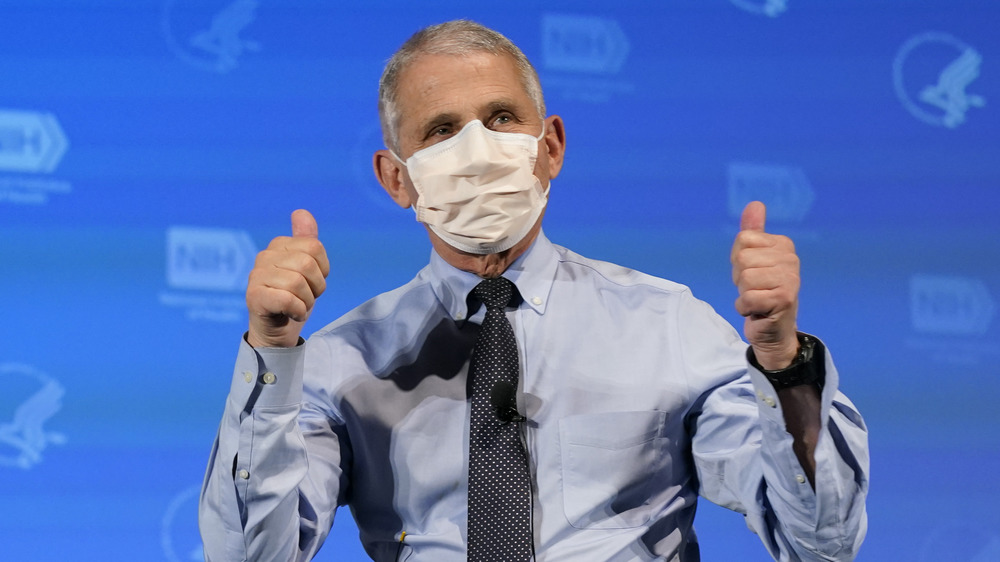 Pool/Getty Images
Physician Dr. Anthony Fauci felt it was necessary to get his inoculation on live television for reasons similar to his influential counterparts. "First, I am an attending physician here on the staff at the National Institutes of Health Clinical Center and so I do see patients," he said, explaining his decision to get the vaccine to reporters, per New York Post. "But as important or more important, is as a symbol to the rest of the country that I feel extreme confidence in the safety and the efficacy of this vaccine." He continued to say, "I want to encourage everyone who has the opportunity to get vaccinated so that we can have a veil of protection over this country that would end this pandemic."
The COVID-19 vaccines mark a historic moment for both the medical community and Americans alike. "What we're seeing now is the culmination of years of research, which have led to a phenomenon that has truly been unprecedented," Fauci said shortly before his injection. "And that is to go from the realization that we're dealing with a new pathogen, a virus that was described in January of this year, to less than one year later to have vaccines that are going into the arms of so many people, including myself." He concluded, "I consider it an honor to be part of this process."