Why Mike Pence Got The COVID-19 Vaccine On Live TV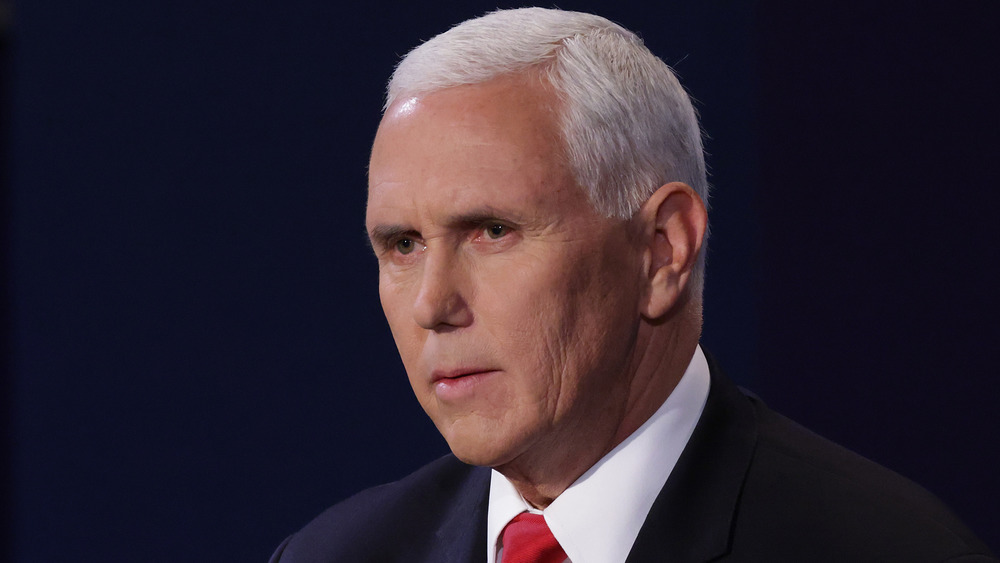 Alex Wong/Getty Images
More than 40 members of President Trump's administration and inner circle have tested positive for COVID-19, according to The New York Times. President Trump broke the news of his diagnosis via Twitter on Oct. 2, 2020, just hours after senior White House aide Hope Hicks received a positive test result. "Tonight, @FLOTUS and I tested positive for COVID-19. We will begin our quarantine and recovery process immediately. We will get through this TOGETHER!" Trump told his followers.
While critics have issued their grievances about Trump's handling of the coronavirus pandemic, the president has been more concerned with championing the long-awaited coronavirus vaccine as the solution to the deadly virus. "In the past nine months, my administration has initiated the single greatest mobilization in U.S. history — pioneering, developing, and manufacturing therapies and vaccines in record time," Trump claimed in a November 2020 briefing. Per Associated Press, though, "FDA scientists were the ones who came up with the idea for Operation Warp Speed."
A vaccine, developed by Pfizer and BioNTech, has since been approved in the United States and is first being administered to healthcare workers, per the BBC. While Vice President Mike Pence is not a healthcare worker nor one of the members of Trump's inner circle who tested positive for COVID-19, he is the head of the White House Coronavirus Task Force. Consequently, Pence and his wife, Karen Pence, took it upon themselves to be the first in the White House to receive the vaccine — and they televised it. Here's why.
Mike Pence wants to set an example for America
Mike Pence received the coronavirus vaccine on the morning of Dec. 18, 2020, making him the highest White House official to receive the vaccine publicly so far. Second lady Karen Pence and Surgeon General Jerome Adams were also provided with a dose of the vaccine, per CNN.
While commenting on the process, Pence said he hopes the televised event helps Americans feel comfortable receiving the vaccine. "The American people can be confident: we have one, and perhaps within hours, two, safe coronavirus vaccines for you and your family," he said, adding that he "did not feel a thing." Many people are skeptical about the safety of the vaccine, with more than a quarter of Americans reporting that they don't plan on receiving the vaccine, according to a poll run by the Kaiser Family Foundation.
Pence seemed confident in the future of America post-pandemic, calling the vaccine a "medical miracle," and adding that a return to normalcy is in the near future. "I also believe that history will record that this week was the beginning of the end of the coronavirus pandemic," he stated.
Meanwhile, President Trump did not attend the event. As of this writing, he has not yet received the vaccine himself, according to CNN.