Barack Obama Reveals How He Really Feels About Malia's Boyfriend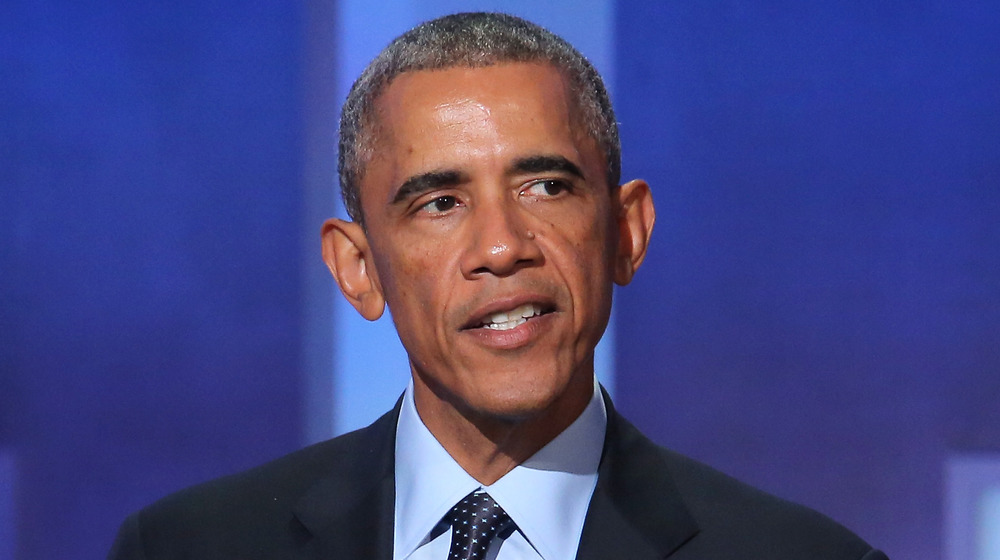 Jemal Countess/Getty Images
Some parents have a hard time coming to grips with the prospect of their children dating. Barack Obama is not one of those dads. In 2016, the former president said that he's "pretty relaxed" about his daughters Malia and Sasha Obama dating "for two reasons," per Today. 
His first reason is the role model they have in their mother, Michelle Obama. The 44th President of the United States explained, "She's such a great example of how she carries herself, her self-esteem, not depending on boys to validate how you look or not letting yourself be judged by anything other than your character and intelligence." He added, "And hopefully I've been a good example in terms of how I've shown respect to my wife."
Obama's second reason for being so chill about their dating life is much more unique. He shared, "They've had Secret Service," elaborating, "There's only so much these guys can do. These poor young men come by my house and..." He didn't get into specifics about what Sasha and Malia's suitors should expect from him, but he promised, "Oh, they have an idea. I describe for them."
A year later, TMZ shared photos of Malia living her best life at a Harvard tailgate, smoking a cigarette in between make-out sessions. Since those photos dropped, the boy in question has been identified as another Harvard student named Rory Farquharson, per The Sun. Recently, Farquharson spent a lot of quality time with the whole Obama family thanks to the coronavirus quarantine, which dad Barack recently dished about.
Barack Obama thinks Malia's boyfriend is 'a good kid'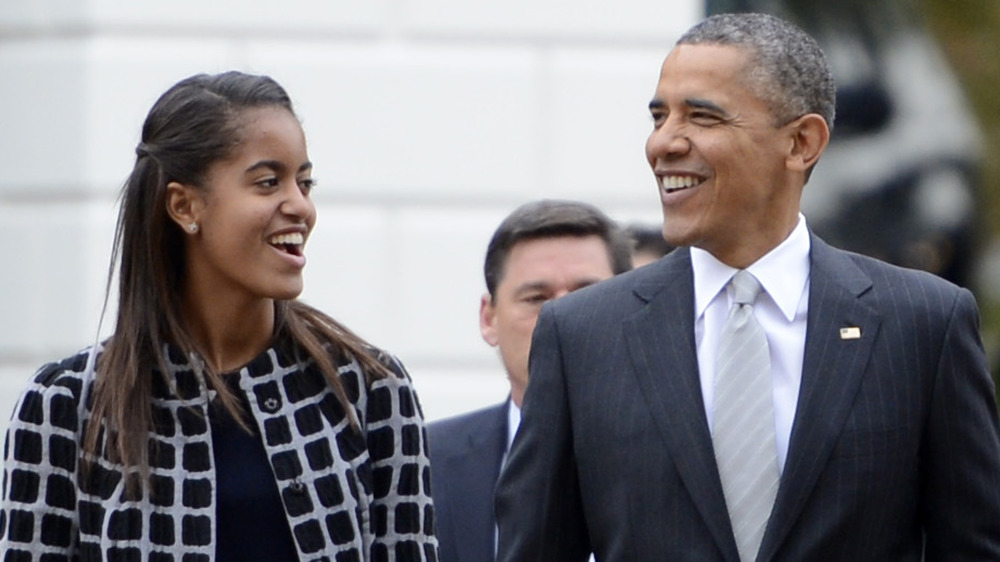 Pool/Getty Images
Barack Obama talked about quarantining with his daughters Sasha and Malia Obama during 2020's COVID-19 pandemic on The Bill Simmons Podcast. According to ET, he admitted, "It's a blessing because all the teenage stuff is kind of gone now. They're just back, and they love you again, and they want to spend time with you." Malia turned 22 in July 2020, and Sasha turned 19 in June 2020. Barack shared, "Like, I think, a lot of families, we went through that first month where we were playing games every night and doing little arts and crafts projects and then slowly they started to get a little bored with us."
He revealed that he taught Sasha, Malia, and Malia's boyfriend how to play the card game spades, which included "teaching them how to properly trash talk and slap the cards down." Barack didn't mention Malia's boyfriend by name, but she has reportedly been dating Rory Farquharson since those 2017 tailgate photos hit the internet. Barack said that Farquharson was "stuck" with the Obama family "because there was a whole visa thing and he had a job set up." He described the British student as a "wonderful young man," even though he joked that he "didn't want to like" him.  
Although Barack thinks Farquharson is a "good kid," he was annoyed that their "grocery bill went up about 30 percent" — because "young men eat"! There could be much worse drawbacks, so, all in all, Farquharson seems to have passed the test.